The best goaltender on the planet, as far as right now is concerned, is happy to talk on games days. Or any day for that matter.
Just a couple hours from another start, and another W, Devan Dubnyk plops his lanky 6-foot-6 frame into a visitors' stall and happily holds court with reporters and videographers for a solid 20 minutes. Then a wave of young autograph seekers scramble into the dressing room, and he's the first to greet them with a smile and a Sharpie.
A large contingent of NHL goaltenders do everything short of hanging a "Do Not Disturb" sign around their necks on a regular game day, let alone when they're on a hot streak. Stay. Away.
Dubnyk's countenance calls, "Come on over."
The man has reason to grin. Take a look-see at today's NHL's goaltending stats leaders: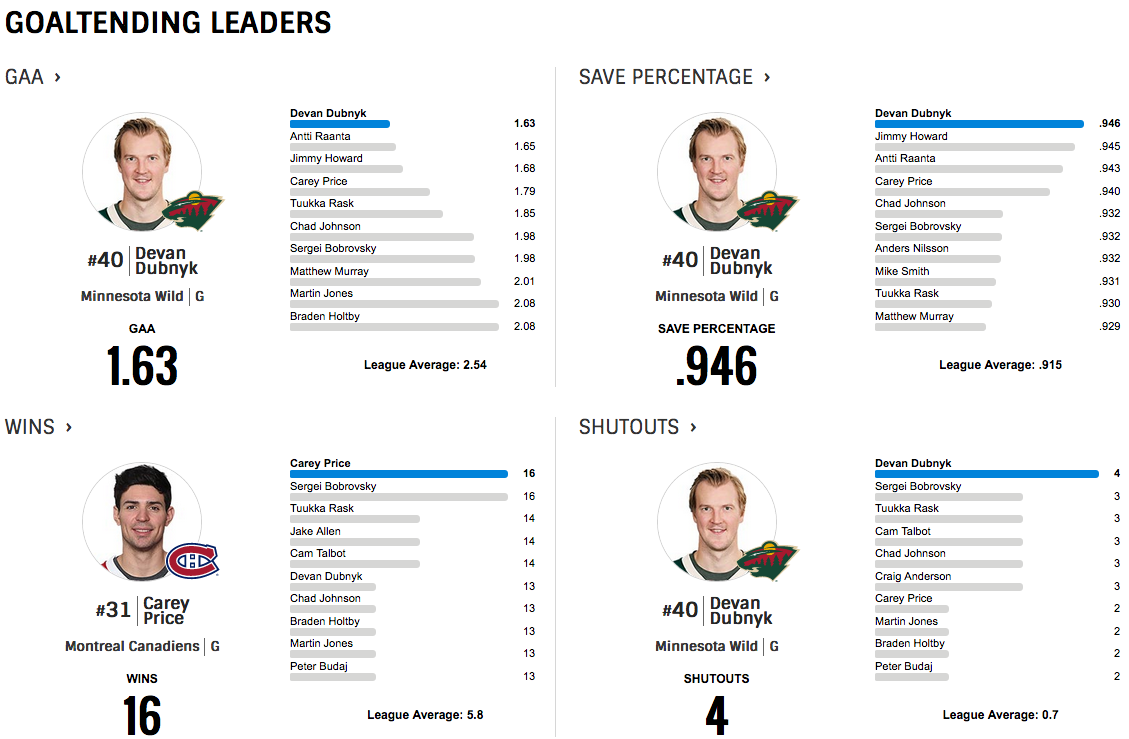 "I'm not going to sit here and tell you I don't know what my numbers are. That would be a lie," Dubnyk says. "Why are my stats good? It's not because I'm watching them. It's because I'm focused on what I need to do. And try to enjoy it while things are good. That's important. You have to enjoy it when things are good, because they're not always going to be perfect."
He chuckles here.
No one needs to remind the goaltender he's not even three years removed from his near-career-death experience of 2014: a trade from the sad-sack Oilers to the Predators, an AHL demotion, a trade to Montreal for the proverbial bag o' pucks, and an immediate demotion to Hamilton. He'd never dress for the Canadiens.
A cheap one-year gamble by the Arizona Coyotes rescued Dubnyk from free agency in the summer of 2014, and goalie coach Sean Burke helped resuscitate his confidence. He shone as Mike Smith's backup.
Since being traded to a floundering Minnesota Wild squad in January of 2015, for a third-round pick, all Dubnyk has done is this:
Dubnyk stopped 22 of 23 shots Sunday versus St. Louis, and has been the primary reason the Wild has ripped off four consecutive wins and earned points in nine of its past 10 outings.
Dubnyk is a remarkable 6-0-2 in his last eight outings and has allowed a scant 16 even-strength goals in his past 18 games. Not only does he lead the NHL in goals-against average (1.63), save percentage (.946) and shutouts (four), but the Wild somehow rank first in team defence (2.00 GAA) despite giving up more shots than they take.
"If he was in Toronto, there'd be no Carey Price," said head coach Bruce Boudreau, after Dubnyk stoned the Maple Leafs last week. "I'm just saying media-wise. He hasn't allowed more than three goals in any game he's played this year.
"He's spectacular. We play in so many close games, he's had to make one big save after another. I know we don't get as much press as the people up here, but he's been as good as any goalie in the league."
Dubnyk's successful head-tracking approach to his position, taught by B.C.-based goalie guru Lyle Mast, has been well documented. But Boudreau — who also oversaw last season's No. 1 defence, in Anaheim — and a formidable Wild blue-line deserve credit, too.
Part of it is systematic. Part of it is mental.
"This is a really good group of defencemen, and forwards that know how to defend. It just seems like this year all of us are really confident in each other when it comes to defending. Everyone trusts everyone else to do their job. I can sit back trusting 100 per cent what these guys are doing in front of me, which allows me to be patient, and hopefully I can return the favour," Dubnyk explains.
"When everyone's trusting, no one runs around. When things get out of control and everyone loses trust, they lose position because they feel they have to do something for someone else. Then [an opponent] gets open and it snowballs. We've done a great job this year."
Don't underestimate Boudreau's role in this. Interesting that the NHL's best defensive team ranks dead last in hits. Or take their approach shot blocking.
"Bruce says it the best: He wants you to come out, get in the lane, but don't play goal," Dubnyk explains. In other words, the forward must trust Dubnyk's abilities and resist the temptation to wave a stick or flail a limb at a puck. "Especially on longer shots. Who would you rather (have) playing goal, the guy with the goalie equipment or the forward?"
That trust comes with time and results.
"Shots happen," says Dubnyk, inspiring a bumper sticker. "They need to allow it and not throw their face in front of it because they know you're going to be there for them. Guys have been awesome for that this year, and when we need blocks, there's been some huge blocks."
There's a push and a practicality to Boudreau's skates that has won over the roster.
"[Practices] are lot more intense and higher-paced than we've had in the past. More game situational stuff. To me, that's the biggest change. It's been great," says Zach Parise. "You want to practise at a high pace. You want to practise game scenarios and keep that pace up throughout the season. Those scenarios on a daily basis only help you slow the game down when you're playing in an actual game."
Job security, technique, team play, an affable coach — everything is slowing life down for Dubnyk, who maintains that patience is his greatest virtue. He wins when his teammates let shots through, when he waits to welcome the madness.
"Try to be boring," says Dubnyk. "My position's reactive. I have to stand there and wait for things to happen. The more patient I can be — whoever has the puck — the better off I'll be."
Dubnyk refuses to watch hockey on his days off but is still a student of the game. After playing Mitch Marner once, for example, he knew exactly where the Leafs rookie likes to set up on the power play.
So, would he have any interest in becoming an analyst when he's done frustrating shooters?
"I don't mind being on TV — and I don't mind talking, obviously. If I were to ever be one, I don't think I could ever be mean to anybody. I know how hard of a game it is to play," he says.
"I'd be happy to do it, but we'll see. I'm happy to play for a few more years still." Another reflexive laugh.
Uh, yeah, it's probably a little early to give him the pull.