After my first season in Belleville, I was drafted in the third round of the Quebec Major Junior Hockey League draft by the Cornwall Royals, by a man named Gord Woods. Gord was the guy who made me switch from being a defenceman to a forward. I had played on the blue line my whole life until I got to Cornwall. I was about five foot nine back then, and when I jumped on the scale I came in at around 145 pounds. Gord said, "We've got to move this guy up."
It was his decision, really. When he scouted me as a defenceman he knew he wanted me up front because of my playmaking ability. I was excited to go to Cornwall. They had won the Memorial Cup the year before and still had a great team. Dale Hawerchuk was back after lighting up the league the season before, scoring 37 goals and 107 points. Sixteen-year-old rookie Scott Arniel was also on the team. And our captain was Marc Crawford.
That first year in Cornwall, I lived in a billet home with another kid from Kingston. He was a goalie named Brian Abrams. He was a Christian guy, and I remember picking up one of the books he had in his room. It was full of quotes. I remember flipping through it, and one stuck with me: "A person shows what he is by what he does with what he has."
I never forgot it. I've lived by that my whole life. Every time someone would say, "He's too small; he's not going to make it," that's what fed me the whole time.
Since I was a kid, I've been told I wasn't big enough. In junior, I realized how little I was compared to the other guys, but I wouldn't let it bother me. I would go out and do what I had to do to compete and to survive. And I had to be smart. I wasn't going to put myself into bad situations where the guys were, strength-wise, going to move me around. I had to be the smartest player on the ice if I was going to make it. And I was going to have to play hard. I wasn't called Killer yet, but even back then, once I put my helmet on, my eyes would change, my focus would change — it was an all-out war.
Celebrate Our Community. Celebrate Our Game.
The Royals moved from the Quebec junior league to the Ontario Hockey League before my second season with the team. The move didn't go over well with the fans. Most of the city of Cornwall was French. Our attendance had been about 3,000 fans per game. After the move to the Ontario loop, it dropped by probably 1,000. Part of the problem with the move was that the Royals had to draft out of Ontario, not Quebec, which meant that there would be fewer French players to cheer for. For whatever reason, it was never really the same in Cornwall after the team made the switch.
That season, Hawerchuk left the team to play for the Winnipeg Jets, after going first overall in the NHL draft. The Jets also took Scott Arniel in the second round. Arniel played half the year in Winnipeg and half the year down with us in Cornwall. That opened a spot for me at centre on the second line, with a chance to occasionally play on the top line. I know it sounds cliché, but timing is everything. If it weren't for the right timing, I don't believe I would have had the career that I did.
Everything really opened up for me in the 1981–82 season. In 67 games, I had 46 goals and 73 assists for 119 points. I was hoping I'd be drafted into the NHL that year. I didn't expect to be a top pick, but I thought I had a very good chance of being selected. There were several good players in the draft. Brian Bellows went second overall to the Minnesota North Stars, after the Boston Bruins took Gord Kluzak with the first pick. Scott Stevens went fifth to the Washington Capitals, just ahead of Phil Housley, who went to the Buffalo Sabres. Buffalo also selected my future linemate, Dave Andreychuk, who played for the Oshawa Generals, with the 16th pick.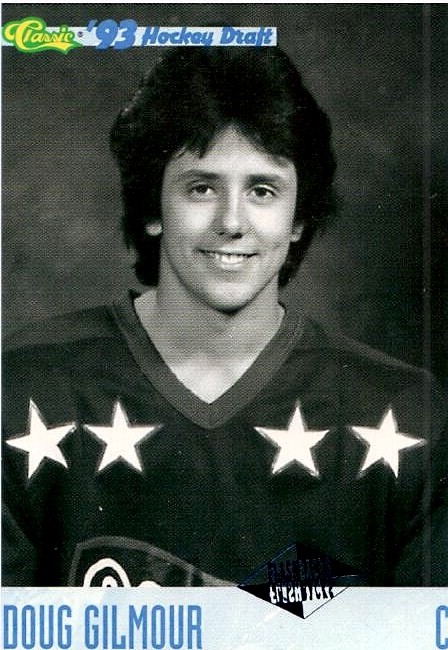 I had led the Royals in scoring, but a couple of my teammates were selected well ahead of me. Our best defenceman, Jim Kyte, went 12th overall to the Winnipeg Jets. One of my good friends, Brent Loney, went 62nd to Edmonton. I was happy for both of them; they both deserved it. They were both incredibly tough. Loney was probably six-foot-two, 195 pounds. Tough as nails. And boy, could he fight. They both could. But it was frustrating for me because they were a lot bigger than I was, and in those days that was the kind of player NHL teams would pick. Eventually, the St. Louis Blues selected me in the seventh round, 134th overall.
Today, I get that I was lucky; most guys never get to experience the honour of being drafted by an NHL team. But back then, I took my seventh-round selection as an insult. I didn't understand why my teammates had been drafted higher than me. It wasn't right, and I held a grudge. I felt that my own team hadn't done enough to promote me to NHL scouts. Back then, everything was driven by word of mouth. Coaches would tell scouts what they thought of their players. That and maybe a couple of games they attended were the only ways scouts could get a sense of your ability.
I had a huge chip on my shoulder when I went to the Royals' training camp that September. I just wasn't happy. The draft had bruised my ego and I didn't take it well. As part of camp every season, we'd have an intra-squad game that was attended by about 2,000 fans who were given free admission as a promotion to generate interest in the team. During the game, I got into a fight with one of the rookies trying to make the team. I grabbed him by the face mask and ripped his helmet off his head. Then I started hitting him with it. Our own fans booed me as the ref escorted me off the ice. It was ugly. My brother, David, was at the game and he pulled me aside with some stern advice afterwards.
"Settle down," he said. "Just listen — and get better."
Through the first three games of the season, I only had a point or two and wasn't playing very well. I was frustrated. During a game against the Kitchener Rangers at home in Cornwall, I took that frustration out on one of their players. That wasn't smart. I picked a fight with a guy named Mike Eagles. He broke my nose and cracked an orbital bone. I finished the game, but it was bad. I was going to have to go to Kingston to get surgery to repair my face.
My parents and brother were in the stands for the game. We all drove back to Kingston together. David snickered the entire time. My nose was basically sideways. He thought it was hilarious. My parents told me I needed to smarten up. I wasn't playing my game and I was getting into stupid fights. I couldn't object. When your face is half caved-in, your nose looks like it was drawn by Picasso and your eyes are black and bloodshot, there isn't much you can say.
Three days after surgery to fix my nose, I was back on the ice, wearing a full face mask. It was an important lesson learned the hard way.
Things worked out pretty well. I recorded at least one point in 57 consecutive games, breaking the OHL record of 52, set by Jim Fox of Ottawa in 1979–80. I finished with 70 goals and 107 assists for 177 points. The second-highest scorer in the league had 148 points. I won the Eddie Powers Trophy as the OHL's leading scorer and was awarded the Red Tilson Trophy as the league's most outstanding player.
We lost to the Ottawa 67's — led by goalie Darren Pang, who stood on his head — in the league quarter-finals, and just like that, my junior-hockey career was over. But I felt pretty good. My plan was to play with the Blues the following season. I'd proven my critics wrong; I'd proven that I belonged.
Excerpt from: Killer: My Life in Hockey by Doug Gilmour with Dan Robson © 2017. Published by HarperCollins Publishers Ltd. All rights reserved.