Sean McIndoe (aka Down Goes Brown) will be contributing to sportsnet.ca on a regular basis. Follow him @DownGoesBrown
Every trade made by an NHL GM involves an element of risk.
Maybe you get caught up in a bidding war and end up paying more than you wanted to. Maybe the guy you acquire blows out his knee on his first shift. Maybe that fifth-round draft pick you throw in ends up being used on a future all-star, and your fans never let you hear the end of it.
But some deals are riskier than others. And as we approach this year's deadline, GMs looking to minimize that uncertainty will have plenty of options. Guys like Loui Eriksson or Jiri Hudler won't come cheap, but if you land one them at least you're going to feel pretty confident that you know what you're getting.
That makes it easier to gauge just how much risk you're taking on, and narrows the gap between your realistic best and worst case scenarios. Nobody's ever a sure thing in this league, but certain players feel like safer bets than others.
On the other hand, some of the players who could be on the move over the next few days fall solidly into what you could call the high-risk, high-reward category. They're the sort of players who could turn out to be steals, the kind of acquisitions that shift the balance of power. They could also end up being overpriced busts who get their new GMs fired.
Are you feeling lucky?
Here are five names from this year's rumour mill who could represent big risks – and big opportunities – as we head towards the deadline.
Eric Staal, Carolina Hurricanes
Best case: Based on name value, Staal may be the biggest star available at this year's deadline. He's a four-time all-star who's had a 100-point season and once topped 70 points for seven straight years. Nobody else rumoured to be on the block has that sort of resume. And at 31 years old, he's not so far removed from his best years that it's not hard to imagine him finding that magic again, at least for a few months.
It's no sure thing that the Hurricanes will move him, since they're still hanging around the Eastern Conference playoff picture, and he also has a no-trade clause. But if he was made available, teams will be interested. It's hard to resist the idea of a change of scenery and a chance at another Stanley Cup, reinvigorating a guy who's looked like a potential Hall-of-Famer for long stretches of his career.
If you're a contender looking to give your Top 6 some marquee value, Staal is the swing-for-the-fences play.
Worst case: The resume is impressive, sure, but there's a whole lot of past tense in there. Staal isn't having an especially impressive season, recording just nine goals and 31 points. And those numbers are probably flattering. Since Jan. 1, he's managed just a single goal to go with six assists. That's not much to get excited about, especially when it comes with an $8.25 million cap hit and (presumably) a high price to pry him out of Carolina.
Elite talent wins championships, and Staal has been one over the course of his career. But he hasn't looked like it recently, and it's not hard to imagine some team looking back and regretting how they overpaid to get a big name instead of big numbers.
—–
James Reimer, Toronto Maple Leafs
Best case: For some teams that needs goaltending help, Reimer could be this year's Devan Dubnyk.
Granted, it's not entirely fair to talk about anyone being "this year's Devan Dubnyk," since there had never really been a story like Dubnyk's before last season, at least not to that sort of rags-to-Vezina-nominee extreme. But Reimer could be at least be the watered-down version, a guy who comes in and stabilizes the crease for a team that's one good goalie away from being a contender.
The similarities are there. Both current day Reimer and pre-Wild Dubnyk boasted similar, solid numbers in just over 200 career games. Both had struggled through stretches in recent seasons that had seen their stock fall. Both had made modifications to their technique that had seemed to rejuvenate their career. And both were pending UFAs on teams that had already fallen out of playoff contention.
If anything, Reimer has been better this year than Dubnyk was during his stint in Arizona. Up until recently, he was near the top of the league in save percentage. With a cheap, expiring deal, he could be the best fit available for a contender looking for an insurance policy in goal.
Worst case: You caught how we slipped in that "up until recently" qualifier on Reimer's numbers, right? He's been getting shelled lately, and while part of that can be blamed on the Leafs icing an AHL-quality lineup these days, his numbers don't look anywhere near as impressive today as they did a few weeks ago.
There's also the issue of his big game reputation, which took a beating thanks to that infamous Game 7 collapse against the Bruins in 2013. That reputation isn't fair – the only reason the Leafs made it to a seventh game was that Reimer stood on his head to steal back-to-back wins in elimination games – but fair might not matter much to a GM who needs to win a round or two to save his job. Mix in a spotty injury history, and Reimer starts to look like a gamble.
Then again, so was Dubnyk. The Wild rolled the dice, and it saved their season. For a GM looking to do the same this year, Reimer could represent an intriguing option.
—–
Jimmy Howard, Red Wings
Best case: OK, so maybe you need a goalie but Reimer's not your guy. If you want more experience and you've got more cap room to work with, you could always target someone like Cam Ward. Or you could turn your attention to Jimmy Howard, who's become a bit of a forgotten man in Detroit thanks to the emergence of Petr Mrazek.
Howard's been a decent goalie over the course of his career; he's been an all-star and an Olympian, and finished in the Top 10 in Vezina voting twice. And he knows his way around the post-season, with 45 career playoff starts to his name. He's not having a strong year, but maybe you chalk that up to the adjustment of being a backup for the first time since he broke in.
Best of all, you'd have to think it wouldn't cost all that much to pry him away from the Wings at this point. And he's signed through 2019, so you're potentially landing a long-term piece instead of a mere rental.
Worst case: Oh right, that contract. At a cap hit just south of $5.3 million, Howard's deal is probably enough to scare away most teams. It's hard to imagine the Red Wings finding a buyer here unless they were willing to eat a big chunk of those dollars.
But even if the money worked out, Howard just hasn't been all that good lately. And that's not just this year – Howard hasn't posted a save percentage over .910 since 2013, and in those three years he ranks towards the bottom of the list among regular starters.
Maybe a change of scenery helps him find his game, and he can get back to being the top tier guy he was a few years ago. But if not, that contract will look like an albatross to any team that lands him.
—–
Andrew Ladd, Winnipeg Jets
Best case: Barring a last-minute extension that seems less likely by the day, Ladd's almost sure to be moved before the deadline.
The Jets have plummeted out of playoff contention, and after locking down Dustin Byfuglien on a big ticket deal, they wouldn't seem to have room on the payroll for Ladd. This sure seems like one of those "can't afford to lose a guy for nothing" scenarios.
And there should be plenty of interest, because Ladd fits the profile of the sort of battle-tested veteran that contenders have been looking to add at the deadline ever since the Islanders snagged Butch Goring.
Ladd is physical, he can play at both ends, and he brings leadership. And while his offensive numbers have dropped this season, he's scored enough over the years that it's not hard to picture him heating up on a good team's second or third line in May. In a tight series, that's exactly the sort of addition that can make the difference between moving on and heading home.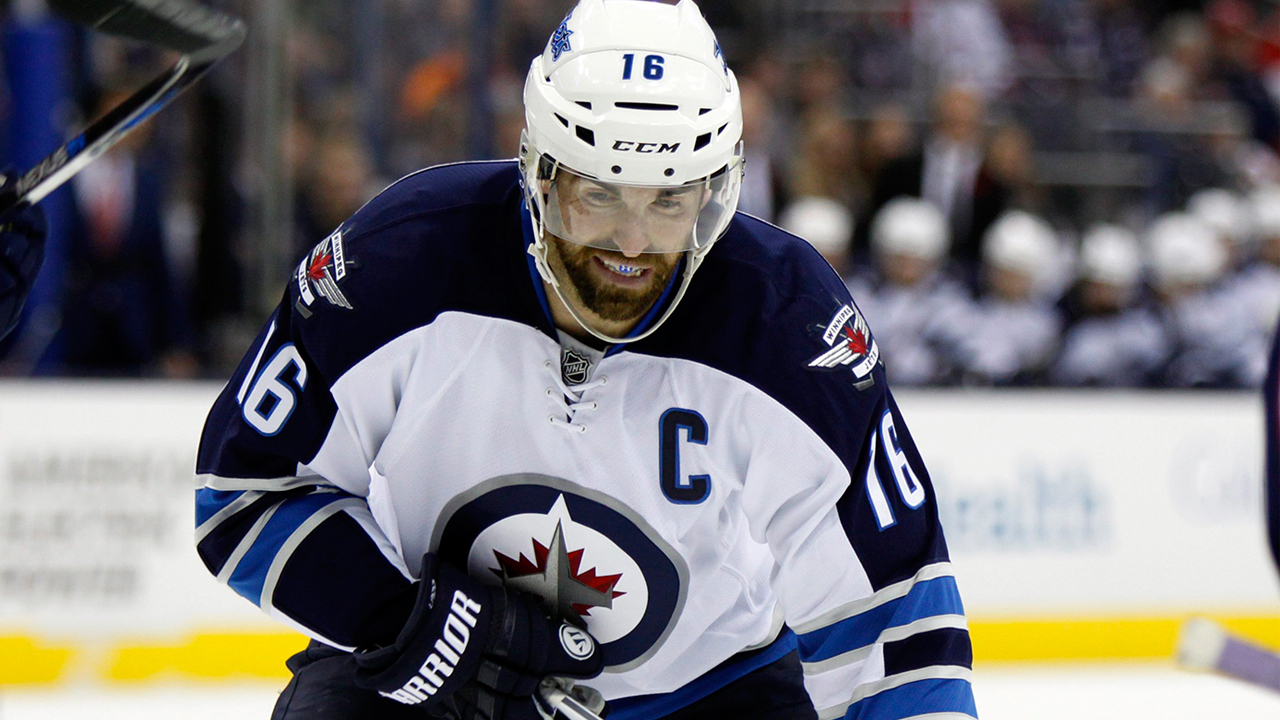 Andrew Ladd. (Paul Vernon/AP)
Worst case: There are two. The first is the most obvious: that a contender pays a big price to bring Ladd aboard, then watches him struggle through a short playoff run. That would be bad.
But there may be an even worse scenario, and that's a contender that brings Ladd aboard, then watches him play just well enough for everyone to decide they have to re-sign him. Ladd's a good player who could help any team in the league, but at anything even close to his rumoured asking price, he's going to represent enormous risk for any team that signs him this summer.
There's just not a long history of physical forwards on the wrong side of 30 living up to big free agent deals, and while Ladd is a far better player than guys like David Clarkson or Ryane Clowe, he still has the potential to sign the sort of deal that teams regret badly down the road. And that could be true even if he helps that team win a round or two this spring.
—–
Jonathan Drouin, Tampa Bay Lightning
Best case: We might as well save the most extreme case for last. Unlike the various rentals and short-term solutions who'll change hands over the next few days, Drouin represents a long-term commitment for any team that acquires him.
And he won't come cheap.
So what's the best case for a former Top 3 pick with a ton of talent, but an underwhelming NHL resume and questions about his attitude? Let's ask the Dallas Stars, who made exactly that sort of pickup when they landed Tyler Seguin in 2013.
Since then, they've watched Seguin blossom into one of the league's top offensive threats, putting up well over a point-per-game and heading towards his third straight Top 10 finish in league scoring. The Bruins thought they were unloading a headache; instead, that trade now looks like one of the more one-sided in recent history.
Drouin isn't a perfect comparable for Seguin, who had an extra year of experience and a 67-point season to his credit. But he's not far off, and in a league where winning franchises are built around young, elite offensive talent, the chance to land one in a trade is exceedingly rare. Plenty of GMs who wish they'd been at the front of the line for Seguin in 2013 could be getting their shot at redemption here.
Worst case: Lightning GM Steve Yzerman seems like a pretty smart guy. He's put together a legitimate Stanley Cup contender in Tampa Bay, one that's built largely around speed and skill up front, and Drouin would seem like a perfect fit for that sort of team. And yet he's fallen out of favour, sitting out most of last year's playoff run and ending up in the AHL this year before walking out in an attempt to force a trade.
If you're a GM thinking about joining the bidding war here, you have to be wondering: What does Yzerman know that we don't?
Whether it happens this week or this summer, someone's going to pull the trigger on a Drouin deal, and they'll pay heavily to do so. There's just too much upside to resist. And as the Dallas Stars showed a few years ago, if you're willing to take a chance on somebody else's problem child, you can end up with the sort of player you build a franchise around for the next decade. Drouin may be the next Tyler Seguin. Then again, based on what we know so far, he could also be the next Alexandre Daigle. That's one hell of a gap, and Yzerman is going to charge somebody a big price to find out what this kid can be.
Chances are, this is the sort of trade that somebody is going to regret for years to come. But in today's NHL, as an ex-Lightning coach used to say, safe is death.
So… just how lucky do you feel?