MONTREAL— One fortuitous bounce of a lottery ball can change nearly everything for the Montreal Canadiens.
There's a 9.5 per cent chance of things falling their way this Saturday, gifting them a generational talent in Swedish defenceman Rasmus Dahlin. It's a longshot, but if you see Canadiens general manager Marc Bergevin doing his happy dance at CBC studios on Saturday, you'll know what it means.
For him, it could mean more job security than he'd have otherwise had. Not because he'll have had any influence on the luck of the draw, but because the addition of Dahlin can solve nearly every problem the Canadiens have.
A partner for Shea Weber? Check.
An addition that shifts everyone else on the blue line into their proper seat? One that strengthens the unit in front of goaltender Carey Price? One that moves the play further away from Montreal's end? Check.
A considerable boost to the Canadiens special teams units? Check.
A piece that helps convince free agents (perhaps a certain New York Islanders centre) they can win in short order with the Canadiens? Bingo.
Let's tackle all those things in order.
Dahlin-Weber
When Bergevin traded defenceman P.K. Subban to the Nashville Predators in the summer of 2016, he did so with the hope that one of Nathan Beaulieu or Andrei Markov would prove to be an ideal partner for the big man. We can't imagine he ever envisioned Alexei Emelin filling the role, as he did for a majority portion of Weber's first season.
And once all three of those players were elsewhere, having 19-year-old Victor Mete serve as Weber's partner in Year 2? Not a chance Bergevin saw that one coming.
Why else would he have floated Jordie Benn and David Schlemko as prospects for the assignment at the team's golf tournament back in September? Everyone and their mother knew the Canadiens were in deep trouble when those words were uttered.
But if you set out to design a player who fits perfectly with Weber, you'd end up with Dahlin; a 6-foot-2, 185-pound defenceman who plays the left side, skates like the wind, can move the puck as efficiently as he moves with it, and a guy who can generate offence in the blink of an eye.
He's a player who can all but guarantee Weber remains elite through the duration of his contract with the Canadiens, which expires in 2026.
And if you were hoping to guarantee Dahlin's success as a rare, 18-year-old top-pairing defenceman in the NHL, you couldn't find a better player to help him than Weber, who seasoned Nashville stars Roman Josi, Ryan Ellis and Mattias Ekholm.
Weber can show him the ropes, teach him all the little tricks, and he can clean up whatever mistakes the kid makes as he feels his way through.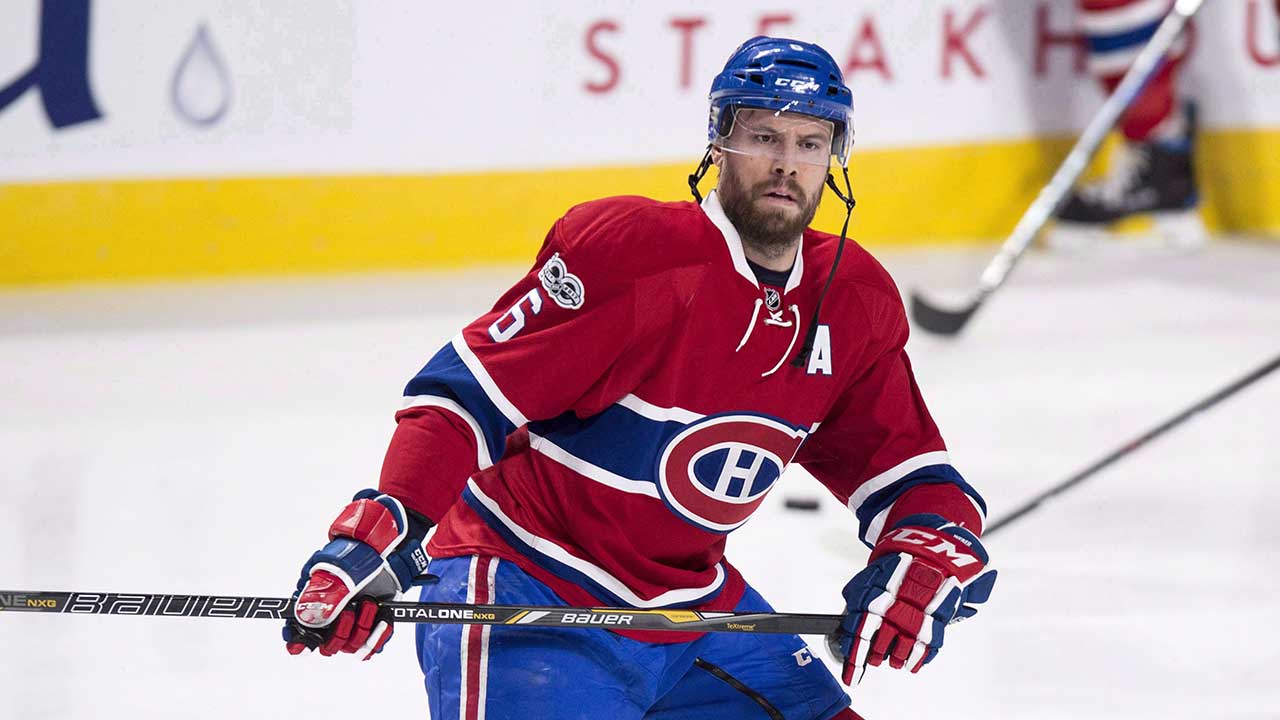 The revamped blue line
Among the many things Bergevin surely learned as the Canadiens tumbled their way towards a 28th-place finish this season was that Karl Alzner, who was given a five-year, $23.1 million contract to be a top-four defenceman, is better suited for third-pairing minutes. Ditto for Benn. Ditto for Schlemko.
With Dahlin in the fold, those three players would be duking it out with 21-year-old Noah Juulsen for spots on the bottom pair. That's assuming no other additions are made on defence, which we doubt will be the case. And even if nothing else changes, at least one of Benn or Schlemko could be on the move.
One of the other things Bergevin likely learned this season was that Jeff Petry, who filled in brilliantly in Weber's 56-game absence, can handle more minutes. And he probably knows Mete, who gained valuable experience, can play more than the 15:35 per game he averaged.
Think about how much stronger the Canadiens get from the net out with Dahlin, Weber, Mete and Petry playing a combined 45-48 minutes per game.
The forwards will be thrilled, as the pucks find their sticks far more frequently in transition up the ice. But Price will be downright elated, as the quality scoring chances against dip dramatically.
He can use all the help he can get in trying to resurrect himself following the worst season of his NHL career.
[snippet id=3816507]
PP boost, PK revived
The 12th-ranked Canadiens power play isn't getting worse with Weber healthy, with Petry taking on more responsibility, and with Dahlin entering the fold.
But there may be no bigger key to a quick Canadiens turnaround than fixing the 30th-ranked penalty kill. We know Dahlin can't do that on his own, but his mobility—and his awareness and physicality—makes him a good option for the assignment.
Let's be honest, a player like him, who excels at both ends of the ice and plays in all situations, will help in every department.
Landing the big fish
The Canadiens can throw every dollar permissible under the salary cap at pending free agent centre John Tavares, but if he doesn't believe he can at least have a chance to win in the first three years of what could be an eight-year deal, it's unimaginable he'll chose to come to Montreal.
Maybe Price and Weber can convince Tavares that Max Pacioretty, Jonathan Drouin, Alex Galchenyuk, Brendan Gallagher, Artturi Lehkonen, Mete and Juulsen are a core that can help them achieve things far sooner than most would assume after such a disastrous season. But having Dahlin to float as an option juices that proposition significantly.
Same way having Dahlin, in addition to all of those players, could attract any other free agent or convince a player to lift his no-move/no-trade clause to come to Montreal. And not just now, but for years to come.
At the end of the day, Dahlin is a player who dramatically changes the landscape for the better for any team, but there are few teams in the NHL who immediately benefit as much from his addition as the Canadiens do.
Cross your fingers, Canadiens fans.
[relatedlinks]