When the San Jose Sharks scored a goal in their shockingly fast first round series win over the Los Angeles Kings, more often than not Drew Doughty was on the ice.
San Jose lit the lamp 16 times over the course of five games against the Kings, and Doughty was on the ice for 10 of them (63 per cent). He was also out there for each of the Sharks' game-winning goals, including the third-period marker from Joonas Donskoi in Game 5 that ultimately knocked Los Angeles out of the playoffs.
There are those out there who might find some joy in numbers like that.
Fans of San Jose, for example, might recall Doughty's comments after the Kings' Game 3 win, when he said that the Sharks were "thinking a little bit about" previous playoff losses to L.A., and that consequently the Kings were "right where we want to be."
Those who believe that Ottawa Senators defenceman Erik Karlsson is most deserving of this year's Norris Trophy might also be tempted to think back to L.A. general manager Dean Lombardi's words just two weeks before the Kings were eliminated. After praising the subtlety of Doughty's game, Lombardi took a thinly-veiled poke at his competition.
"[Defence is] not a highlight-film position," Lombardi explained. "It's not supposed to be, and then we turned it [into one] because Paul Coffey, I guess, pulled it off. But at least Paul Coffey was also in the playoffs."
But there's nothing subtle about being on the ice for two goals against per game in a single playoff round, and with Doughty's Kings managing exactly one post-season win more than Karlsson's Senators this year, those words have not aged well.
There is, however, a contradiction. Although the goals against numbers don't look particularly good for Doughty in this series, shots for and against tell a very different story. Even-strength Fenwick (shots and missed shots) is especially interesting: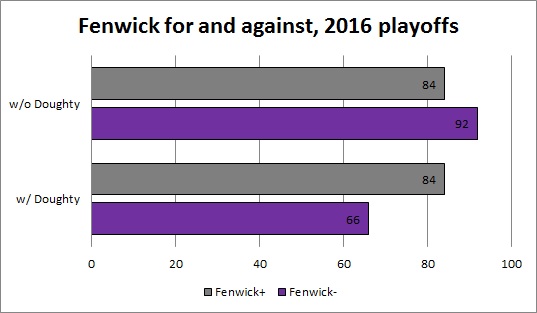 The contrast is stark. Offence doesn't change at all — with or without Doughty on the ice, the Kings managed 84 unblocked shots. Defence shifts dramatically, though. Instead of 92 unblocked shots against, L.A. surrendered just 66 when Doughty is on the ice — a massive improvement.
The consensus view in the hockey analytics world is that shot metrics generally tell a truer tale than goal events. There are a lot more shots than goals, and shots tend to correlate closely to scoring chances. With this view, we would look at the Kings' lousy shooting percentage (4 per cent) and wretched save percentage (0.837) and assume that rather than being a terrible defensive defenceman, Doughty was most likely caught in an ugly run of misfortune outside his control.
Fortunately, we don't have to assume. We have video.
The video tends to back up the idea that those ugly goal-against numbers weren't really Doughty's fault. Twice he stepped on to the ice just as San Jose scored; once he got caught on the ice for an empty net goal against; another time he was out there during a Sharks 5-on-3. With those explanations alone, we've nixed four of the 10 goals against.
Then there are the ones he clearly wasn't to blame for. Joe Pavelski winning a one-on-one battle against Anze Kopitar, for example, can hardly be laid at Doughty's feet. It's also pretty difficult to blame him for covering his man while Jeff Carter failed in one-on-one coverage against Joe Thornton. There was also no winning a 3-on-2 down low when Doughty found himself trapped between the shooter and another Shark.
That's not to say Doughty was perfect. Of the three goals which we might plausibly assign him some significant degree of blame (the other two came on Sharks power plays), the series winner was probably the weakest. He lost a one-on-one battle on the zone entry by Donskoi and then got sucked out of position following his man behind the net. Even then, things probably would have been fine had not both Rob Scuderi and Tyler Toffoli lost their footing in front of Jonathan Quick.
One point, a minus-five rating and an early playoff exit don't look particularly good — especially from a player and team that hasn't been shy about jabbing verbal daggers into the opposition. The truth, though, is not just that Doughty is one of the best defencemen in the league, but also that he played like one in the post-season.
Neither he nor the Kings have any reason to question his playoff efforts.