Drew Doughty opened up a can of worms (again) this week when he told Craig Custance of The Athletic that he has been pondering his impending free agency.
Doughty said he believes he should earn more than P.K. Subban; that he and fellow 2019 UFA Erik Karlsson will discuss their approach to the open market, and he opened up about how much he loves Toronto Maple Leafs coach Mike Babcock. Juicy stuff, all of it.
Honest? Harmless? Flirtatious? Insulting? Strategic? Disruptive?
There are several viewpoints from which to unpack Doughty's comments.
Here are six reasonable reactions.
1. The Kings absolutely do not need this nonsense.
During a radio appearance on Sportsnet 590 The Fan Thursday, player-turned-analyst Nick Kypreos said he was baffled by the timing of Doughty's comments, 19 months away from when he can hit the open market.
"Didn't we do this earlier in the year? Then he downplayed it, and he stirs it back up again. I don't get the timing of this article for him personally. It's a huge distraction," Kypreos told Sportsnet's Starting Lineup (listen below). "I suppose someone will get to him and downplay it again."
Doughty won two championships in three years with Los Angeles, but his Kings have won just one playoff game in the past three springs. In response, they overhauled their front office and bench this past summer.
New general manager Rob Blake has professed faith in a core he believes can win another Cup. New head coach John Stevens has taken the reins off Doughty and other blue-liners, encouraging them to jump in the rush more than his predecessor Darryl Sutter ever did.
The Kings are tied for first in the Pacific Division while Doughty is on pace for his most productive season ever — 60 points is within grasp.
How do you feel today if you're Stevens, Dustin Brown or Anze Kopitar, and your team's engine is openly flirting with other teams as you're striving to get back to greatness?
2. Doughty is giving us an unfiltered peek behind the curtain.
One of the most interesting tidbits of the Custance piece is that Doughty said he'd be reaching out to Ottawa's Erik Karlsson, also a UFA in 2019, to discuss their asking price. Traditionally, basketball players have been much more open about these inter-player dialogues than hockey players, but that doesn't mean NHLers don't talk.
"What he's saying isn't out of the ordinary," Kypreos said. "That stuff happens all the time, but you certainly don't mention it publicly a year and a half away."
Boston's David Pastrnak did very well for himself as an RFA this past summer. On July 1, his tight friend William Nylander will be in a similar situation with Toronto. Pastrnak was in a chatty, jovial mood a few weeks ago after a Bruins skate in Toronto. When colleague Chris Johnston asked him if he'd given Nylander advice on how to handle free-agency negotiations, you could see the wheels turning.
It's only natural for friends to help each other, but it wasn't a topic Pastrnak was eager to dive into with recorders running.
Consider that Doughty and Karlsson are both represented by Newport Sports Management, and it's only logical they would exchange info. If you're about to ink the biggest financial windfall of your life, would you not do all the research possible?
3. This is the last thing the Ottawa Senators need right now.
Ottawa is reeling.
The Senators are beginning a gruelling road trip and they've lost seven straight. GM Pierre Dorion made a splashy, aggressive trade that over a tiny nine-game sample, has not had a positive effect on the group. Rumours are circulating about the Senators' ownership stability and questions surround their arena plans downtown.
And Karlsson does not look like quite the fearless, game-changing superstar he was prior to doctors removing half his ankle bone. He has zero points and is a minus-8 during this seven-game slump. (He's still pretty good, though.)
This club probably isn't thrilled to read Doughty saying, "I don't know if he's going to re-sign with Ottawa." That quote was picked up by the Ottawa Sun.
Point blank, the Sens are a budget team that was unsure they could afford Kyle Turris. Mark Stone is due a hefty raise this summer as a restricted free agent, and his price appears to be escalating with every shift.
Under Dorion, Karlsson watched his ideal D partner, Marc Methot, leave in the expansion draft when he could've (should've) been protected. One can only wonder what effect the departure of Daniel Alfredsson has had on Karlsson's view of his franchise. Alfredsson is Karlsson's mentor and served as best man at his wedding.
It's certain Ottawa wants to lock up Karlsson ASAP, but Doughty's interview reminds us that we don't know if the feeling is mutual.
4. P.K. Subban probably didn't enjoy having his name mentioned like this.
Likely unintentionally, Doughty may have thrown a little jab at Nashville's P.K. Subban, who currently holds the highest cap hit for defencemen at $9 million.
"Right now, I guess [me and Karlsson] would be gauging off what P.K. makes," Doughty told Custance. "I think both of us deserve quite a bit more than that."
Zing.
Doughty's right. The cap will be higher in 2019 than in 2014, when Subban signed his deal. Subban's Norris also came in a lockout-shortened season, and he hasn't won a Cup (yet).
If Jack Eichel can land $10 million per year, how much do you pay a proven winner who can give you 25 or 30 minutes a night?
Doughty has been a fixture on Team Canada's top pairing while Subban has either been (a) passed over by the national squad or (b) healthy-scratched by Mike Babcock.
Still, how rare is it for a hockey player to openly say he deserves to be paid more than one of his peers? Answer: super rare.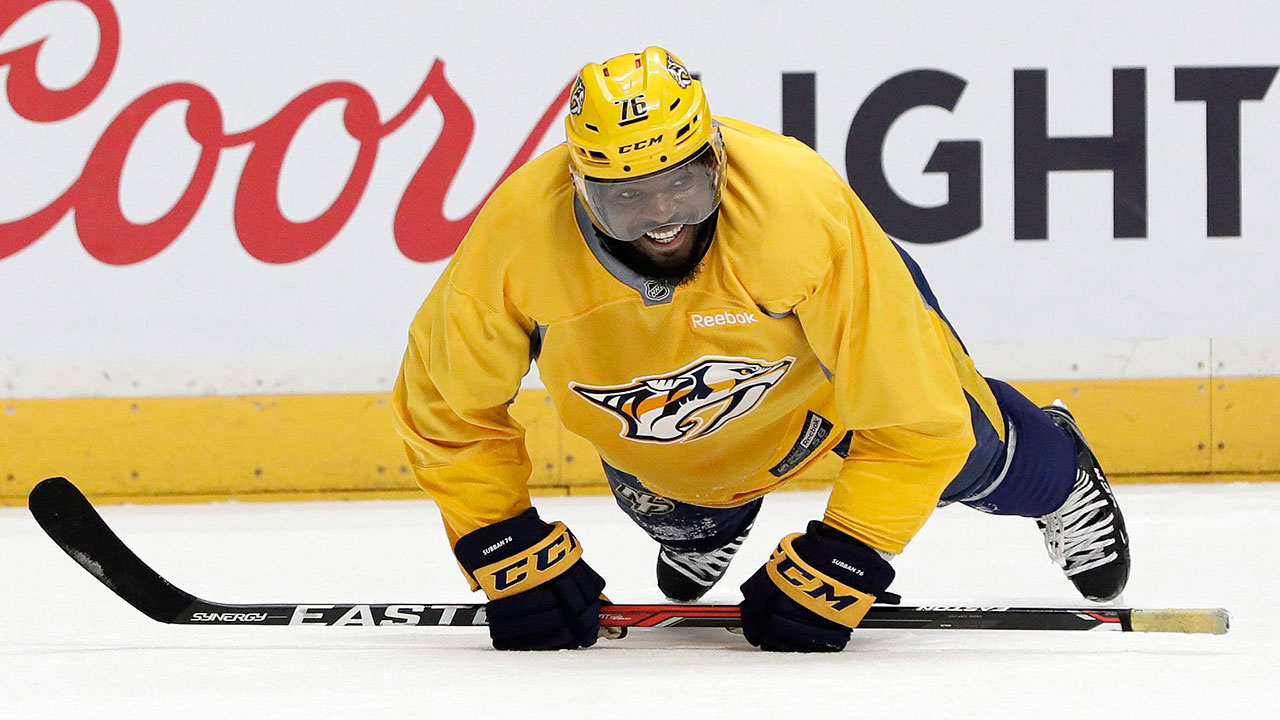 5. He's just being honest: Toronto is awesome.
"It always entered your mind. Being a kid from Ontario, who wouldn't want to play for the Toronto Maple Leafs?" another decorated defenceman, Paul Coffey, told Sportsnet 590 The Fan's Starting Lineup Thursday.
And Coffey was talking about a then-mediocre Leafs squad that, in his heyday, was hamstrung by a budget.
Today's Leafs have stable, shrewd management. They invest in all the bells and whistles the cap will allow. They have some kid named Auston Matthews, who leads a group of young players that should make Toronto relevant into Doughty's dotage. They also possess an ageless veteran nemesis Doughty respects in Patrick Marleau and a head coach he trusts and has won gold medal with.
"Why can't Toronto win a Cup in the next year or so?" Coffey said. "Why not?"
Now, the London, ON–born Doughty was not a Leafs fan growing up. He rode with Wayne Gretzky and L.A, but he does return to Ontario in the off-season and is a Toronto Blue Jays fan. With his confidence, he would have no trouble handling the extra scrutiny that comes with a hockey-obsessed Canadian market.
Hey, if you want a bidding war, poke Toronto.
6. Let's not get carried away. This is just Drew being Drew.
As a hockey writer and hockey fan, Doughty is a gift.
We often whine about how hockey players are more prone to leaning on clichés than some of their counterparts in other sports. Then along comes a guy who spews quotes we can chew on.
Imagine: You're 27. You've won every major trophy and medal a kid can dream of, most of them twice. You live on the beach in a community surrounded by friends and play a fun sport every day. You have millions in the bank and more millions on the horizon.
What's stopping you from speaking your mind and answering fair questions from a good reporter honestly?
Doughty may be ruffling feathers by speaking more unfiltered than most athletes, but he's only voicing his own opinion and giving us a glimpse into his thought process. He's not trashing anybody.
Remember, Anze Kopitar always loved L.A. and wanted to remain there, too. But he knew his worth, drove a hard bargain, and earned an $80-million deal with free agency in sight. Kopitar says he'll talk to Doughty about his free agency when the time is right.
Doughty has leverage, he's using it, and he's got nothing to lose. Good for him for injecting the sport with a little personality and a lot to debate.