The Washington Capitals have 15 more points than any other team in the NHL right now, with a dynamic Russian forward leading the way on offence. Well, that last part has been true for more than a decade, as Alex Ovechkin has become the best goal scorer of this, and possibly any, era.
But it's not Ovechkin leading the Capitals in scoring this season. It's youngster Evgeny Kuznetsov.
The 23-year-old forward is tied for third in NHL scoring, second in even strength points, and drawing rave reviews around the league. His signature play of skating behind the net while being chased by checkers and subtly passing the puck against the grain to a trailing teammate as the goaltender moves off the post is one of the coolest moves in hockey (see video above for an example).
But just how good is Kuznetsov?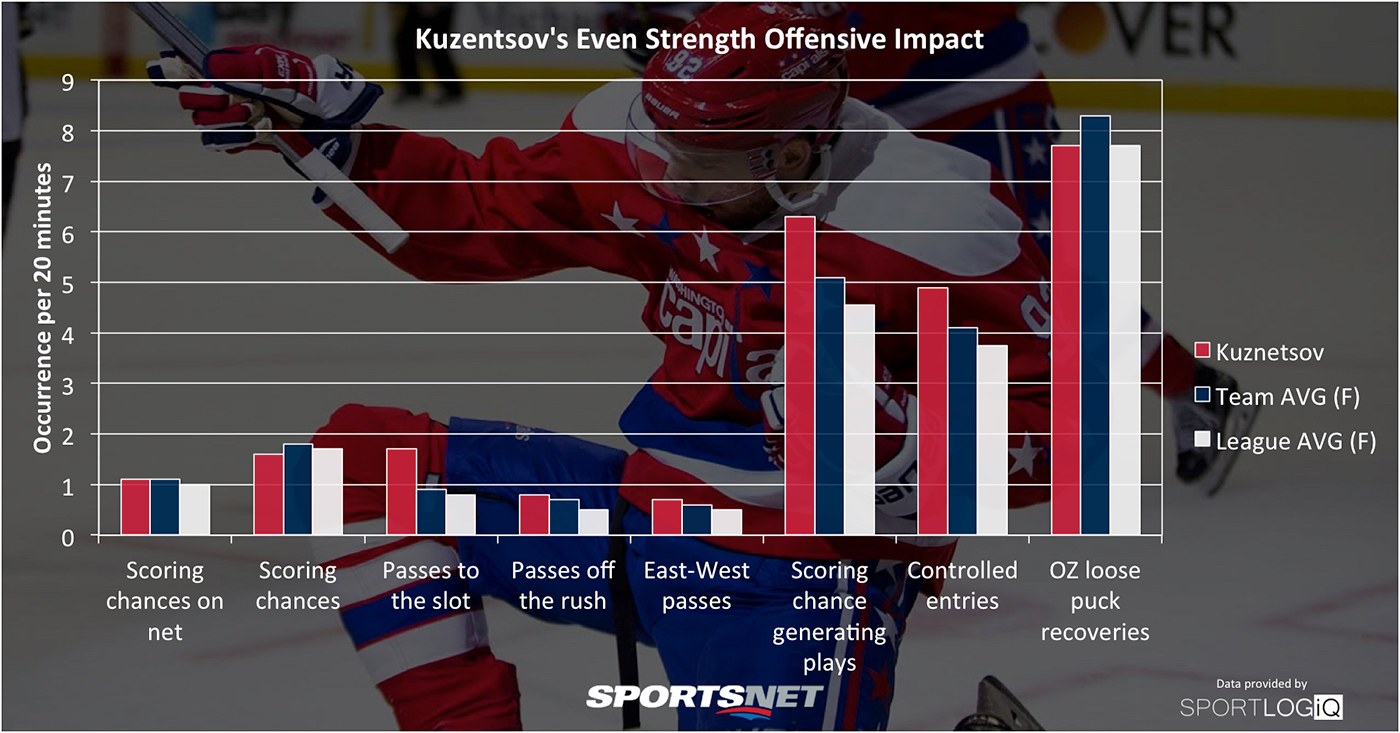 Kuznetsov isn't a high volume shooter, so his scoring chance numbers are a little lower than team and league average. But he has a very accurate shot and gets a higher percentage of his shot attempts on net, meaning his scoring chances on net are above league average.
Where he truly excels offensively though, is with his passing. Only Sidney Crosby and Henrik Sedin complete more passes to the slot per minute played than Kuznetsov, and right behind him is Joe Thornton. That's super-elite company.
Kuznetsov is also above average in terms of moving the puck East-West and connecting off the rush, but he's even better at making plays close to the net and in tight spaces — situations that most players can't effectively navigate.
Another area Kuznetsov excels in is gaining the offensive zone with possession, using his speed and stickhandling ability to force defenders back and avoid attempted checks. Only Marcus Johansson brings the puck into the offensive zone with control more often than Kuznetsov among Capitals players, and only Johansson and Ovechkin choose to dump the puck in less often.
The only area where Kuznetsov doesn't stand out in terms of offensive impact is forechecking. He is by no means poor relative to the rest of the league in this regard, but he isn't as effective as the Capitals' average. A factor behind this is that Washington is a very strong forechecking team.
While he isn't tops on the Capitals, Kuznetsov is second behind Ovechkin in scoring chance-generating plays, ranking 27th in the league at even strength in that measure. That seems low for a player who is second in the league in even strength scoring, but one of the reasons Kuznetsov is special is his high success rate on those game-breaking plays.
Kuznetsov may not be able to repeat this season unless he increases his shot rate, but what he's been able to do on offence is amazing. Especially when you consider he's a playmaker who spends a limited amount of even strength time alongside Ovechkin.