TORONTO – To believe the Toronto Maple Leafs stood pat during Kyle Dubas's first trade deadline voyage at the helm of this ship is to ignore the rookie GM's shrewd work to address the contending club's greatest need a month in advance of Monday's pins-and-needles deadline.
If the toy atop your wish list — in the Leafs' case, a reliable, hardnosed, minutes-munching, Stanley Cup–winning defenceman with a beard as enviable as his slapshot — arrived without notice next to your fireplace in late November, would you still complain if there was nothing but socks and underwear to unwrap on Christmas morning?
Jake Muzzin was Dubas's big swing. He cost the club its first-round draft pick, the preferred currency of Deadline Day. Thing is, the Muzzin deal didn't go down during Monday's duelling, televised analysis marathons and epic Twitter refresh sessions.
"I was saying yesterday, actually, I'm glad it's already happened so I don't have to worry about today or the past month of my name being floated around," Muzzin grinned after Monday's morning skate.
"It's been as smooth as possible, really. Getting the trade done before deadline, it's nice to have an extra month or whatever with the team and get accustomed to Toronto."
[snippet id=4269123]
Dubas made his splash, and, yes, Muzzin curves his stick the same way as four of the other five Toronto defencemen tasked with pushing this group deeper in the playoffs than they've been 15 years, but Mike Babcock has his horses.
The coach has access to the most even-strength goals in the league. He has 21 games to optimize his defence pairings. Time to make 'em run.
"Certainly I think [Muzzin's] skill set fits our group well," John Tavares said. "Anytime you add a player of his calibre, the more games you have him for, the better."
Although Dubas ultimately decided the rental prices were too rich to add, say, a Wayne Simmonds (Nashville) or Adam McQuaid (Columbus), he did the prudent thing by not rattling his room by subtracting from his top nine (Kasperi Kapanen, Andreas Johnsson) or ravaging his farm system by touching a defence prospect like Timothy Liljegren or Rasmus Sandin.
"Especially on a day like today, you feel like lots of things are imminent. We had a lot of discussions on a lot of different things, and in the end we deferred to what would make sense," said Dubas, noting he prefers to save core changes until summertime.
"We've got a lot of belief in our team and our people in there already."
Critics will look at the Maple Leafs' impending cap crunch and likely first-round rematch with a rugged outfit like Boston — which doubled down on proven wingers, adding Charlie Coyle and Marcus Johansson — and may be disappointed Dubas didn't buy more sandpaper upfront and/or an impactful right-shot defenceman.
The GM envisions a longer window, however, one propped open by graduating cheap, fully developed Marlies, like plucky Trevor Moore, who returns versus Buffalo Monday for the beginning of a prolonged big-league look.
"When you start building a team to play only one team in the playoffs, you start to lose your way a little bit and lose what you're about," Dubas said. "Time will be the judge whether that's the right way to do it."
In terms of actual business conducted, Toronto sent fourth-liner, one-goal-getter Par Lindholm, an impending UFA of little consequence, to Winnipeg for forward Nic Petan, a 23-year-old who's been healthy-scratched since Dec. 22 and only once this season played more than 10 minutes.
Petan's acquisition is a minor asset-management deal. Like Lindholm, he can play wing or centre, but as a restricted free agent this summer, he'll remain under team control.
Dubas saw more of the play-making Petan last season, when he put up 52 points in 52 games with the AHL Moose, and believes the mighty (and mighty expensive) Toronto development program can accentuate his positives. "He's a player that fits the way we want to play," Dubas said.
The Muzzin move sent ripples league-wide. Unprompted, Ottawa's Guy Boucher and Washington's Todd Reirden applauded Dubas for upgrading the blue line when they rolled through town. And players in enemy rooms freely hand over their respect.
"You put a Team Canada/World Cup–calibre defenceman on a team that's full of guys like that? That was a good move by them," says Matt Duchene, a major trade piece himself. "Their time is coming up to make a good push here, and they're going to be a good team for a while. Adding Johnny in the summer and Muzz now, that really helps them."
The Kasperi Kapanens and Connor Browns of the world did their best to downplay the air of uncertainty hanging between the Leafs' walls today, but Babcock said "for sure" trade deadline was a distraction.
"There's not one guy in that room that doesn't want to be a Leaf. A few years ago, they were probably dying to get out of here. That's not the case here now. They want to be here, they want to be part of it, and they want to be a part of it moving ahead," Babcock said.
"You really appreciate the people and how hard they work and what they've done for your franchise and, yet, sometimes their opportunity, their next one, is a better opportunity for them as well."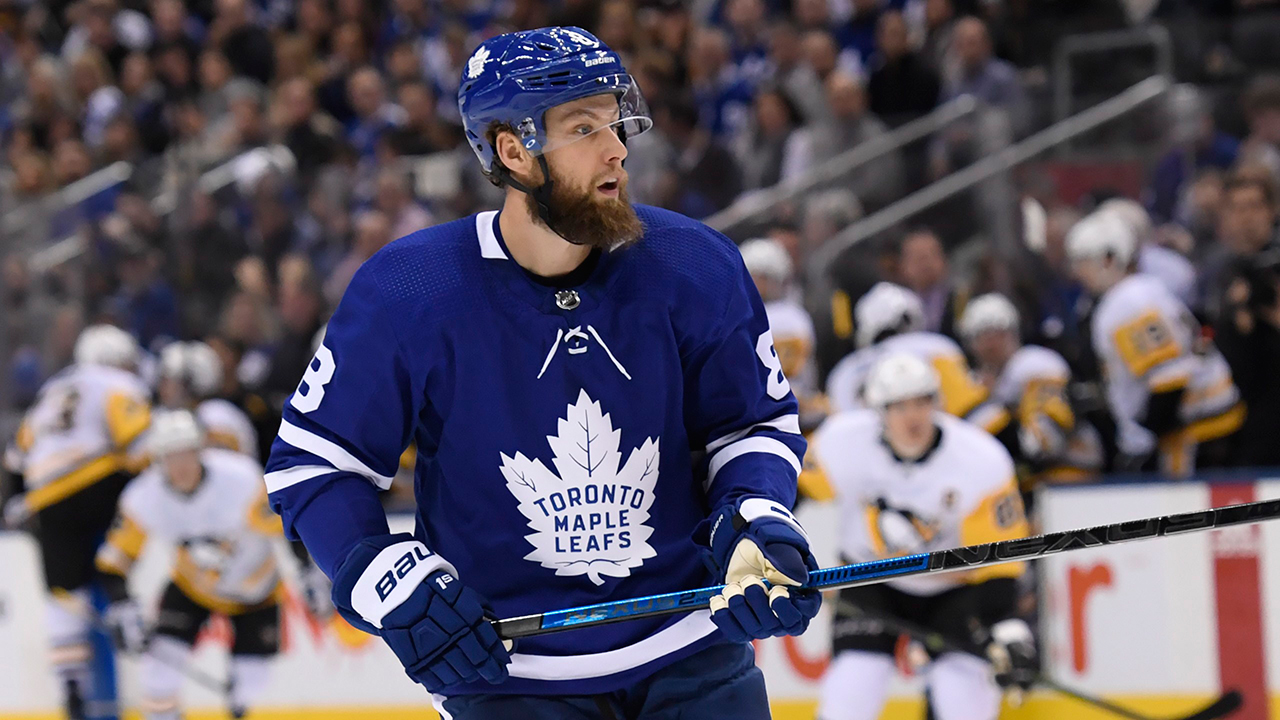 Dubas, no doubt, will have another remodelling project come summer, but top down, there is relief in knowing this is it.
Here's the group of men who will try to end the drought at 52 years. Or, for starters, survive the first round.
"You can just feel at ease and go on playing, where I'm sure for a lot of guys it's not easy," Tavares said. "It's over. Now there's no more talk about it. There's nothing else to focus on or worry about."
So, John, does this final roster — built as is — have what it takes to go deep? Through the Bruins, over the Lightning, and beyond?
"Absolutely."