Summertime, and the livin' is easy — just, not if you're Kyle Dubas.
While things have quieted down on the free agency front, the Toronto Maple Leafs general manager still has plenty of work to do in order to lock up one of the league's best young stars. Dubas provided an update on where things stand in the ongoing negotiations with RFA Mitch Marner during an interview on Tim & Sid on Thursday:
"We continue to have good dialogue daily with Mitch's representative, Darren Ferris, and we continue to try to work hard towards it," Dubas said. "I'll try to get as creative as we possibly can to try to get it across the finish line."
Dubas is no stranger to creativity, of course — we've seen plenty of it over the past few weeks as he and assistant GMs Brandon Pridham and Laurence Gilman craftily cleared cap space, signed players to team-friendly deals and filled some pressing needs on the trade market.
Item by item, the Maple Leafs' front office crossed things off their to-do list — and apparently, they saved the best for last.
"We've said repeatedly, and we're never going to change our stance on Mitch and the type of person that he is," Dubas said. "He's a joy to have around each day, coming into the rink each day and he's obviously a star player in the league already. Those are the types of players that you want to have a part of your program for as long as possible and we'll just continue to work with Darren to try to make sure that that remains the case."
Leafs fans might be getting increasingly nervous as days go by with no signing announcement — between Marner and #KawhiWatch, it's tense times in Toronto these days — but Marner's current situation isn't unique. Look around the NHL, and you'll see a long list of talented young RFAs that have yet to sign on the dotted line, waiting for one of their peers to set the post-entry-level deal precedent.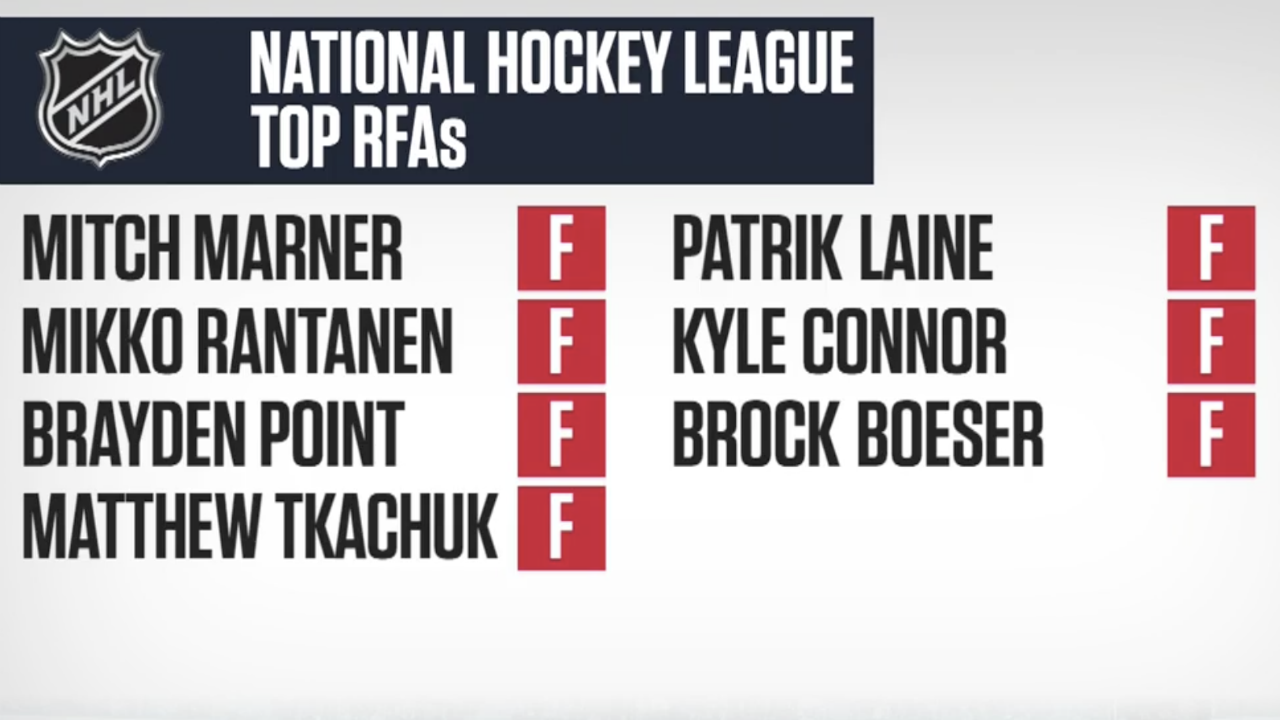 "I think I'd be a little bit more anxious if more of the other RFAs were starting to come off the board and we were still left without a solution," Dubas said. "It seems to be a situation throughout the league where there's a little bit of a standstill. But we'll keep working away, and they've been very good at communicating with us daily and we'll just continue to try to push it along."
That won't quite be as easy as simply putting pen to paper — it'll require some more creativity and a bit of shuffling on Dubas' part once again. After signing newly acquired RFAs Alex Kerfoot ($3.5M cap hit) and Cody Ceci ($4.5M), the Leafs are left with just shy of $4 million in cap space as it currently stands. Roster spots will need to be opened, too, as Cap Friendly points out. In addition to making room for Marner's contract, Dubas will need to (temporarily) open a spot for Nathan Horton in order to shift his $5.3-million cap hit over to LTIR — doing so would put the Leafs at just over $9 million in cap space.
And then there's the ever-looming threat of an offer sheet. The Montreal Canadiens took the rarely-used route to attempt to pry RFA forward Sebastian Aho from the Carolina Hurricanes and while it didn't work — the Hurricanes quickly matched — it likely made the threat feel a little more real for hockey fans closely watching RFA negotiations around the league.
"I think we went into the off-season, we were always prepared that that was a possibility," Dubas said. "We're aware of it, we're aware of the threat, we're aware of the different things that are happening with different teams and you kind of try to track where other teams are at to try to make sure that you're in a good spot in case one comes and then you have to make your decision based on whatever that may be, if the offer sheet is, in fact, signed.
"It's interesting, people say that somebody is going to be 'given' an offer sheet and I think that, because they're free agents, the discussion on the actual contract can be had with the player and his agent. So it would be an agreed-upon negotiation on that side as well," he continued. "If it happens, it happens, and I think we're in a spot where we've protected ourselves to make a very sound decision and not a defensive one. But like I said earlier, we're totally focused on certainly continuing to work with Darren and with their camp to try to get this done."