Among some of the story lines to watch heading into this season was how well the Anaheim Ducks would respond to their controversial coaching change. What made this particular switch behind the bench more interesting than a typical one was that it signalled a shift in philosophy within the Ducks organization.
After falling just short of reaching the Stanley Cup final on numerous occasions, the front office essentially flinched and presumably believed the team lacked some sort of innate trait that would put them over the top. The removal of Bruce Boudreau and hiring of Randy Carlyle would ultimately serve as a good litmus test for all of the traits and styles the two coaches generally use.
While judgement on the Ducks will be reserved for how they perform in the late stages of the season, the early returns haven't exactly been promising with just two wins in their first six games.
And their struggles have largely been self-inflicted.
The elephant in the room is that they've backed themselves into a corner financially by making a series of poor investments in depreciating assets such as Kevin Bieksa. He's one of a few aging players on the roster who they'll have trouble moving away from because they make a fair amount against the cap, yet have seen a decline in performance. That lack of flexibility has tied GM Bob Murray's hands. Despite sorely needing to add scoring punch this summer, Anaheim's big off-season moves involved signing players (Antoine Vermette, Jared Boll, and Mason Raymond) off the scrap heap.
Most importantly, the lack of available money has forced them to make the unpalatable decision of starting the season without their most valuable defenceman. The ramifications Hampus Lindholm's absence have been glaring. With Lindholm unsigned and Simon Despres on the shelf with an injury, the blueline that used to be a strength of the team has quickly become a liability.
It's difficult to separate how much of that is Carlyle's doing and how much of it is the bad hand he's been dealt by the factors outside of his control. What can be said, though, is that he hasn't done himself any favours with how he's used the players to which he does have access.
---
READ: TRADE RUMOURS SWIRL AS DUCKS TRY TO SIGN LINDHOLM
---
Instead of using these openings on the blue line as an extended tryout for young, highly regarded defencemen in the system such as Brandon Montour and Shea Theodore (or even Jacob Larsson), Carlyle has resorted to using veterans who have far less functionality. While it's next to impossible to argue that Clayton Stoner and Korbinian Holzer aren't clearly inferior options to their younger peers, they fit the mould of defenceman Carlyle has typically gravitated towards in the past. They're big, physical, and play an excessively conservative game.
What they conspicuously lack is a level of skating ability or puck handling capability an NHL defenceman needs to keep his head above water in 2016. As such, the results haven't been pretty. The Ducks have been feasted on by the opposition whenever Holzer and Stoner have been on the ice, which isn't surprising considering they haven't been able to do anything to regulate the movement of the puck into and out of their own zone (through the first six games of the season):
| NAME | POSSESSION EXIT % | CARRY-IN AGAINST % | NEUTRAL ZONE SCORE |
| --- | --- | --- | --- |
| Sami Vatanen | 63.41% | 33.33% | 30.08% |
| Josh Manson | 45.45% | 39.29% | 6.16% |
| Cam Fowler | 48.89% | 51.85% | -2.96% |
| Jacob Larsson | 47.83% | 55.00% | -7.17% |
| Kevin Bieksa | 44.44% | 56.67% | -12.23% |
| Simon Despres | 25.00% | 66.67% | -41.67% |
| Korbinian Holzer | 18.18% | 75.00% | -56.82% |
| Clayton Stoner | 12.00% | 80.00% | -68.00% |
Even though it's not surprising to see that transitioning the puck through the neutral zone has been difficult for the Ducks this year, it has been a startling departure from where they were the last time we saw them under Boudreau. While the dip in talent available has played a role, of bigger concern is the familiar mandate of Carlyle teams to fire the puck off the glass and out of the zone whenever possible without any real ambition.
A lot was made of the adjustments Boudreau made on the fly in 2015-16 to reverse a dreadful start to the season. The best thing he did was realize he needed to change his plan of attack and cater it around the personnel he was given. NHL coaches are often far too rigid in this regard, trying to impose their preferred system whether or not they have the chess pieces to pull it off.
By the end of last season, the Ducks had become a puck possession monster as a premeditated means for combatting a dreadfully low team shooting percentage. They did so by owning the neutral zone and not relinquishing the puck to the opposition unless they had no choice. Tilting the ice in their favour allowed the raw volume of shots to eventually add up to an increase in goals and wins. Handing over the car keys to a talented blue line that was more than capable of generating offence and driving play played an instrumental role in that transformation.
Just look at the individual numbers for Anaheim's most frequently used defencemen in last year's Round 1 playoff series against the Predators. The difference between their neutral zone efficiency then and now is jarring, having gone from having five of six defencemen with a possession exit percentage north of 50 to just the one now:
| NAME | POSSESSION EXIT % | CARRY-IN AGAINST % | NEUTRAL ZONE SCORE |
| --- | --- | --- | --- |
| HAMPUS LINDHOLM | 59.21% | 42.86% | 16.35% |
| SAMI VATANEN | 61.76% | 48.72% | 13.04% |
| SIMON DESPRES | 50.00% | 46.88% | 3.12% |
| CAM FOWLER | 62.30% | 64.29% | -1.99% |
| SHEA THEODORE | 50.00% | 55.56% | -5.56% |
| KEVIN BIEKSA | 41.67% | 66.67% | -25.00% |
(2015-16 post-season)
This season, Vatanen has been left on an island. He's had to handle a significant part of the heavy lifting early on from a puck-moving perspective. Fortunately for the Ducks, he's been more than up to the task.
A good snapshot of that came during a recent game in Philadelphia, where Vatanen masterfully turned what could've been a scoring opportunity for the opposition into a goal for his team. Rather than passively sagging back and conceding the zone, he aggressively forced the oncoming attacker to give up the puck: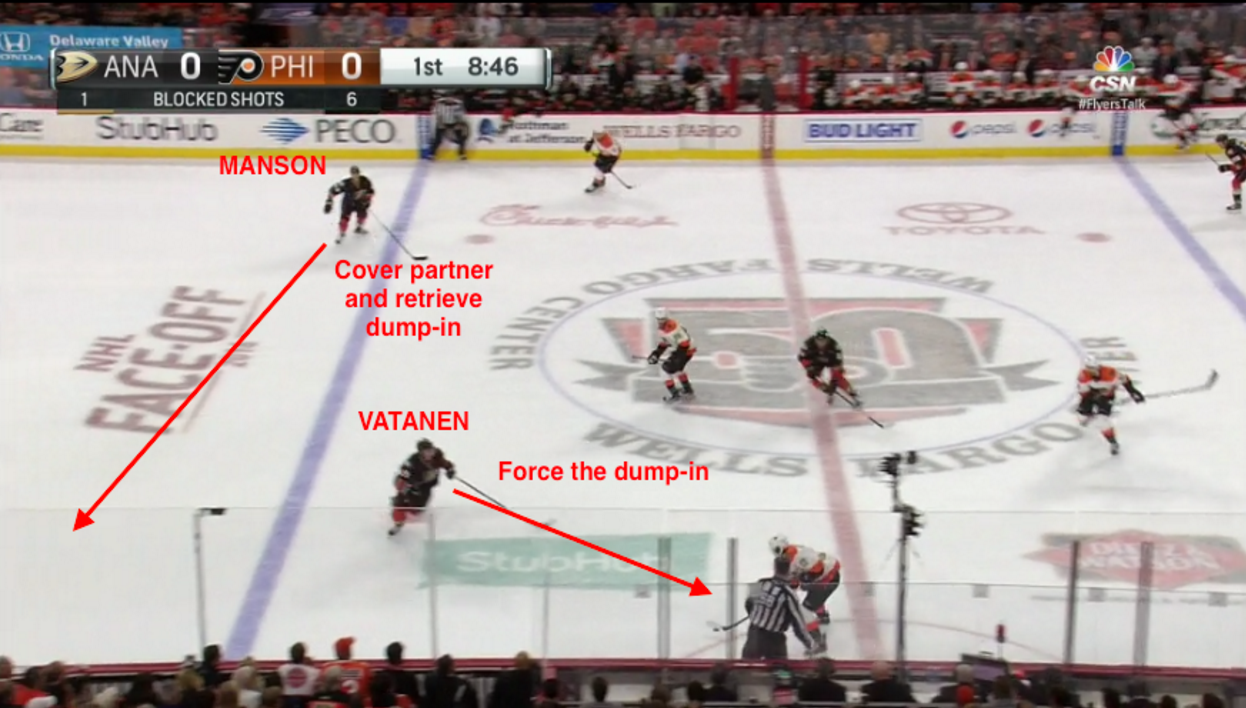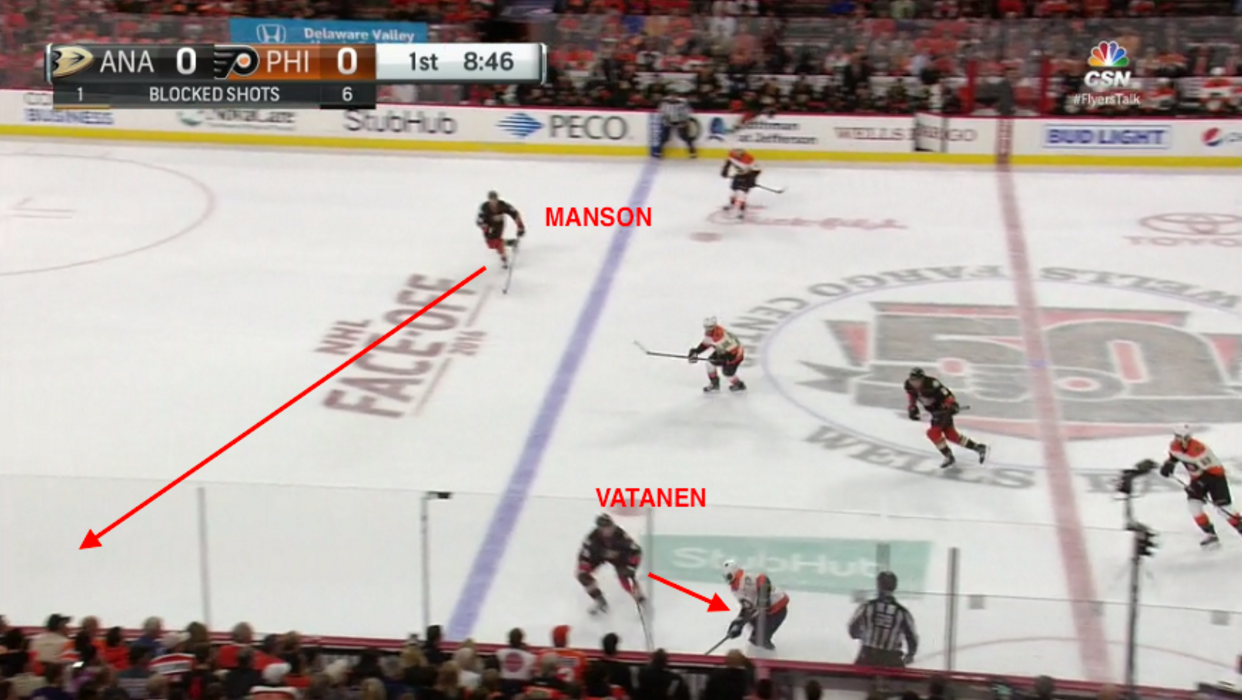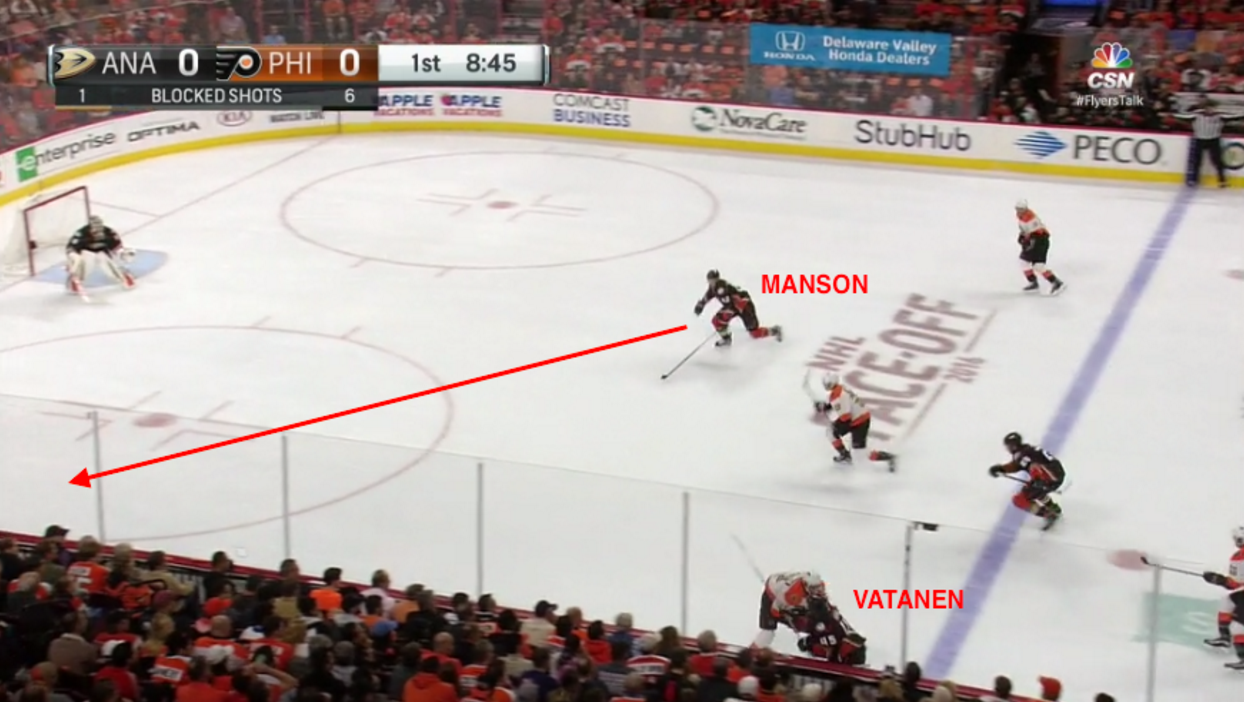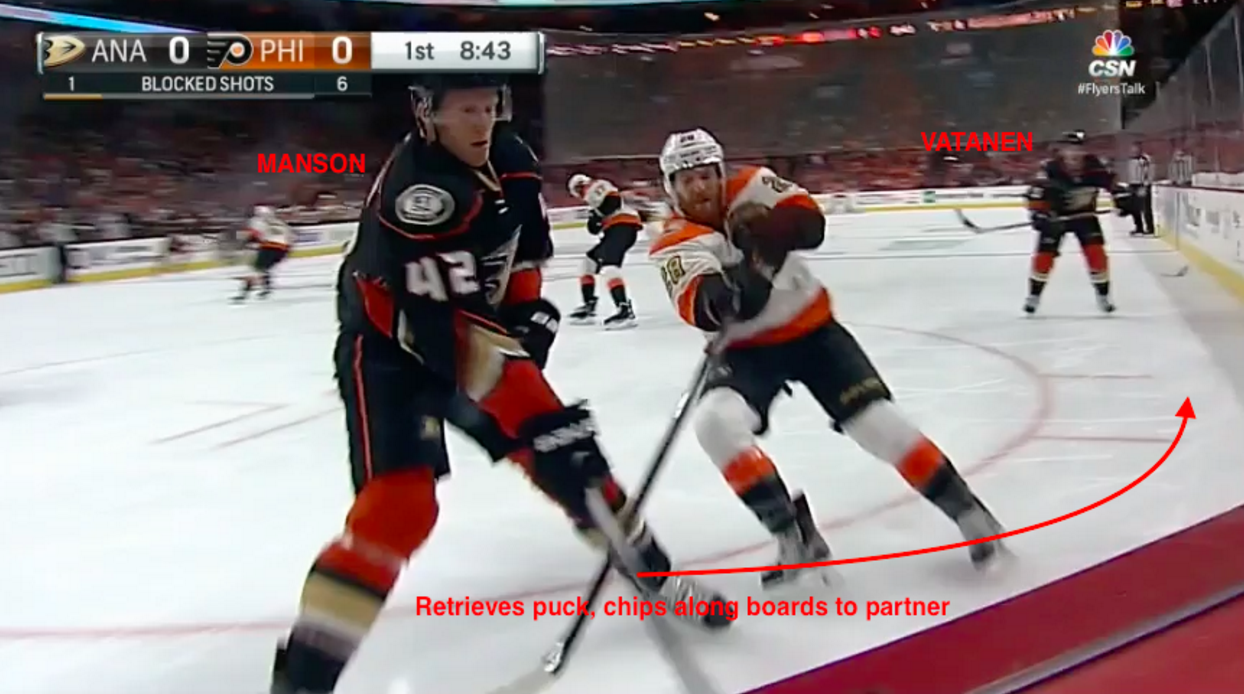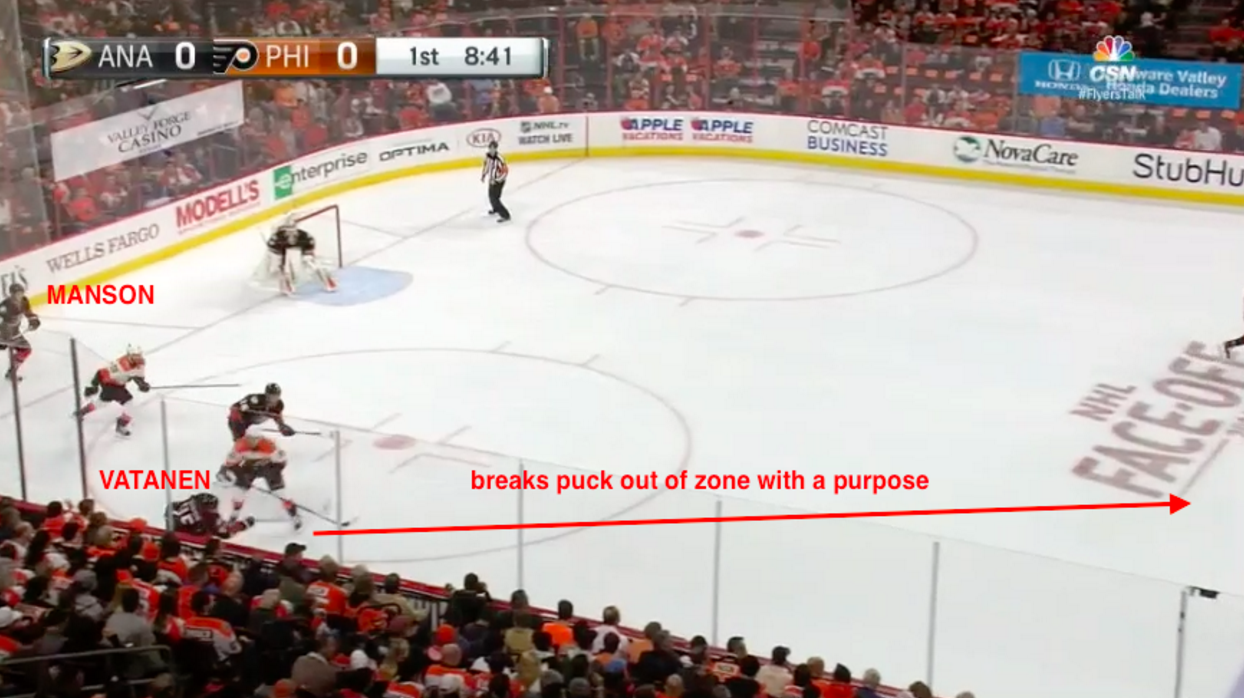 Once Vatanen was able to recover the puck, he didn't waste any time springing his teammates the other way. For a team that's been struggling to generate goals at five-on-five for more than a year now (they were 25th in goals/60 minutes last season, and are 26th this season), creating easy opportunities in transition to compensate should be a top priority.
The Ducks need more quick-strike plays like this to make life easier on their forwards. But Vatanen is just one player and when he isn't involved, things have been fizzling out too frequently before the team can generate anything. Much like Boudreau did after they started the year slowly last season, Carlyle will need to figure out how to optimize the rest of his blue line so that a large part of the offence runs through them.
If he can't make that adjustment, the Ducks won't have to worry about bowing out of the Stanley Cup Playoffs in heartbreaking fashion yet again, because they may not qualify for the post-season at all.