The biggest surprise coming out of the Montreal Canadiens' training camp was Victor Mete not only making the roster, but also ending up on the top pairing with Shea Weber.
Mete possesses a package of skills that the Canadiens desperately need on defence, with only Weber and Jeff Petry qualifying as any kind of puck mover, and especially on the left side where the Canadiens lost Andrei Markov in the off-season.
Fantasy Hockey Pool
Play the Sportsnet Fantasy Hockey Pool for your chance to score big with over $22,000 worth of prizes to be awarded!
While his pre-season performance was strong, there were some who remained a little skeptical that Mete was actually ready for prime time, instead of just being a player who best fit the needs of the team. With four regular season games in, we can check in to see how he's holding up to the rigours of the real pro game so far.
Through four games, Mete leads all Canadiens defencemen in transition plays, moving the puck up the ice 18 times per 20 minutes of ice time at even strength, which is exactly what the Canadiens need from him. However, while the number may be high, that doesn't account for failed plays, so let's look at how successful he's been in transition relative to his teammates.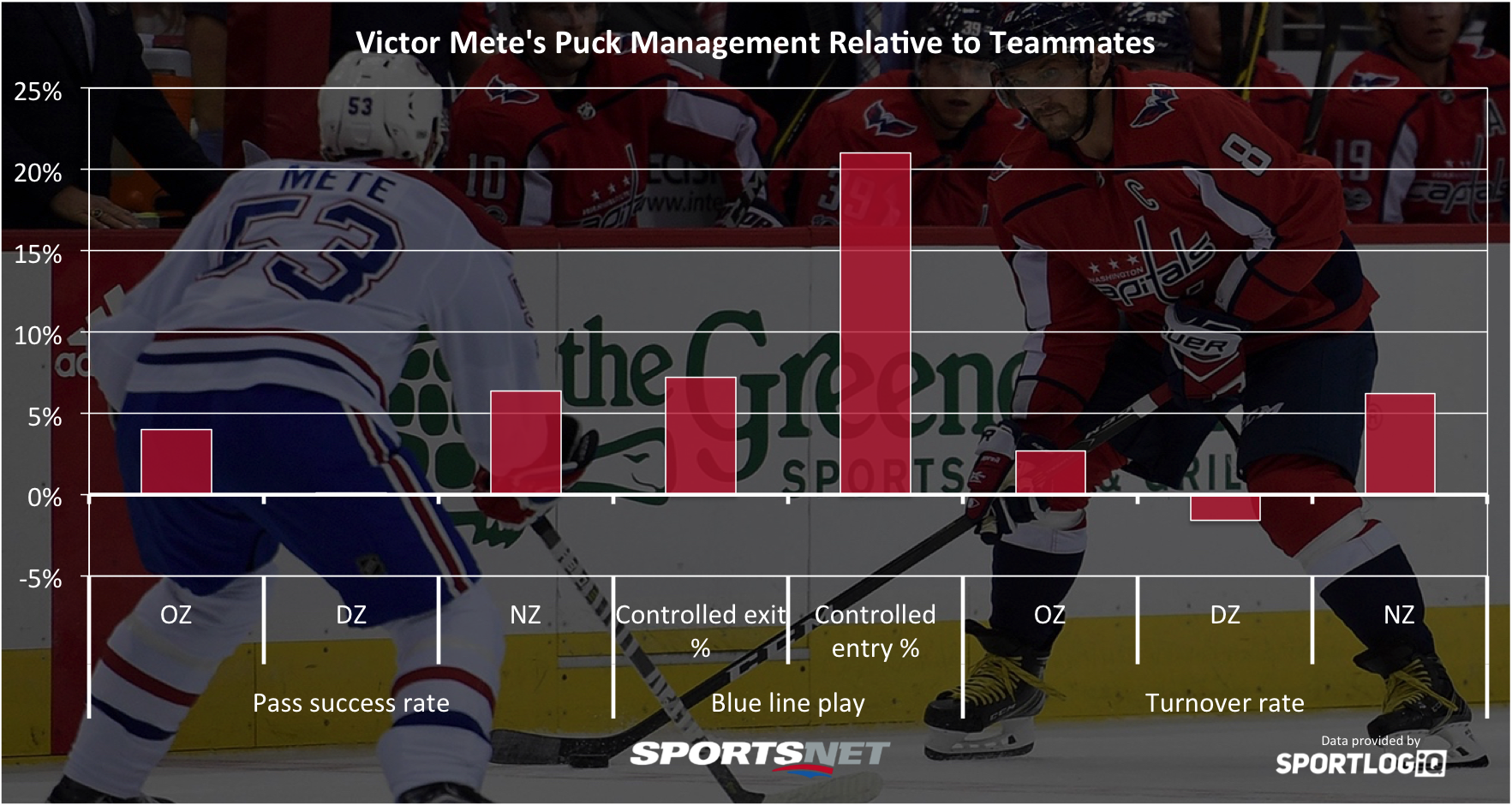 He's not a game changer in the defensive zone yet, but let's remember for a minute this is a 19-year-old rookie who is playing some of the toughest minutes in the NHL alongside Weber. Being slightly below team average in turnover rate and average in pass success rate in the defensive zone isn't exactly a slight against him, especially when you consider how much pressure he's facing to make plays.
Mete is very clearly the most efficient Canadiens defenceman at both blue lines, creating more controlled exits than any other defenceman (3.3 per 20 minutes played at even strength) and more that are followed by another successful play (2.9).
Mete is reluctant to dump the puck, a trait the Canadiens need to generate offence while Weber is on the ice at even strength, and something that was a problem last season. Now, you may be thinking the Canadiens haven't generated any offence this year either, but wild things can happen in four games. The point is the process with Mete is good.
To go along with his excellent play at both blue lines, Mete has been solid between them, too, boasting the lowest turnover rate in the neutral zone on the Canadiens.
It should be noted that playing next to Weber is also a high pressure situation; Weber doesn't love to handle the puck in his own zone. His conservative approach there puts pressure on his partner to make more plays with the puck than normal and under more pressure from opposing forecheckers than normal. That pressure seemed to break Nathan Beaulieu's confidence early last season, but Mete is, so far, handling it with relative ease.
Live stream over 300 marquee regular season games, regional matchups for the Edmonton Oilers, Calgary Flames, Vancouver Canucks and Toronto Maple Leafs, and the entire 2018 Stanley Cup Playoffs.
This is big for the Canadiens, as they don't have another player with Mete's ability to both skate and pass the puck at a high level. Petry is a wonderful puck rusher, but can struggle with passing. Weber can make some great stretch passes, but lacks the breakout speed and consistent outlet pass to reliably clear the defensive zone and start the rush. Mete is the only defenceman here who can do both.
The fact he's handling a harsh transition from junior to tough NHL minutes so well could be a key to Montreal's season…once they start scoring on more than three per cent of their shots.