With the amazing rookie seasons put forth by Auston Matthews, Patrik Laine, and Matthew Tkachuk last season, Jesse Puljujarvi was considered a bit of a disappointment as the fourth overall pick by spending most of his 18-year-old season being pretty good in the American Hockey League
Honestly, that perception isn't very fair. Players progress at different rates and it shouldn't have been considered a disappointment when he didn't stick in the NHL or dominate the AHL.
Now 19 years old, it looks like the combination of the Oilers' lack of depth on the wing and some physical progression has allowed Puljujarvi a huge opportunity to seize a permanent roster spot. And he brings a skillset the Oilers desperately need right now.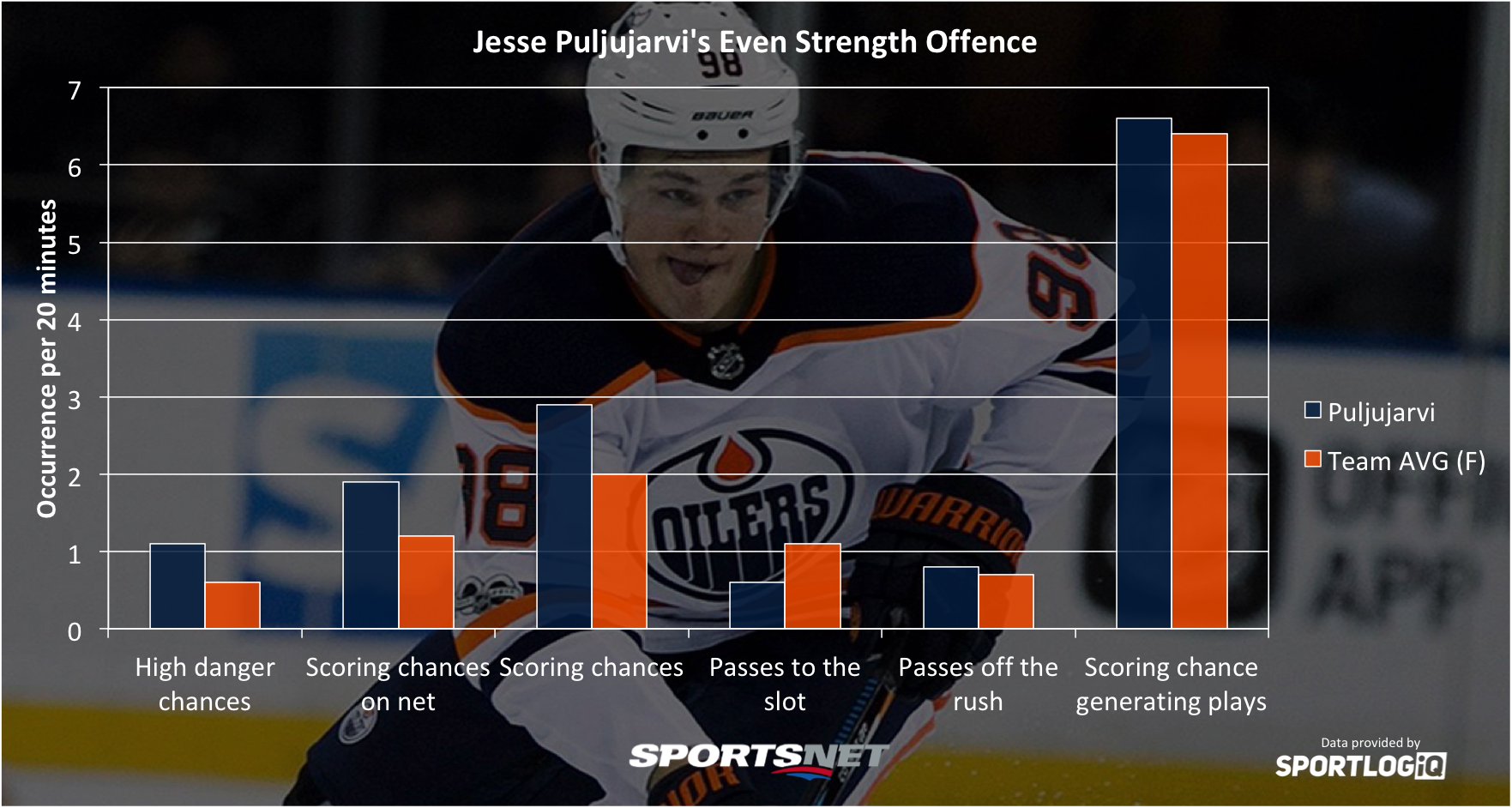 Early in the year, the Oilers looked great by all the underlying statistics, but were being undone by bad shooting percentages and horrible goaltending. Only a few pointed out that one of the biggest problems for the Oilers was that they tended to shoot from fairly far out.
That has started to change recently, and one of the reasons has been Puljujarvi's ability to get shots off from in close. He's not a great playmaker at this stage, though he has a strong ability to attack off the rush and can get on pucks near the net and create scoring chances for himself and his teammates.
Puljujarvi has also been a strong possession driver. All four of the line groupings he has played more than 20 minutes with have a Corsi over 55 per cent, with his shot rate being a nice boost there.
One of the biggest areas where Puljujarvi improves the Oilers' ability to score is in capitalizing on rebounds. It may not sound like much, but his 0.6 rebound or second chance shots on net per 20 minutes at even strength leads the entire NHL. Those types of chances are both tough to get and extremely valuable. Rebound chances are converted to goals almost 40 per cent of the time, and since defending teams and their goaltenders recover about 90 per cent of those loose pucks, it's a rare skill to be able to find those chances consistently.
[snippet id=3317857]
With that said, there's no evidence yet this is a repeatable skill for Puljujarvi, though it makes sense that a player with his skill set would be that type of producer.
Puljujarvi is also a strong forechecker who recovers more loose pucks than team average in the offensive zone. But where he really shines without the puck is in the neutral zone, where he's among the team leaders in stripping pucks from opponents, and leads all Oilers forwards in loose puck recoveries.
That strong neutral zone play might be a good indicator that Puljujarvi is a good fit with Connor McDavid, as Puljujarvi can be the guy running around the neutral zone while McDavid conserves some energy and remains ready to quickly counter-attack.
Puljujarvis' tendency to drive the net and ability to attack off the rush is also a good fit with McDavid and are the same basic skills that allowed Pat Maroon to play the best hockey of his career on McDavid's wing.
Maroon is a better player than many give him credit for, but Puljujarvi's ceiling is much higher. Grooming him to play alongside the best player in the game to form a dynamic duo seems like a smart choice to me.
[relatedlinks]