All season long people have been asking me to make Trade Tree articles for somebody other than the Leafs.
Well, let's make it a big one.
Since they're locked in a second-round playoff series together, let's talk about when the Edmonton Oilers traded Chris Pronger to the Anaheim Ducks.
On July 3, 2006, the Oilers traded Chris Pronger to the Ducks for two players and three picks:
Joffrey Lupul
Ladislav Smid
2007 1st-Rounder
2008 1st-Rounder
2008 2nd-Rounder
The aftermath of this deal paid immediate dividends for the Anaheim Ducks as they won the 2007 Stanley Cup. The ripple effect of this deal, which you can still see on both teams to this very day, has resulted in an additional 10 trades for the Ducks and 11 trade (arguably 13) for the Oilers.
To condense things, I made a video where I go through the details of the trade and how it has evolved over the years.
Let's do some writing anyway.
The Ducks got great use out of Chris Pronger. He scored 150 points in 220 regular season games as a Duck, plus another 30 points in 38 playoff games.
Before the 2009-10 season, the Ducks traded Pronger to the Philadelphia Flyers for four assets:
Luca Sbisa
Joffrey Lupul
2009 1st-rounder
2010 1st-rounder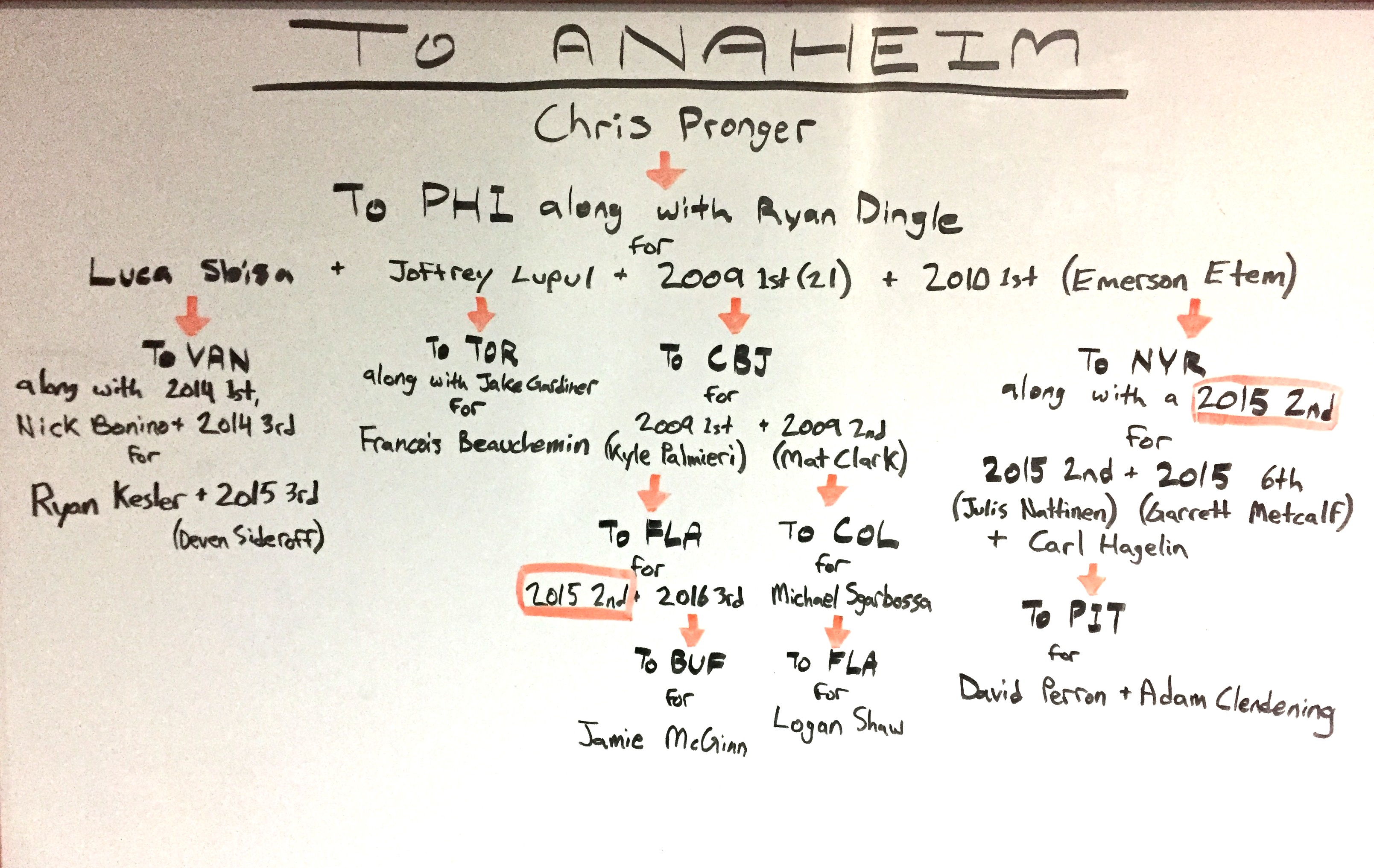 It's pretty incredible that the Ducks received pretty much the exact same package for Pronger that they used to get him in the first place three years prior: Two first-rounders, a big European defender with the initials L.S., and Joffrey Lupul. They only thing they were missing was a second-rounder.
Luca Sbisa eventually became one of the four assets the Ducks gave up to Vancouver in exchange for Ryan Kesler.
Lupul was dealt to Toronto along with Jake Gardiner for Francois Beauchemin, a deal both teams are probably OK with.
All the Ducks have to show for the 2009 first-rounder today is Logan Shaw since they drafted and traded Kyle Palmieri before he really broke out.
Finally, the Ducks squandered their 2010 first-rounder a bit. Emerson Etem was dealt in a package for Carl Hagelin, who was dealt for David Perron and Adam Clendening, both of whom walked from the Ducks for nothing.
Outside of Kesler, the Ducks weren't able to convert the return they got for Pronger into very much. Beauchemin was a good defender for them, but remember, the cost was Gardiner and Lupul. Even Kesler is shoehorned onto this list because Sbisa was still only one of four pieces used to acquire him.
The initial trade to get Pronger was made by Brian Burke with one immediate goal in mind: Win the Stanley Cup. They did that right away. Everything after that is a bonus.
Now – what did the Oilers get?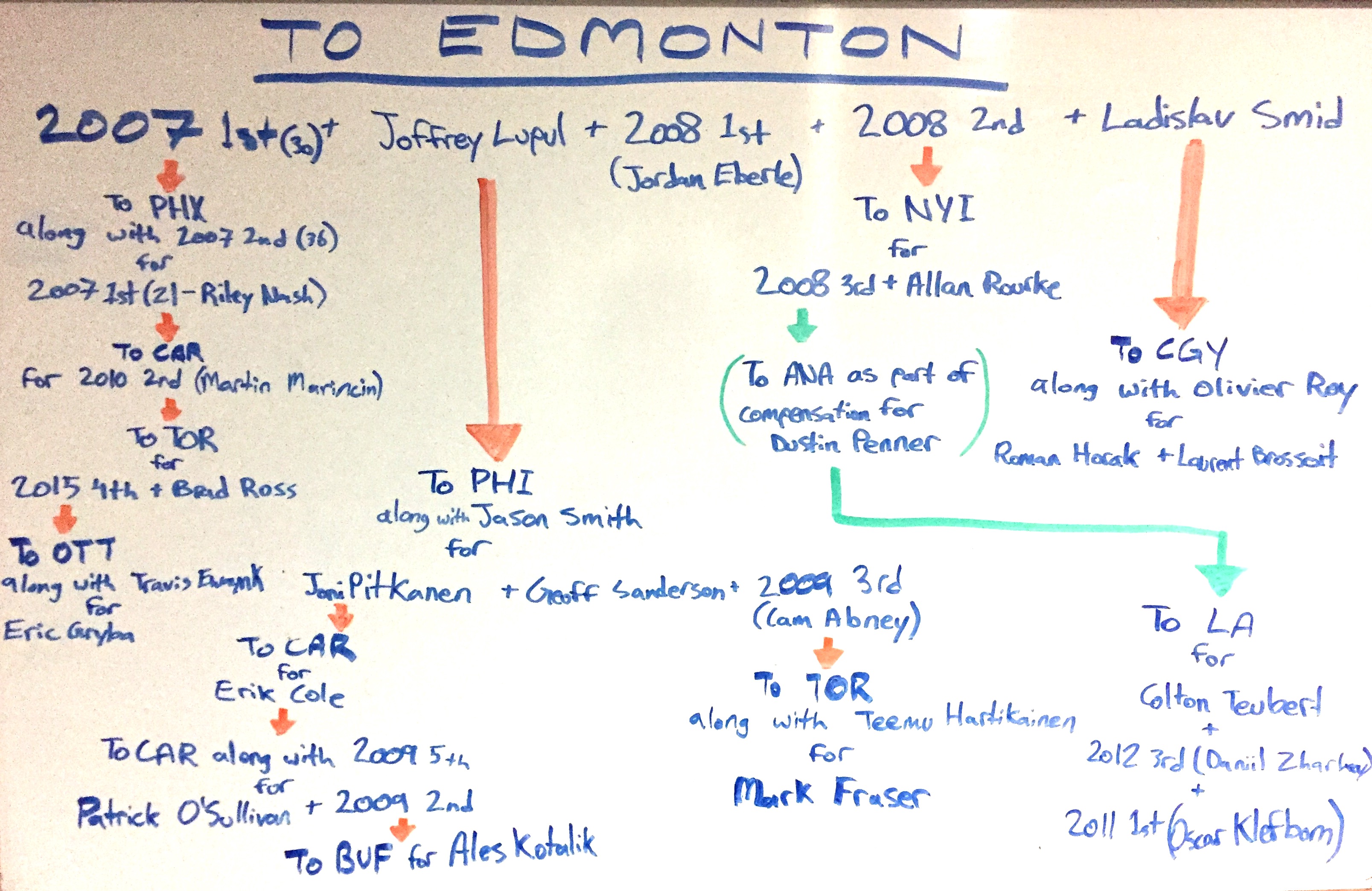 After the Oilers traded Pronger following their 2006 run to the Stanley Cup Final, the next time they made the playoffs is, well, now.
Given how bad the Oilers have been in recent years, you would think that they lost this trade pretty badly. Honestly, I'm not totally convinced that's the case.
We'll look at the moves they made that fizzled and work our way up to the good ones.
The 2007 first-rounder the Oilers got, which was 30th overall, was dealt to Phoenix along with the 36th overall pick in exchange for the 21st overall pick. The Oilers used that pick to select Riley Nash.
Edmonton traded Nash to Columbus for a second-rounder that they used to select Martin Marincin, who was a fun Mainstream vs. Blogosphere argument for a few years.
Marincin was dealt to Toronto for a fourth-rounder. The Oilers traded that pick for Eric Gryba. In one way, this is worthy of praise because the Oilers have somebody as a result of a trade they made nearly 11 years ago. On the other hand, did anybody I just mentioned have a big impact in Edmonton?
Joffrey Lupul was dealt to Philadelphia along with Jason Smith for Joni Pitkanen, Geoff Sanderson, and a third-rounder that was used to select Cam Abney. Edmonton later traded Abney and Teemu Hartikainen to Toronto for defender Matt Fraser. Pitkanen turned into Erik Cole, who turned into Patrick O'Sullivan and a pick, which turned into Ales Kotalik.
None of Lupul, Pitkanen, Sanderson, Fraser, or Kotalik spent more than one season with the Oilers. Only Patrick O'Sullivan spent more than one season in Edmonton, and even he only lasted 92 games.
After getting seven seasons of use out of Ladislav Smid, the Oilers dealt him and Olivier Roy to the Calgary Flames for Roman Horak and Laurent Brossoit, who is still with the team.
Now, the only reason the Oilers got a 2008 first-rounder from the Ducks was because Anaheim made the Stanley Cup Final. That was the condition. As a result, the Oilers got the 22nd overall pick which they used to select Jordan Eberle.
Eberle isn't immune from criticism, or deserving it, but it's hard to deny what he has done with this team. He has 382 points in 507 career games – all as an Edmonton Oiler. It's not often you get a player like that with a conditional draft pick.
This last one is tricky.
The Oilers traded the 2008 second-rounder they received from Anaheim to the New York Islanders for Allan Rourke and a 2008 third-rounder. Rourke played just 13 games with the Oilers. Fun fact: The Islanders turned that second-rounder into Travis Hamonic.
Now we could end it right here but there is an asterisk on the 2008 third-rounder Edmonton got from the Islanders.
Kevin Lowe and the Oilers offer-sheeted Dustin Penner of the Anaheim Ducks, much to the displeasure of Brian Burke. The compensation was a 2008 first-rounder, a 2008 second-rounder, and a 2008 third-rounder. The third-rounder the Oilers gave Anaheim was the same one they received from the Islanders. Now say that three times fast.
Even though that transaction wasn't a trade, let's throw it in for fun.
Penner played three seasons for the Oilers before being traded to Los Angeles for a king's ransom: Colton Teubert, a 2012 third-rounder, and a 2011 first-rounder.
Teubert didn't work out. The third-rounder became Daniil Zharkov who hasn't worked out. The 2011 first-rounder though? The Oilers picked Oscar Klefbom.
Because of the Ducks' Cup win in 2007, it's impossible for them to lose this trade. They had a goal and achieved it. That doesn't mean the Oilers lost though.
The Oilers flubbed or squandered certain aspects of this trade but they also have two, arguably three players on their team due to this deal they made 11 years ago.
That's it for the Chris Pronger Trade Tree between Edmonton and Anaheim – for now.