ST. LOUIS – If the first quarter of Elias Pettersson's season had been the same as the last quarter, the conversation about the Vancouver Canucks' rookie would have been starkly different.
It would have been, well, what we expected: a gifted, slender teenager from Sweden challenged by the transition to the smaller ice, greater physicality and higher talent of the National Hockey League.
But that's not how Pettersson started. Instead, the centre scored 10 times in his first 10 games – before he turned 20 on Nov. 12 – to become the youngest of the five players in 100 years who have begun their NHL careers that way. That breathtaking start framed the discussion about Pettersson while sparking wonder and adoration in Vancouver unseen since the early years of Pavel Bure. Pettersson changed the Canucks' landscape.
Livestream every game of the Stanley Cup Playoffs, blackout-free. Plus stream the Blue Jays & MLB, Raptors and NBA Playoffs matchups and more.
The Swedish League scoring champion and MVP proved not only that he could play at this level as a rookie, but thrive as an offensive force in the best league in the world.
All he has to do now, after a disappointing end to his rookie season, is prove he can further adjust and keep getting better.
As the Canucks finished their season Saturday with a 3-2 shootout loss to the St. Louis Blues, Pettersson's tying goal in the third period was just his second in Vancouver's final 23 games. He scored twice after Valentine's Day.
And although the fifth-overall draft pick from 2017 had 11 assists in that span, he also went minus-11.
"I want to get better at every aspect," Pettersson said of his off-season, which could include national-team duty with Sweden at the world championship in May and a trip to Las Vegas in June to collect the Calder Trophy as the NHL's top rookie. "I feel like lately I didn't played my best hockey. Teams were scouting me, trying to shut me down. I have to find a way to be successful when teams put even more pressure on me.
"Of course, every summer you try to get stronger, faster, all that. But when it doesn't go my way, I will try to find new ways to be successful."
Twice injured as a rookie, Pettersson finished his inaugural season with a team-leading 28 goals and 66 points in 71 games. He scored 26 of the goals in his first 48 games.
It's like he got a head start on a sophomore slump as teams increasingly keyed on Pettersson. This isn't entirely bad; it's clear Pettersson is fired up about his flat finish, which will further fuel his summer training in Sweden. He will return to the Canucks next fall extremely motivated.
"The biggest thing I took from Year 1 was the length of the schedule and how long the NHL season is," Pettersson's linemate and road-trip roommate, Brock Boeser, said. "I felt I learned a lot of things my first year. This year, when I was mentally tired for games, I knew how to prepare for those games better than I did my first year.
"It will be different for Petey, too, because he'll get a full summer of training. He knows what he needs to do."
Boeser's experiences should help Pettersson. The 22-year-old Minnesotan missed a swath of training time last summer while recovering from serious back and wrist injuries. When he returned to the Canucks in September, Boeser was behind teammates in conditioning, and in October sustained a groin injury that caused him to miss 13 games.
Despite all this, Boeser still posted 26 goals and 56 points in 69 games. Boeser will work on conditioning and quickness this summer. He has invited Pettersson to visit him in Minnesota, where Boeser has purchased a lake house north of Minneapolis.
"I told him when he comes over for the NHL awards, if he wants to come out a week before or a week after and spend some time with me, that would be really fun," Boeser said. "We can go wake-surfing, jet-skiing, whatever on the lake. Just relax a little bit before he goes back to Sweden and works his tail off."
"He got a new house there and it looks pretty sick, so I'll probably go," Pettersson said. "We'll see how he takes care of me if we get there."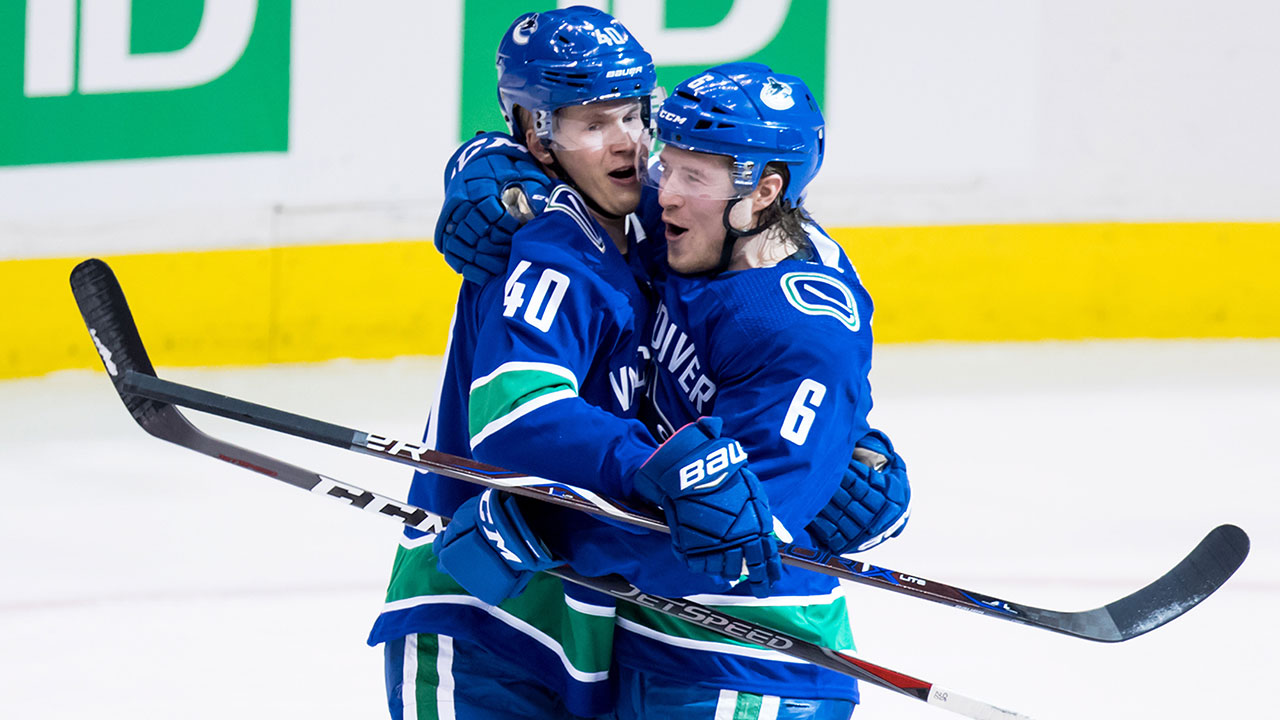 They've been a natural fit on the ice.
"We think hockey alike," Pettersson said. "We're two very competitive guys and we want to get better every day. We just work good on the ice."
If the Canucks are to become a playoff team next season, which the players and organization believe is a realistic goal, Pettersson and Boeser probably need to generate at least another 10 points apiece. And stay healthy.
"I'm really excited for next season," Pettersson said. "This season was exciting for me and the team and the organization, and also for the fans. It's no secret Vancouver has had some down years. But it's starting to go up and we're becoming a competitive team for the playoffs."