The St. Louis Blues are hosting 'Goalie's Night' Saturday and a few legends will be in attendance.
One of those Blues alumni is Curtis Joseph, whose mask will be commemorated by Brian Elliott. Grant Fuhr, Martin Brodeur and Mike Liut will also take part in the event.
CuJo played for the Blues from 1989 to 1995 and originally wore this mask before switching permanently to his trademark 'CuJo' look.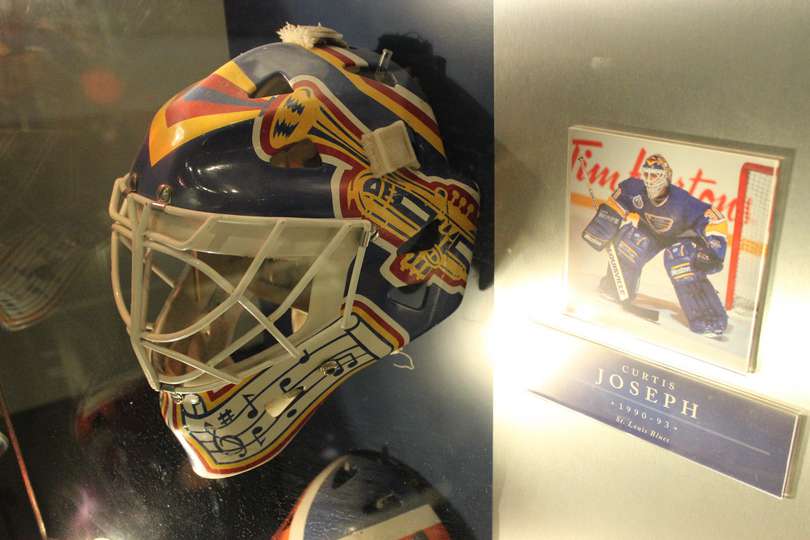 The artist behind the mask is David Arrigo, whose work is widely recognized and acclaimed, and not just for masks. His primary work is in murals, though his range is wide. He's worked with athletes in various sports, including downhill skiing and racecar driving, but if you've paid attention to goalie mask art the last 10 years, you'll recognize his work.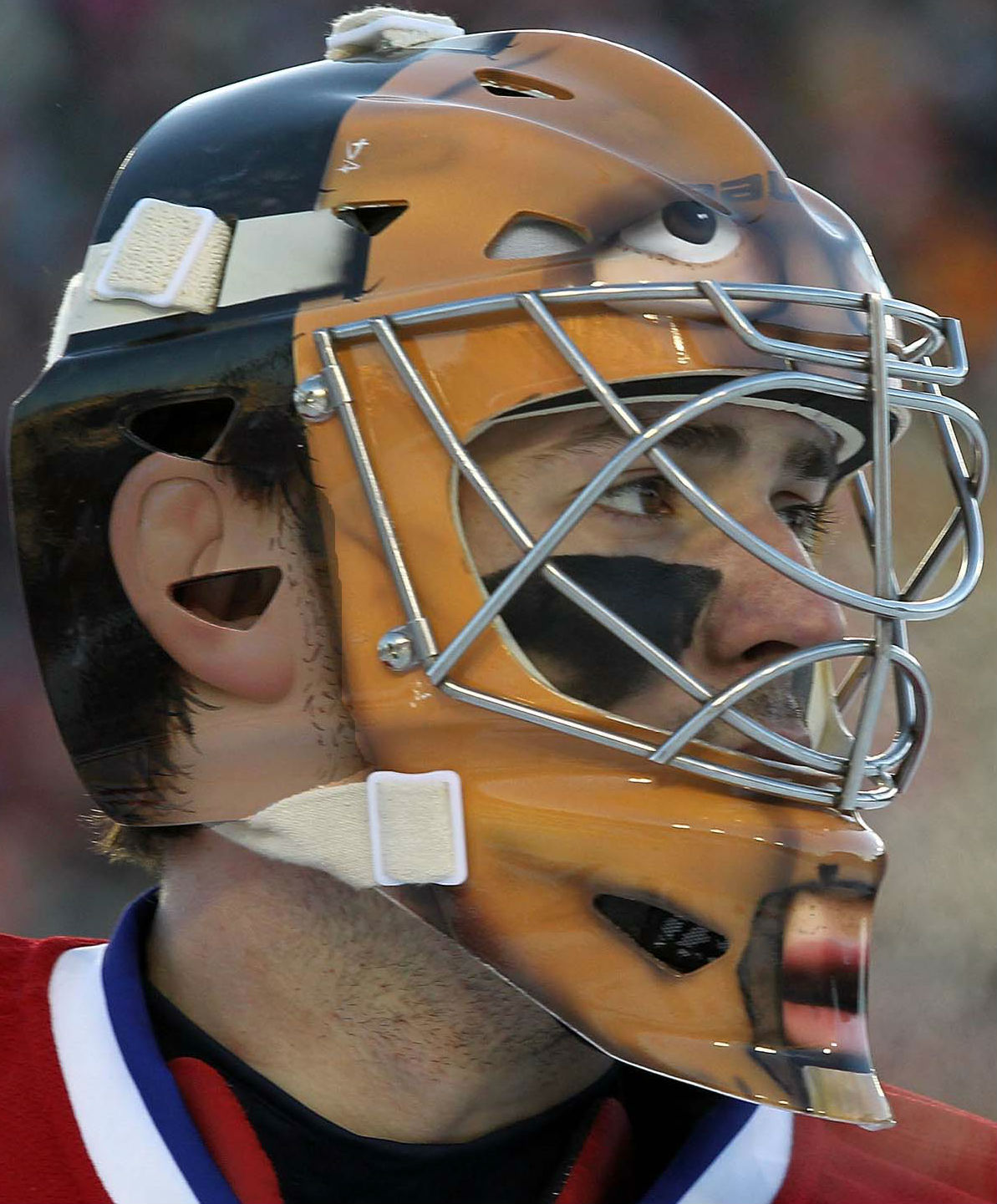 "Working with (Elliott) for so many years, and knowing Curtis so well, I was just so excited to be a part of this project," Arrigo told Sportsnet Saturday.
Arrigo has been doing mask art for 10 years and has known Elliott since he got his start with the Ottawa Senators. He believes he produced Elliott's first NHL mask. Elliott came to Arrigo with the notion that he wanted a replica of Joseph's Blues mask and the process began.
"You could tell Curtis was an idol to Ells just by the fact that he was willing to change his equipment entirely, which is never easy for a goaltender," said Arrigo.
Elliott not only had a retro mask made, he also got some new threads to match.
"I thought doing a replica would be easy but it was so far from the truth," said Arrigo. "It's not that I'm a perfectionist but I wanted to capture the look that Curtis was wearing at that time. A typical mask would take between two and three days and this one took six."
Just finding the right images to work off of proved difficult considering Joseph hasn't been photographed in that mask since about 1993.
"Today, there are 10 photographers at every game but there were only two or three back when Curtis was playing," he said. "When I was sourcing out the images, they were very low resolution and I found maybe three angles of the helmet itself. I wanted to try and keep the integrity of it as close as possible. It's a complete reproduction, as close as we could get it."
Joseph and Elliott are both University of Wisconsin alumni and Elliott was a huge fan growing up.
"His mask when he was first here, with the two trumpets on top and the blue notes on the chin with the music sheet, it always stuck out in my head as a kid," Elliott told the Blues' website. "The rabid dog is his signature, so I didn't want to copy that one, but I wanted to pay tribute to him because I idolized him, and it looks cool, too."
Arrigo was actually prompted to get into mask art when Arizona Coyotes goaltender Mike Smith's father pestered him about making one for his son. Smith's mask would become Arrigo's first.
"When I design the mask with Smitty, he might as well be painting the damn thing himself, he's so into it," said Arrigo. "Him and I will fight over the phone and then his wife will have to be the ref between us."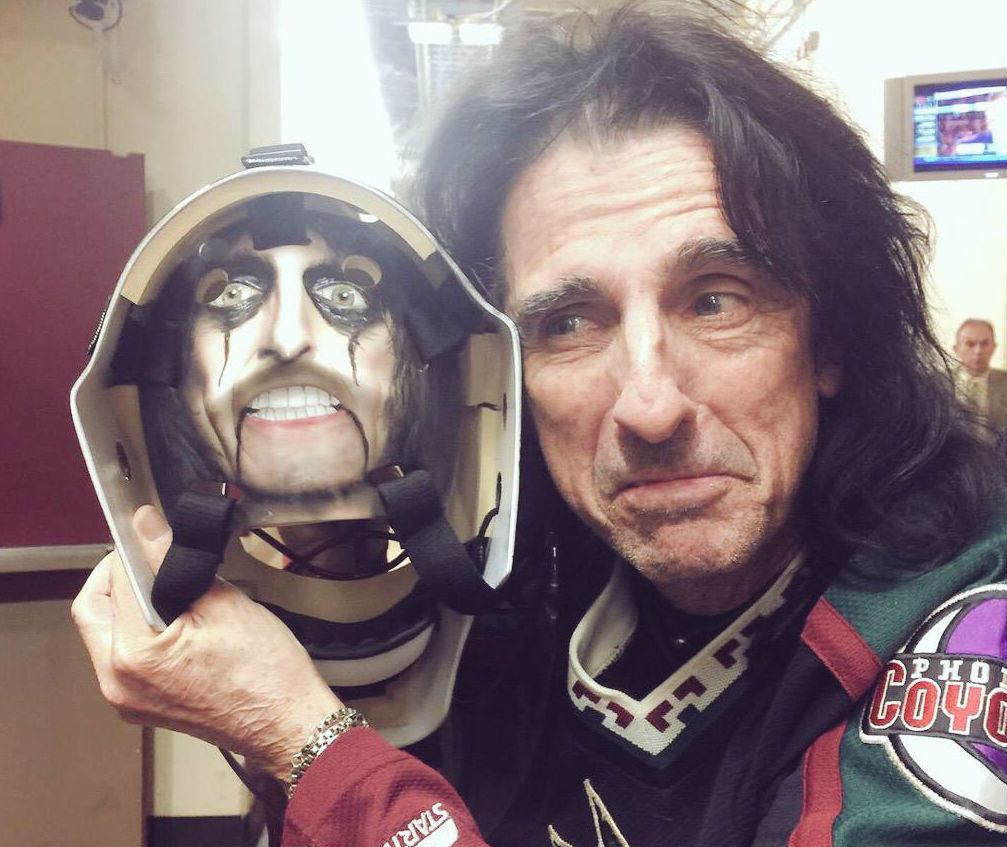 Since the days of Doug Favell's pumpkin mask or Gerry Cheevers' stitch mask, goalie masks have only gotten more intricate. The 1990s saw some bold, singular portrayals such as Felix Potvin's 'The Cat' and Ed Belfour's 'Eagle', but recent years have seen masks include extreme minutiae, making it sometimes difficult to appreciate them on television or to discern a goalie's personality.
"With the designs of masks getting more intricate over the years, it almost matches how goaltending has become more intense and technical," said Arrigo. "The detail in the mask is like the detail in the goalie himself. The styles of goalies today from even 10 years ago (have changed.)"
The Blues will host the Montreal Canadiens Saturday and those who tune in will see a touching reminder of a great goaltender and the hours put in by both Arrigo and Elliott.
"These are true canvasses, these things."