One of the most sacred relationships in hockey is the one between a player and her stall mate.
Just as a team becomes a family, a stall mate can so often become a mentor, a confidante — a source of advice, comfort, humour and motivation.
University of Wisconsin senior forward Emily Clark has been all of those things for freshman Sophie Shirley this season, but what makes these locker-room neighbours' friendship that much more special is their shared path getting there.
The pair grew up just five minutes from one another in Saskatoon, where Rogers Hometown Hockey makes a stop this weekend. Clark played alongside Shirley's older brothers as a youngster — and that's when Shirley first noticed her game and recognized a style of hockey she wanted to play, too.
"Every time you watch Em play, the first thing you notice is just her grit and determination. She's a really tenacious player, and that's something that I saw even when I was really young," Shirley said of Clark, 23.
Celebrate Our Community. Celebrate Our Game.
Clark's elite abilities have since driven her to succeed at almost every level of the game. A quick study, Shirley — who's four years younger than Clark — looked to her for inspiration and guidance as she chased that same kind of success in the game.
The two started skating together and a natural mentorship grew from there.
"I never really thought much of it [at the time]," Clark said of the impact those early skating sessions had on Shirley. "I think it was more just leading by example when I was 16 or 17, going through that under-18 [Team Canada] program."
But Clark's leadership role kept growing, and soon it extended to Shirley's younger sister, Grace, who is now 17 and getting noticed by the national squad. She recently won gold with Team Canada at the women's U18 earlier this year.
Congrats G I'm your biggest fan https://t.co/ec6wlnwAcP

— Sophie Shirley (@sophieshirley8) December 31, 2018
"I think once I started getting on the senior team, and [Sophie and Grace] were on the same path to kind of follow in that, I think you do take a little bit more responsibility for setting a good example," said Clark.
"Just growing up with Em and to be able to watch her grow and develop as a player was something that really motivated me," said Shirley, 19. "Everything she was doing, all the teams she was making, was something that I wanted to follow and do as well."
So she did.
Both forwards played their midget AAA hockey with the Saskatoon Stars. Both attended the Okanagan Hockey Academy prep high school. Both got their first taste of international hockey with Team Canada's under-18 team at the women's world junior championship. And both chose to play college hockey with the powerhouse Wisconsin Badgers.
In 2018-19, with Clark a red-shirt senior after a taking a year with the Canadian national team and Shirley coming in as a freshman after a season in the CWHL, the two women from Saskatoon finally found themselves on the same roster — and side by side in the locker room.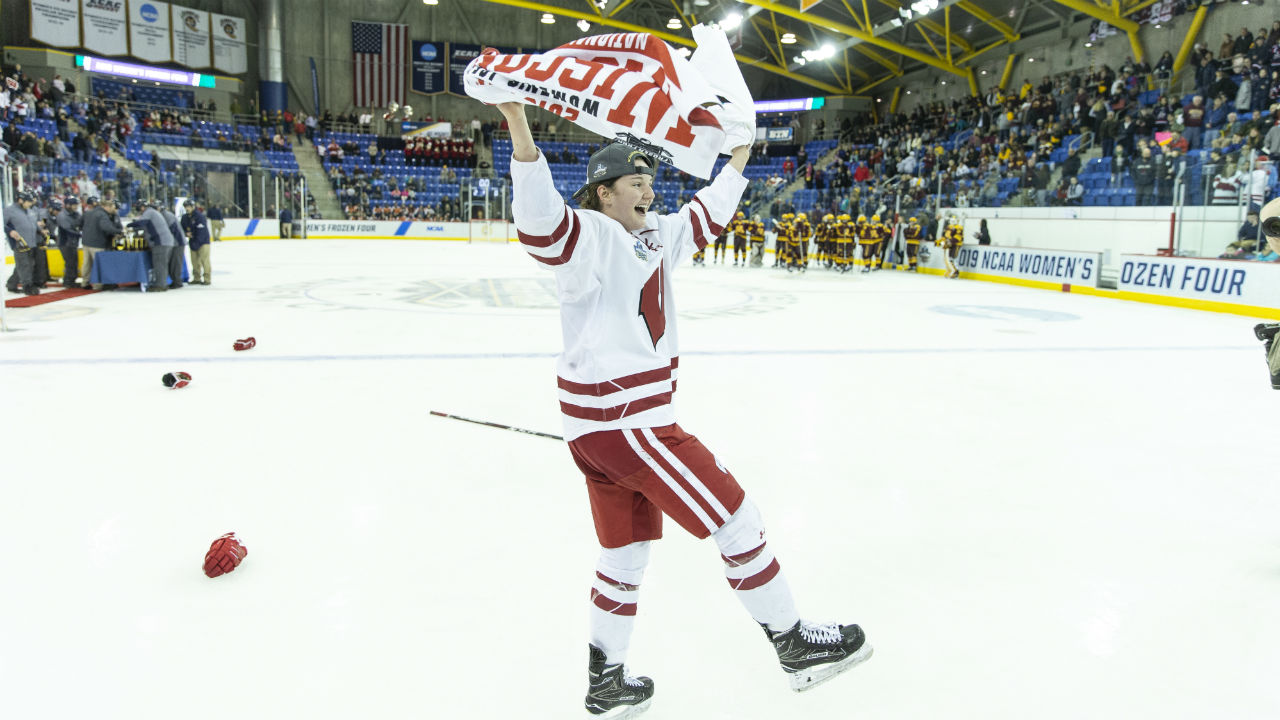 "I remember walking in during the summertime, when we were all coming in … and seeing that she and I were stall mates and would be sitting together in the locker room," Shirley said. "It's been really, really awesome — to be able to sit beside her, but then also to be able to play alongside her."
Finally, Shirley had caught up with her mentor — for a year, anyway.
And what a year it's been. The Badgers bolted out of the gates, starting the season with an otherworldly 19-1 record and finishing it atop the women's college hockey world with a national-championship title this past weekend — their fifth overall, and first since 2011.
Clark registered 14 goals and 11 assists for 25 points (slowed down only by a lower-body injury) while taking on a leadership role with the team as an alternate captain during her fourth and final year. Shirley, meanwhile, put up 19 goals and 37 points in 36 games — earning Western Collegiate Hockey Association rookie-of-the-year honours for her efforts.
x @BadgerWHockey wins its fifth women's hockey national championship! pic.twitter.com/QRaqRJ1JzU

— NCAA (@NCAA) March 24, 2019
Even where their paths differed, similarities can be drawn between the two.
Both Saskatonians took huge strides in 2017-18, with Shirley joining the CWHL's Calgary Inferno, where she lit up the league and took the ROY trophy there, too. Clark, meanwhile, stepped away from the Badgers for a season to commit to a full year with the national team in 2017-18. She was able to realize her dream of reaching the Olympic stage, where she helped Team Canada to a silver medal at the 2018 Winter Games.
"Last year definitely allowed me to just be able to focus on hockey. I learned a lot about the game, and I learned a lot about myself and what it means to be an Olympian," said Clark. "Just seeing what [Marie-Philip] Poulin is doing, and [Natalie] Spooner, Jocelyne Larocque, all those girls. To see what they're doing day in and day out to get to that level and be at that level, I definitely took a lot from that."
Clark is currently the lone Saskatonian in the national program, but knows it won't be long before Shirley's on the squad with her. ("And maybe Grace could get in there, too," she added.) And her mentorship of others from her community has proven to be a big source of motivation.
"I think it forces me to be better and want to set a good example," she said. "It's so fun for me to go to Hockey Canada camps with Sophie, and see her do so well in her first year here at Wisconsin. It's almost like a proud big-sister moment for me."
23 @HC_Women will represent Team Canada at #WomensWorlds in Finland this April. https://t.co/h6DQHeatzZ pic.twitter.com/i6QZ1EeP31

— Hockey Canada (@HockeyCanada) March 6, 2019
Now with her college career behind her, next up for Clark will be sporting the maple leaf in April during the women's world championships before embarking on a career in the CWHL herself.
"Maybe I'll have to have [Shirley] take me under her wing for a change and pick her brain about [playing in the CWHL]," Clark said with a laugh. "I know she did super well and she grew a lot as a person and as a player, and obviously it had an impact on how well she's doing [in Wisconsin]. I'm looking forward to it. The league gets better every year; there are so many national-team players within the league that it makes for pretty good competition."
Shirley, meanwhile, still has three years of NCAA hockey to play with the Badgers. But you can bet the two will see each other plenty as national-team camps and, three years from now, another Olympic Games await.
"Honestly, the possibilities are endless," Clark said of Shirley's career ahead. "Being able to see how good she is in the NCAA as a freshman in one of the toughest conferences, I think she's only going to get better from here. I hope, for her, that she's able to accomplish everything that I have been able to and more."
The path is laid out, and the chase picks up once again.