All season long I've been writing about Era Adjusted stats.
We've looked at the greatest goal-scorers of all-time and we've compared the greats of yesterday to the stars of today.
But what is "today," exactly?
Adjusting for era looks at a players' goal and point totals and then adjusts them based on how much or how little scoring there was during that particular season. We won't know how this season's stats will stack up historically until the season is done. What we can do however is look at how the season has gone so far and what seasons it compares to the most.
So, what season in history does this season look like so far? The answer might surprise you.
But first, a rant.
All I had to do was take the amount of "Goals For" a team has and divide it by games played. Simple, right? After all, most sites, including NHL.com, list how many goals each team has scored.
Except they don't.
Did you know that shootout wins count as a goal? They do. I'm serious. Read that sentence again and swear if you have to. I know I did.
So let's say your team wins 3-2 in the shootout. How many goals did you score? The answer is obviously two. You scored twice, the game went to overtime, nobody scored, so the game was decided in the shootout.
But nope! They count that as your team scoring three goals.
You could score twice in regulation, score four times in the shootout, and that all counts as three goals. So it's not even that shootout goals count as goals, it's that shootout wins count as goals. It's mind-boggling stupid and I hate it so, so very much.
Alright, I feel better. Rant over.
In order to figure out how many goals, real goals, each team scored, I enlisted the help of Sportsnet's stats department. Shoutout to Brandon Pollack for the help.
Heading into Thursday night's action, there have been 1,136 games so far this NHL season. In those games, 3,299 goals have been scored. That's an average of 2.90 goals per game.
If it feels like scoring has gone up this year, that's because it has! The NHL is on pace to have its second-most goals-per-game since the 2004-05 lockout and the most offensive season in over a decade.
So now we know that teams are scoring 2.90 goals per game. When else has that happened?
In 2006-07, when Sidney Crosby won his first Hart Trophy and scoring title, teams scored 2.88 goals per game. That's close but it's a little low.
In 1996-97, teams scored 2.92 goals per game. That's close too but it's a little high.
Teams scored over three goals per game from 1993-94 all the way back to 1970-71. That brings us to 1969-70 when teams scored… 2.90 goals per game.
Now, it's not totally bang-on. If you go back enough decimal points you'll see 1969-70 technically had more goals per game but it's pretty darn close. We're gonna call this close enough.
What happened in 1969-70 and how can we prepare it to today?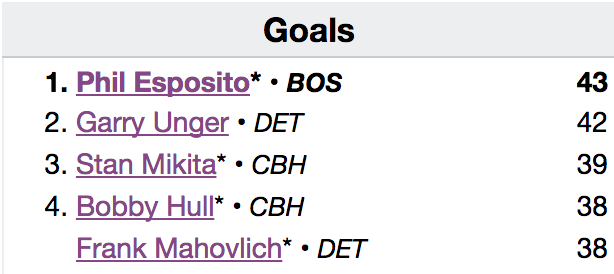 Phil Esposito was the goal-scoring king, scoring 43 goals in a complete 76-game season. Bobby Hull scored more goals per game but played fewer games. Esposito and Garry Unger were the league's only 40-goal-scorers that season.
If Esposito had played an 82-game schedule that season, he was on pace to score 46.3 goals. Of course you can't score 46.3 goals so let's say 46 goals.
Is anybody on pace to score more than 46 goals this season?
Nikita Kucherov is on pace to score 56 goals by seasons's end. Alex Ovechkin is on pace to score 49.6 goals. Anders Lee is on pace to score 48.7 goals.
Now, Brock Boeser can't play all 82 games this season because he was a healthy scratch early on, if you can believe it. Had that never happened however, 20-year-old rookie Brock Boeser would be on pace for 48.2 goals, an even higher pace than 26-year-old Phil Esposito from 1969-70. That's bonkers.
Then there's the issue of adjusting for era.
I was surprised to see that Esposito's 43 goals in 1969-70 adjusts to… 43 goals.
Garry Unger's 42 goals adjusts to 42 goals. Stan Mikita's 39 goals adjusts to 39.
The goal-scoring stats from 1969-70 don't adjust up or down. We talk about the 1980's as high scoring and the late 1990's/early 2000's as low scoring but 1969-70 was just… scoring. It was normal.
If that's true, than this season in 2017-18 is whatever "normal" is. It's average.
And if that's the case, can we put an end to the debate about shrinking goalie equipment and making the nets bigger? Many of us complained about the extra penalties being handed out at the beginning of the season but it's undeniable that scoring has gone up in a big way.
We'll have to see if this pace continues. The league probably hoping scoring continues to trend upward, that's for sure.