Over the past couple of years, I've gone on a tear singing the praises of players I want hockey fans to appreciate before their days on the ice are numbered.
They are Jarome Iginla, Joe Thornton, Patrick Marleau, Alex Ovechkin, and Jaromir Jagr, just to name a few.
Now it's Henrik Sedin's turn. After all, he just reached 800 career assists.
The Canucks captain's career has been incredible, so far. I'll emphasize "so far" because he's not done yet. Even in a reduced role this season, Henrik's 19 points in 32 games have him sitting third in team scoring. What's amazing about those 19 points is that only two of them are goals.
We often talk about a guy like Joe Thornton being a "pure" playmaker. I recently wrote that about 72 per cent of Thornton's points have been assists, while about 74 per cent of Nicklas Backstrom's points have been assists. Even take a guy like Adam Oates, who is widely regarded as one of the best pure playmakers ever and over 75 per cent of his points were assists.
As it stands right now, 77 per cent of Henrik points are assists.
Senior Writer Ryan Dixon and NHL Editor Rory Boylen always give it 110%, but never rely on clichés when it comes to podcasting. Instead, they use a mix of facts, fun and a varied group of hockey voices to cover Canada's most beloved game.
Since his NHL debut in 2000, Henrik has served more dishes than a hotel kitchen. His raw numbers are impressive but adjusting for era helps show just how much of an all-timer Henrik really is.
Entering this season, Henrik stood 22nd in all-time era adjusted assists with 861. By season's end, it's likely he'll crack the Top 20. The closest active player to him is Sidney Crosby, and he's still a decent distance behind him, beginning this season with 712.
In terms of single-season excellence, Henrik looks even better.
A quick note: I'm only looking at single seasons from the 1967 expansion an onward. Era adjusted stats are really kind to players from the 1920s and 1930s but… come on. Many of these players played before or during the Great Depression and some were old enough to vividly remember the day the Titanic sank. So let's clean it up a bit: We're looking at 1967 and onward for this one.
Since the 1967 expansion, a player has registered 80 or more era adjusted assists 34 times. Those 34 successful seasons however are spread amongst just 12 players: Gretzky did it 13 times, which is hilarious. Bobby Orr did it four times and Mario Lemieux did it three times. Sidney Crosby, Martin St. Louis, Adam Oates, and Evgeni Malkin each did it once. Five players have pulled this feat off twice: Jaromir Jagr, Ron Francis, Joe Thornton, Peter Forsberg, and of course, Henrik Sedin.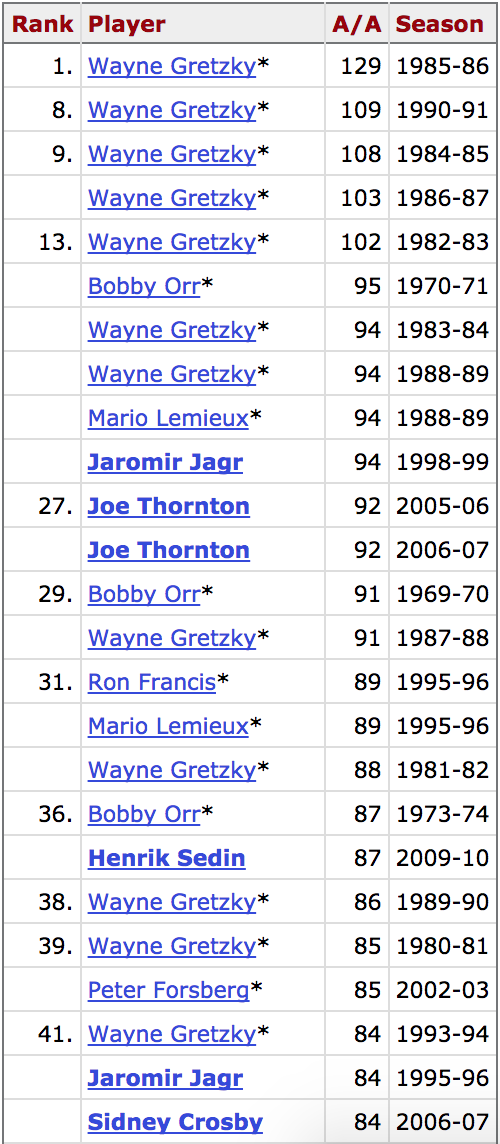 Henrik had back-to-back seasons of 80 era adjusted assists or more, the first being in 2009-10, and the second being in 2010-11 when the Canucks made it to the Stanley Cup Final and earned their first of back-to-back Presidents' Trophies.
In 2009-10, Henrik put up 87 era adjusted assists, which is his career high. Only six players in NHL history have had better playmaking seasons than that: Gretzky, Orr, Lemieux, Jagr, Thornton, and Francis.
These are the bulls Henrik's statistical legacy is running with here.
The other interesting thing to note: Out of the seven retired players who have ever had a season with 80 or more era adjusted assists, six of them are in the Hockey Hall of Fame. Martin St. Louis is the only one that isn't and for him it's not a matter of if he'll get in, but a matter of when.
So let me ask: is Henrik Sedin a future Hall-of-Famer?
Henrik has won the Hart Trophy, the Art Ross, the King Clancy and has been named a First Team NHL All-Star twice. He's won an Olympic gold medal. He has led the league in assists three times. Everyone wants Cups on the resume but we already know that isn't mandatory to get into the Hall. Big numbers and individual hardware get you in and Henrik has those in spades.
If Henrik does become a Hall of Famer one day, he'll be somewhat of a unicorn. Sitting on 239 career goals at age 37, and with just two so far this season, it seems very unlikely he'll reach 300 career goals. If you're a forward, can you make in into the Hall with less than 300 goals?
And how about this? Since 1967 only Bob Gainey and Igor Larionov have entered the Hall of Fame without a 30-goal season on their resume. Henrik had 29 once but that's as close as he got. It didn't matter for Larionov or Gainey. Should it matter for him?
You're going to read lots of Henrik articles over the next few years, especially if he announces a good-bye tour. I wanted to write one now because you shouldn't just appreciate legends on their way out. He's right here, right now, and still one of the best players on his team.
Respect the captain.
There! I made it through the entire thing without even mentioning his twin brother! Wait. Ah, nuts.