Let's talk about Wayne Gretzky.
I've wanted to write this for a while. The Great One gets a raw deal in my era adjusted articles and it almost seems like I'm picking on him.
Gretzky has the most goals in a season with 92? Nope, sorry. Era-adjusted numbers say Brett Hull and Alex Ovechkin had better seasons.
Gretzky was the most dominant goal scorer ever? Nope, sorry. Era-adjusted numbers say Hull again.
The whole purpose of era adjusted stats is to look at times in NHL history when scoring was sparse, times when scoring was out of control, and trying to compare players from those different eras. Seasons where scoring was low get propped up a bit while seasons with inflated scoring dip down.
Well, Gretzky played in the high-flying 1980s, which was an extremely inflated, high-scoring era, so adjusting for era makes his numbers take quite the dip. It's not Gretzky's fault, yet his numbers take a beating.
But era-adjusted stats aren't the "anti-Gretzky" stat. Even when adjusting for era, even when you hack and slash away at his numbers, it's still clear that Gretzky is still The Great One in any era.
So here are some of the best era-adjusted Gretzky stats I could find.
Image and stats courtesy of Hockey Reference.
Gretzky is still the era-adjusted leader in career points with 2,475. His standard point total is 2,857, which means adjusting for era slashes his career total by 382 points. Despite that huge loss, Gretzky still has 285 more career era-adjusted points than the next player (Gordie Howe with 2,190). After Howe, Jaromir Jagr is the only other player with more than 2,000 era-adjusted points, with Mark Messier and Ron Francis trailing hundreds of points behind despite being fourth and fifth all-time, respectively. Even when adjusting for era, nobody comes close to Gretzky.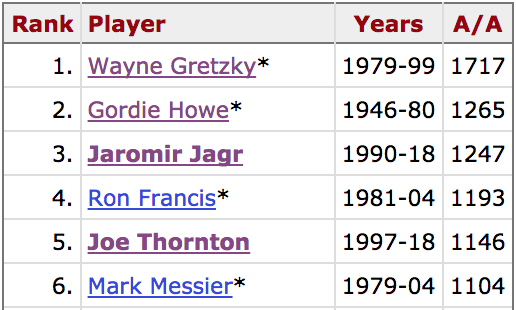 Image and stats courtesy of Hockey Reference.
Gretzky is the all-time leader in era-adjusted assists by nearly 500. It's hilarious to even look at. Gretzky's 1,717 career era-adjusted assists beats Howe's second-best total by 452. Only six players have ever hit 1,100 era-adjusted assists and Gretzky had over 1,700 of them. That's not just beautiful passing, that's putting your teammates in a position to score over and over again every single game. Again, nobody is even close to Gretzky in this category. Sidebar: Wow, is Joe Thornton good. With Jagr wrapping up his career and Thornton still looking like a serious contributor in this league, Jumbo Joe could finish as high as second all-time.
This next one is a bit annoying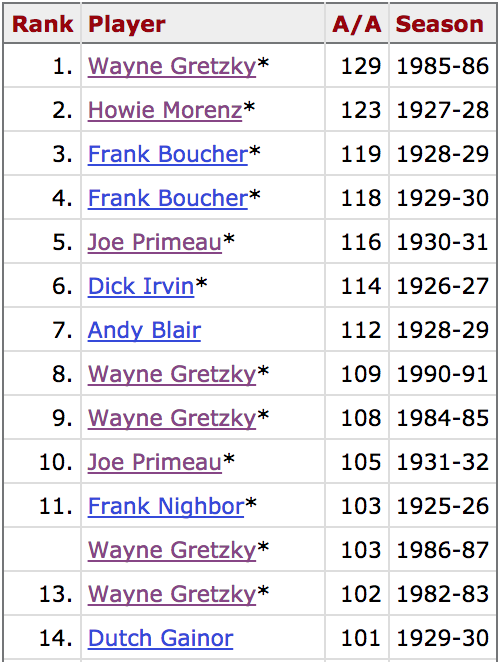 Image and stats courtesy Hockey Reference.
So this is a list of all of the players who have ever hit 100 or more era-adjusted assists in a season. You'll notice most of them are from the late 1920s and early 1930s. Scoring was very low back then. The stats are also prorated due to shorter seasons. For example, Howie Morenz's career high in games played was 48.
There were very few teams and very few players who knew how to score, but the ones who knew how absolutely cleaned up.
Just for fun, let's take out all of the seasons from before 1933.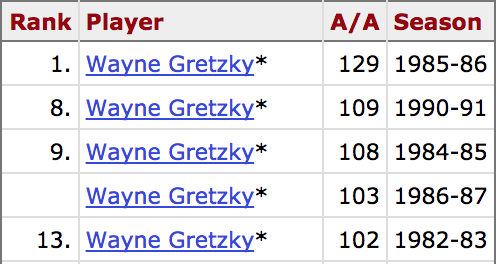 Since 1933, only five players have put up more than 100 era-adjusted assists in a season. Gretzky is all five of those players.
Bobby Orr is the next closest with 95 in 1970-71. A player has recorded 90 or more era-adjusted assists only 14 times in NHL history and Gretzky is seven of those. I guess you can say he wasn't bad at dishing the puck.
And lastly, let's look at single-season point totals.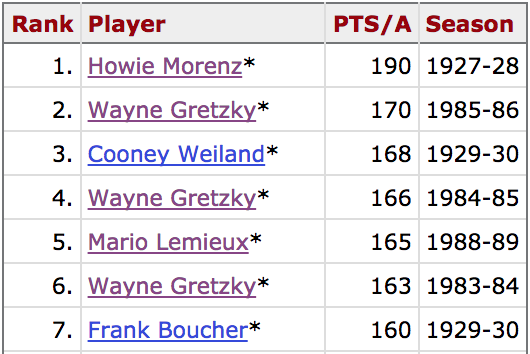 It's funny. A lot of people message me to say era adjusted stats are a joke. Come on, man. It's not the be-all end-all and we're just trying to have fun here.
That being said, Morenz was not the greatest hockey player of all-time, OK?
I'm not discounting Morenz. He's in the Hockey Hall of Fame for a reason. But let's save the super old stats for another day and look at numbers from 1933 and onward again.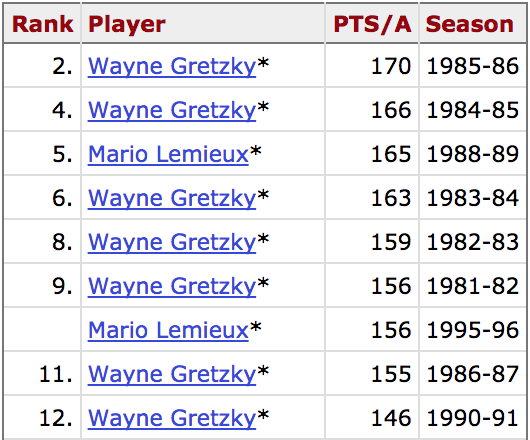 Gretzky's 170 era-adjusted points in 1985-86 is the highest total ever. In terms of era-adjusted points, Gretzky owns the top two seasons and seven of the top nine with Mario Lemieux owning the other two.
The only stats where Gretzky isn't a completely dominant monster are his era-adjusted goal scoring stats, but like I wrote before, even those numbers are some of the best ever.
So the next time a buddy of yours tries to tell you that Sidney Crosby or Connor McDavid could destroy Gretzky's numbers if they played in a different era, you go ahead and send them this article.
You can hack and slash his numbers all you want but Wayne Gretzky is still The Great One.
[relatedlinks]