For years I have wondered if Eric Lindros would eventually become a sympathetic character. He spent most of his career fighting for himself and his career, which created a lot of animosity at the time. He was a trailblazer at a time when his actions were frowned upon. That has probably played a part in him not being inducted into the Hockey Hall of Fame. I find Lindros fascinating because fans forget how he was perceived while still playing and view him instead through a 2014 lens. That is interesting because his off-ice actions are not viewed with the same selective amnesia.
Twenty-five years ago, players didn't take control of their careers in the manner he did. Some point to Lindros's decision to force a trade to from the Sault Ste. Marie Greyhounds to the Oshawa Generals as tampering by his meddling parents. As a parent of a 10-year-old, I don't consider refusing to send my child five hours away from home meddling. I consider it good parenting. We also forget that when Lindros entered the NHL draft in 1991, the free-agency system of the time would have bound him to the Quebec Nordiques until he was 31. Today's players have better options than Lindros had, but he used his considerable leverage to get a situation he found acceptable.
Our understanding of concussions did not exist when Lindros suffered from his initial brain injury. His first concussion came less than one season after Craig MacTavish played his final game without wearing a helmet. Lindros sustained seven concussions between 1998 and 2000. In the current climate, how would we react to Sidney Crosby being put in that situation repeatedly; having his career derailed by pressure to come back early, and then have it basically ended by a vicious head shot, one that was celebrated at the time but is an instant suspension today?
Lindros burned bridges in Philadelphia while seeking a specialist after what he felt were numerous examples of the team doctors putting the team's needs above his own. Think of how the Penguins worked in conjunction with Crosby to diagnose his injury and contrast it to how Lindros' experience unfolded.
No complaints about this year's HHOF inductees, but Eric Lindros is a Hall of Famer to me. For a time, he was THE most dominant in hockey.

— James Cybulski (@JamesCybulski) June 23, 2014
The first half of Lindros's career–when he was an utterly unique and dominant force of nature–has been overshadowed by the player he became after repeated head trauma and the infamous hit to the head by Scott Stevens during the 2000 playoffs. We can see the drop off in performance when illustrated against his adjusted points-per-game data (I adjusted Lindros performance to reflect his era).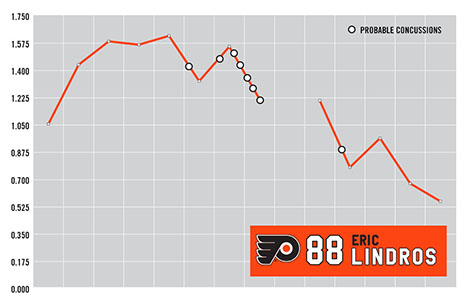 Pre-concussions he was power forward with a mix of size and mobility that was never before seen in the NHL. His playing style may have been unsustainable and Lindros struggled to maintain his health before the concussions, but when healthy, he was a punishing hitter and fighter who could score at a Crosby pace. He made Team Canada at 18 years old in 1991 before playing a game in the NHL and did not look out of place. He was the NHL MVP in 1995 and was named the captain of Team Canada in 1998 by the same guy who stripped him of his captaincy in Philadelphia two years later.
Top 10s in Hart Trophy voting: Eric Lindros: 5 Peter Forsberg: 4 Mike Modano: 3

— Sportsnet Ticker (@SportsnetTicker) June 24, 2014
That he has not made the Hall of Fame at this point is absurd. Longevity is a concern, but it wasn't a concern for Mario Lemieux, Mike Bossy, Cam Neely, Pat Lafontaine, Pavel Bure or the recently enshrined Peter Forsberg.
Blake, Forsberg, Hasek, Modano, Burns & McCreary elected to the Hockey Hall of Fame. http://t.co/fLoPmeu2RP pic.twitter.com/Ky1nteCyD5

— Hockey Hall of Fame (@HockeyHallFame) June 23, 2014
I understand that offensive point totals aren't the definition of complete hockey players. But seeing as it is essentially the standard for awarding the Hart Trophy, it is a legitimate standard to argue the merits of Lindros's career. I adjusted the numbers to reflect eras—comparing Bernie Federko's 100-point seasons to Forsberg, who played in the lowest-scoring era in NHL history, is not a proper reflection of his performace against his peers.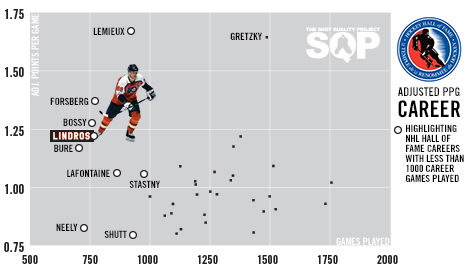 Lindros is on par with Mike Bossy and Pavel Bure, and is miles ahead of his closest peer in the power-forward category, Cam Neely. Now some of these numbers are influenced by career longevity, but I didn't want to penalize those players in the comparable so I removed post-prime seasons and charted players from the age of 18 to 30.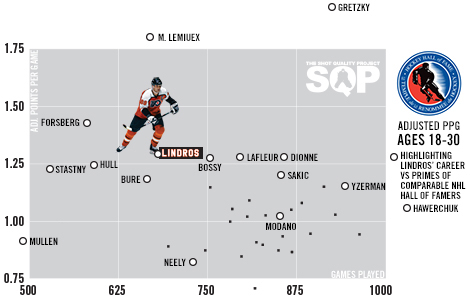 When comparing Lindros to Hall of Famers in their primes, he is up there with players like Brett Hull, Mike Bossy, Guy Lafleur and Marcel Dionne. Ahead of guys like Joe Sakic, Steve Yzerman and the recently inducted Mike Modano. These guys are no doubters, but Lindros has still not been deemed worthy. To illustrate how he would stack up against the current NHL elite, I added in the today's generation of superstars for context.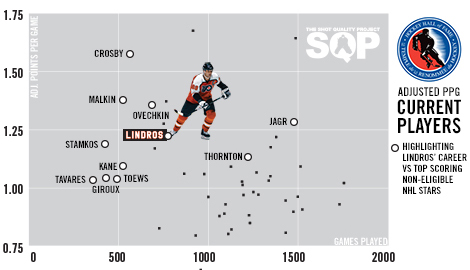 Lindros is not far from Alex Ovechkin and Evgeni Malkin, and that includes his post-concussion results. Before suffering his first concussion, Lindros was up in the rarified air currently occupied by Sidney Crosby, the guy who is no longer the best player in the NHL because he was eliminated in the second round of the playoffs.
This isn't even a debate. The Hockey Hall of Fame is so easy to get into there are actually real discussions about Chris Osgood's legitimate claim because he has 400 wins to go with a league-average save percentage. Injuries aren't a concern. If they were, Cam Neely wouldn't be fist pumping in the press box wearing a Hall of Fame ring. It isn't about being a winner because Marcel Dionne, Mike Gartner, Peter Stastny and Dale Hawerchuk are all enshrined even though they never sniffed the Stanley Cup final.
Eric Lindros is a Hall of Famer. Anybody who watched him play during his prime knows this. What we are seeing is Lindros paying for his decisions to stand up to the establishment. He didn't play ball when he pushed his rights as a player to control where he played, nor when he challenged management for putting the team above his personal health. For these reasons, his punishment is to sit and watch, and understand his place.