Speaking to the Ottawa Citizen on Friday, Senators owner Eugene Melnyk gave a "flat no" to the idea of sending Erik Karlsson to the 2018 Olympics if the NHL as a whole isn't included in the Games.
On Saturday night's Headlines segment on Hockey Night in Canada, Elliotte Friedman teased an interview done with Melnyk on Thursday in which he talked about this subject, the full scope of which will be broadcast in the next week.
In the clip shown Saturday, Melnyk said: "So I'm going to give Sweden my best player at the risk of him being injured. Beating our Canadian team. That doesn't make sense. Maybe if it was a Canadian going to play for Canada… maybe. But right now it doesn't make any sense for our franchise, or it's not fair to our fans, if we were to lose him god forbid in a year like this, to an injury in the Olympics."
Before their game against Montreal, Karlsson was asked to comment on the matter, and gave a similar answer to what we've seen from various players across the league.
"I really want to go and feel that all of the players do, too."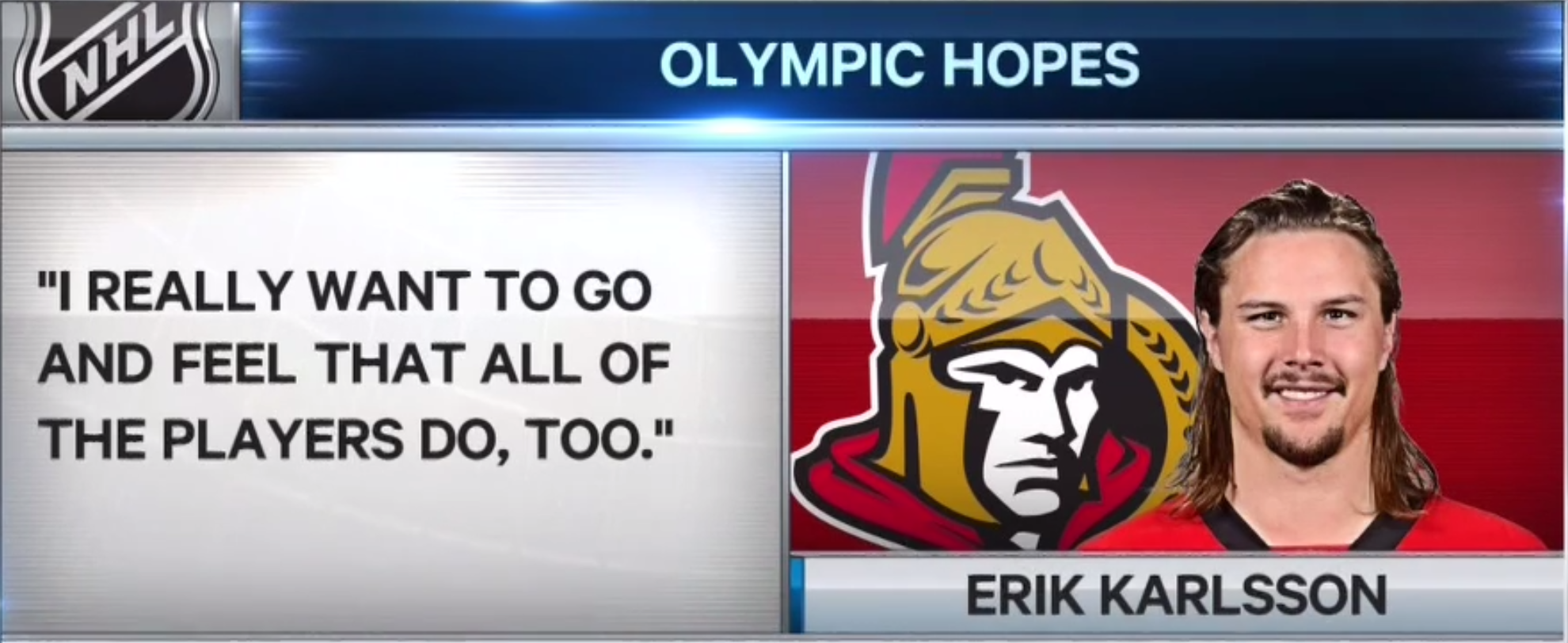 This whole scenario began a while ago when Washington star Alex Ovechkin spoke openly about wanting to represent Russia at the 2018 Olympics, with or without full NHL participation. Caps owner Ted Leonsis has time and again supported Ovechkin's stance by saying he would have no qualms with his best player leaving the team for two weeks to play for his country.
Last week while in Toronto, Philadelphia Flyers scorer Jakub Voracek said he thought the NHL's stance on Olympic participation was "stupid" and that the league should go, or at least let its players be involved.
Friedman noted that the NHL doesn't yet have a stance on what its players could do if the league doesn't shut down for the event.
As we get closer to the tournament or an eventual cut-off date where the NHL officially rules out its involvement in the 2018 Olympics, these kind of quotes will pop up more and more. And should the NHL not participate, it will be an interesting scenario to watch play out to see how many players go, which ones go, which countries benefit most, and which NHL teams are hurt most.
But HNIC analyst Kelly Hrudey cautioned to not look too much into this driving a wedge between players and owners, drawing a comparison to the 1992 NHL player strike.
"There had never been a work stoppage in the NHL," Hrudey said. "We as players chose to go on strike. We loved, Los Angeles Kings players, Bruce McNall our owner. We did it because it was the right thing to do. As soon as I voted I called Bruce and said 'I'm doing this with a heavy heart. We really respect you but this is the right thing for the players to do, there is no animosity between us.'"
[relatedlinks]