Erik Karlsson is amazing.
He is the reigning Norris Trophy winner, something he won twice before the age of 26. He's currently on track to be the first defenceman to finish in the top three in NHL scoring since Paul Coffey in 1985-86, but he still isn't being recognized for what he is: a generational talent.
Recall in 1985-86 that Coffey was playing alongside Wayne Gretzky, who scored an NHL record 215 points, as well as a list of Hall of Famers including Mark Messier, Jari Kurri and Glenn Anderson. Coffey is also the last defender to finish top 10 in league scoring, which he did in 1994-95 – again alongside a superstar roster of Red Wings including Steve Yzerman, Sergei Fedorov, Viacheslav Fetisov and more. And when he was posting better than a point per game in Pittsburgh, he was playing with Mario Lemieux, Bryan Trottier, Ron Francis and more.
All this during the highest-scoring era in NHL history.
The only defender in NHL history who produced more prolific offensive totals than Coffey was Bobby Orr, who twice led the NHL in scoring and posted six consecutive 100-point seasons.
Though Orr was unquestionably the pre-eminent player on those Bruins teams, he also played with Hall of Famers such as Phil Esposito and Johnny Bucyk.
So why are we discussing Paul Coffey and Bobby Orr in an article about Erik Karlsson? Context. Is. Everything. When we adjust for era scoring levels, season length, and roster size, Orr and Coffey are the only two defenders in NHL history who have displayed a greater ability to produce offence than Karlsson. And Karlsson hasn't had the benefit of playing alongside the kind of talent those two did.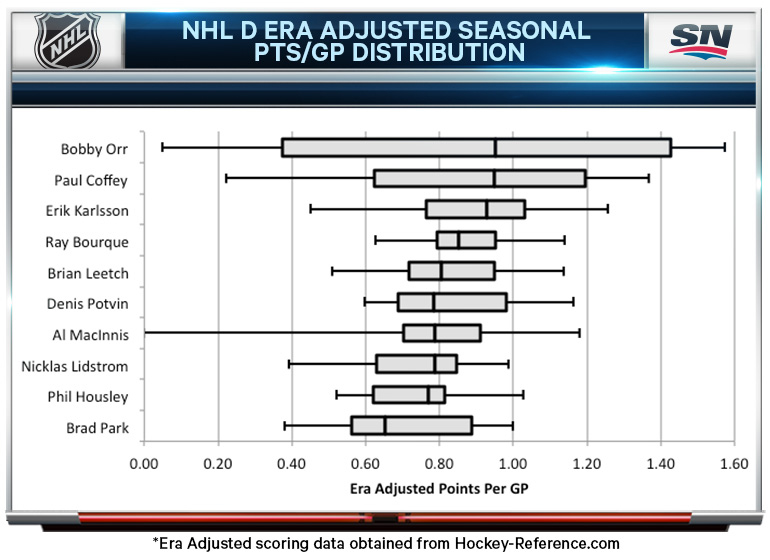 The most awe inspiring aspect of Karlsson's insane generational level of production is the fact that he is doing it as a veritable One Man Army. There is no comparable generational talent alongside him on the Senators. Most of the other defenders beside him on this list had elite offensive talent to play with.
Karlsson? He's been producing his generational numbers on a team that briefly featured Daniel Alfredsson at the tail end of his career, and most recently boasts top line talent such as Bobby Ryan, Kyle Turris, Mark Stone and Mike Hoffman. They're all decent players, but based on their current performance, none are Hall of Famers.
If we explore how much offensive contribution the individual defenders made (or in the case of Karlsson, are making) in their peak offensive season, it paints a startling picture of how important Karlsson is to his team. It also illustrates how lonely an island he is on in comparison to this group.
Karlsson contributes more to his team's offence than any of these elite defencemen did in the best seasons of their career, largely because their offensive productivity is less than stellar in comparison to the teams. The 2015-16 Senators rank second-worst on this list, with only Housley's Winnipeg Jets being less impressive offensively relative to the rest of the NHL.
Since Karlsson isn't surrounded with any comparable offensive talent, we are left to wonder how much more he could produce if he were. It stands to reason that if he had similarly skilled players around him, his results would be even more astounding.
THE LESSON
There are likely many years left in Karlsson's career, but he is already producing offence from the blueline at a level that has not been seen in the NHL in almost 30 years. His defence is also vastly underrated, largely due to the inferior talent that surrounds him.
Underappreciated generational talents tend to take a while to gain the recognition they deserve and Karlsson is no different. Like Alex Ovechkin and his all-time goal scoring results in Washington, Karlsson should be a player you make an effort to watch whenever you get the chance. Based on what we are seeing out of him this year, it might take another 30 years for a comparable talent to come along.