Guy Boucher is an unconventional head coach. Perhaps that's why when he looked at Erik Karlsson, the 26-year-old offensive defenceman who has already topped 70 points three times in his career, he saw a player he could deploy in a shutdown role. This is precisely what he's done in 2016-17.
Boucher is also the fourth head coach that Karlsson has played for over his eight years in Ottawa. Paul MacLean lasted three years, thanks in large part to overseeing the Senators' first (and only) playoff series win since a Stanley Cup Finals loss in 2007. Perhaps that lack of success explains why the two-time Norris Trophy winner was so willing to radically overhaul his game.
Previous coaches saw Karlsson as an indispensable part of Ottawa's power play, and for four seasons, he averaged more than four minutes per game on the man advantage. He's below that threshold this year, with his 3:40 average a minute less than he saw in 2015-16.
Those same coaches felt that Karlsson's assets were better used in offensive situations than on the penalty kill. When he won the Norris in 2012 and 2015, he did it while playing just 33 seconds per game shorthanded. This year, he's averaging more than four times that number, topping the 2:00 per-game mark for the first time in his career.
It wasn't just special teams, either. Ottawa's former coaches tried to use Karlsson in offensive situations. They got him out on the ice for faceoffs in the opposition zone. They played him a ton when trailing in games. Naturally, that meant he started fewer shifts in the defensive zone and got less ice-time when the Senators were defending a lead.
In an average hour last season, Karlsson would be on the ice for four more offensive than defensive zone faceoffs. The rest of the team picked up the slack; in an average hour when he was on the bench, the Senators started four more shifts in their own zone than their opponents. That push is gone this year; now Karlsson gets the same assignments as his teammates.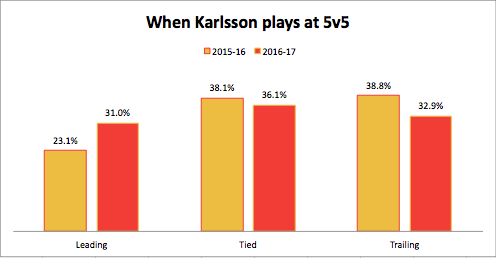 Karlsson is also tasked with defending the lead far more than he was last season. In 2015-16, he got nearly 40 per cent of his ice time when the Senators were down, as opposed to just over 20 per cent when they were defending a lead. This year, it's just about an even split, a result both of an improved Ottawa team and the change in Karlsson's function on it.
Those familiar with the concept of score effects will recognize that this shift in role has had a negative impact on Karlsson's shot metrics. Players who get an offensive zone push tend to find it easier to out-shoot the opposition. Playing a lot of minutes when a team is trailing and desperate for a goal has the same effect. It doesn't mean the player has deteriorated; only that he's being used in less favourable circumstances.
That Karlsson is not merely an unwilling passenger in all of this can be seen in some of the changes he's made to adapt to his new role.
Shift length deserves attention here. In Karlsson's eight years in the league, he's notable as one of only two defencemen who has had an average shift length exceeding one minute over a full season. Both he and Mike Green have done it twice in that span. In part, that's a function of being an offensive defenceman and sometimes staying out for a full power play, but even so, most NHL coaches prefer to keep their players well back of that mark.
Then there's blocking shots. Karlsson currently leads the league with 185 of them, a step up from the 175 he managed over 82 games last season. Again, some of this is role-related; a simple matter of getting more time on the penalty kill, but that doesn't explain most of it: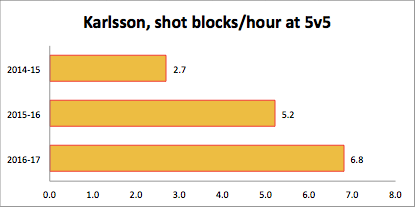 This is also clearly not a Boucher-driven thing, since Karlsson took on a bigger shot-blocking role last season, too. In the course of two years, though, he's more than doubled the rate at which he blocks shots when he's on the ice at 5-on-5.
If Karlsson had put together the season he's having now a year ago, he might have won his third Norris Trophy. Perception of him as a one-dimensional talent went a long way toward opening the door of Drew Doughty to get his first win. It probably won't save him this year, not with Brent Burns already at 27 goals for San Jose, thereby out-Karlssoning Karlsson.
Then again, it isn't really about individual awards. Karlsson has already secured his place in hockey history; the challenge now is to do the same for the Senators. In that respect, some of these changes are debatable.
Shifting minutes from the power play to penalty kill is a counterintuitive thing to do with one of the league's best offensive talents, particularly given the there's an injury risk factor associated with shorthanded situations that isn't there on the man advantage. Shot blocking undeniably has its place, but it can be nerve-wracking to watch a franchise cornerstone really embrace the art of letting slap shots hit him.
On the other hand, having an elite puck-moving defenceman on the ice for a defensive zone draw can be a very good thing because those players can advance the puck, an action that serves both offensive and defensive goals. Presumably there are other, less tangible benefits to seeing the captain doing the spadework, too.
Both Boucher and Karlsson are banking on this new approach helping the Senators turn the page on the struggles of the last few years. The real test of that will be the Stanley Cup playoffs, just a month in the future.