Dustin Wolf is a six-foot, 161-pound goaltender, give or take a quarter of an inch or two.
Now get over it, he says.
The 18-year-old from Tustin, Calif., led all CHL starters with a 1.69 goals-against average, .936 save percentage and 41 wins this past season. He was tied for second with seven shutouts, trailing only Toronto Maple Leafs prospect Ian Scott, who beat out Wolf for major junior's goaltender of the year honours.
However, the Everett Silvertips netminder didn't go home from award season empty-handed. He captured the CHL's scholastic player of the year distinction and the WHL's Western Conference top goalie trophy.
But despite these lofty accomplishments in his first year as a full-time starter, Wolf remains low on the totem pole ahead of Friday's 2019 NHL Draft.
NHL Central Scouting placed Wolf 12th among North American goalies on its final rankings, rising from 17th on the mid-term list.
But Wolf remains confident that the biggest knock on him ahead of the draft — his smallish size — will do little to prevent him from reaching his goal of playing in the NHL.
"Obviously, you want to be ranked as high as you can coming into the draft, but it's just other [people's] opinions, right? I just got to keep trying to play my game," he said.
"I believe I did a pretty successful job this year in helping our team win games in crucial moments. I figure if I just keep doing my thing, keep gaining weight, getting better in the gym and on the ice, time will tell what happens to my career and hopefully good things are to come.
"By no means is height going to limit me in what I'm going to do in my career."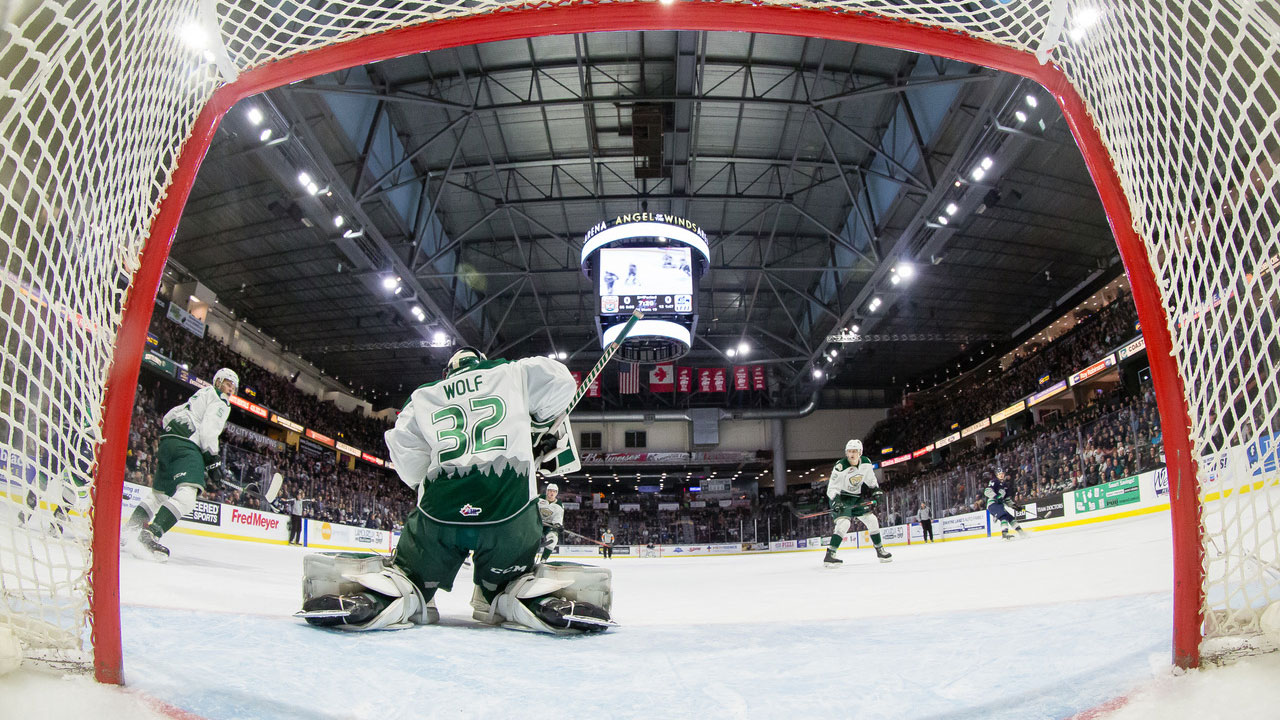 At his stature, Wolf would be among the shortest goalies in the NHL — only four sub-six-foot goalies played a game in the league this season: Richard Bachman, Juuse Saros, Anton Khudobin and Jaroslav Halak.
The goaltending trend at the draft and in the league over the past decade has shifted toward behemoths in the mould of the Mountain from Game of Thrones, ala Andrei Vasilevskiy (6-foot-4), Robin Lehner (6-foot-4), Frederik Andersen (6-foot-4), Pekka Rinne (6-foot-5) and Ben Bishop (6-foot-7!).
And it's partly because of this league-wide shift that Dan Marr, director of NHL Central Scouting, said Wolf might not be on a lot of teams' radars.
"There's not too many goalies that are coming in and impacting, playing, contributing and putting up numbers that are under six feet," he said. "Not to say that there aren't and that it doesn't happen, but it's just one of the drafting tendencies that go into a player's projection."
With the success of "undersized" skaters in the post-clutch-and-grab NHL, teams have opened their eyes to smaller players, but Marr said this "good players are good players" type of valuation hasn't reached goalie prognosticators.
"I find that it's kind of gone the opposite direction to where I get the impression that some people don't even look at a goalie unless he's 6-1, 6-2," he said.
Marr said scouts tend to err on the side of caution with undersized goalies, believing it simply comes down to coverage between the pipes.
"They just have to be far more exact with their technique, and it's not saying that it can't be done, but I just think there's a comfort level for the teams when they draft to go with the bigger goalie knowing that they have a better opportunity to cover more of the net," he said.
Marr said a better performance from Wolf for the U.S. at the 2018 Hlinka Gretzky Cup last August, where he posted a 2.65 GAA and .909 SV%, also would've helped his stock.
Despite these misgivings, Marr said his team was impressed with Wolf's improvement over of the course of 2018-19 and wouldn't be shocked if he goes higher than expected in the draft.
Marr noted that Wolf has "all the tools" athletically and technically, but an increase in lower-body power could help him be stronger in his crease and challenge shooters more aggressively.
"There's an upside to Dustin Wolf, but a lot of the comments and discussions about him will revolve around his size, and you just can't get away from that," said Marr.
"We're fans of Dustin Wolf. It's unfortunate we're talking about something he can't control — he can't control how big he's going to be.
"As long as he doesn't view it as an impediment, then the future is his to dictate."
[snippet ID=3322139]
It certainly wasn't an impediment this season. Wolf helped backstop a Silvertips club missing two-time CHL goaltender of the year Carter Hart, who thrived in the NHL after a mid-season call-up from the AHL to the Philadelphia Flyers.
Wolf credited his former teammate Hart with showing him the ropes in his rookie campaign. The "intense" Hart didn't exactly take him under his wing, but Wolf said he was always taking note of the Flyers phenom's off-ice work and preparation.
"It's not necessarily that he per se, went out of his way to show me something, you just watch and listen to things he says and what he does," said Wolf.
"I was able to witness how hard and much effort he puts into practice."
It's this studious approach that Wolf takes pride in. He modelled his game after Jonathan Quick while in the Los Angeles Jr. Kings' youth organization, but has since shifted his focus to the aforementioned Saros.
James Jensen, the Silvertips' goaltending coach who has been working with Wolf in some capacity since he was nine-years-old, was impressed with his spectacular sophomore season, but he was hardly surprised given all the work Wolf's put in.
Jensen raved about Wolf's "pro mentality" and trusts it will bridge the gap between himself and other goalies with more physical gifts.
He's hopeful a forward-thinking team will take advantage of Wolf's low draft ranking. Because while many NHL evaluators may only see Wolf's height, Jensen believes Wolf can make them forget about it if given the chance.
"He's always going to have to prove people wrong, right? Because of his size, for years he's had that hurdle and we see what he's doing with it now, so I don't see anything different," he said.
"You put him in the pro game, people will say he's too small. He's going to prove them wrong. He's fully capable — if anything that makes him stronger."
[relatedlinks]