In a press conference at the Board of Governors meetings in Sea Island, Ga., on Tuesday, NHL commissioner Gary Bettman announced the arrival of the league's 32nd team in Seattle.
The long-awaited and expected approval was voted on unanimously, though the new team remains nameless for now and won't start playing games for a couple of years.
There will be many steps to take before the puck drops on the new franchise, but in the meantime, here is what you need to know about the NHL's newest team:
WHAT WILL THEY BE CALLED?
Although the NHL announced Tuesday that Seattle will become the league's 32nd team in 2021-22, the franchise has no official name yet.
When Seattle previously won the Stanley Cup out of the Pacific Coast League in 1917, they were known as the Metropolitans, but given there is a division in the NHL that already goes by that name, it's likely not a prime candidate for the expansion team. An official name unveiling will be released at a later date, but in the meantime we can look to 13 names that have been registered by the Oak View Group, the company that is renovating KeyArena.
Here is the list of 13:
• Rainiers
• Kraken
• Evergreens
• Seals
• Emeralds
• Sea Lions
• Sockeyes
• Whales
• Eagles
• Totems
• Cougars
• Firebirds
• Renegades
Also of note is that the Seattle Times recently ran a poll for readers to weigh in on some of these names. A total of 146,144 votes were cast, with the Sockeyes (a type of salmon common to the area) winning out over the Totems, with Metropolitans coming in third.
"We're going to listen to our fans and we're going to do it right and we're not going to have a time pressure, but it's something we're working on each and every day," said CEO Tod Leiweke.
WHEN WILL THEY START PLAY?
As made official by Gary Bettman at the announcement press conference, the puck will drop in Seattle for the 2021-22 season, meaning the next expansion draft will take place in June 2021. This comes after Seattle's mayor said her belief was that the arena would be ready to open in 2020.
With this in mind, it's worth noting the potential for a disturbance to the 2020-21 season, which was the original projected start date for Seattle. Both the NHL and NHLPA have the option to opt out of the CBA in September 2019, which would come into effect one year later. The two sides would still have 12 months to renegotiate a new deal, but if one is not struck another work stoppage would commence in September 2020. With this uncertainty, it wouldn't be an ideal time for an expansion team to set off.
But the league maintains the biggest hurdle to Seattle starting in 2020 was the uncertainty the arena would be ready in time. The Seattle ownership group had floated the idea of playing out of an alternate site in the meantime should the project not be complete, which was not an ideal situation for the league.
WHERE WILL THEY PLAY?
The home of the former NBA franchise SuperSonics, KeyArena (renamed Seattle Center) will be host to the NHL team, although expect it to look much different on the inside. It's undergoing a vast redesign that will rise to an estimated cost of $700 million paid for by OVG and private equity. In fact, ground will break on the project Wednesday.
"Some call it a renovation, we'll keep the historic roof but everything else will be new," Leiweke said. "We'll go down approximately 15 feet expanding from 400,000 square feet to 750,000 square feet. And we believe it will be one of the finest arenas in the world. It's the only arena in the world located in a park. It's right in the heart of our city and that's why they call it Seattle Center."
When a season ticket drive was launched earlier this year to gauge fan interest, 33,000 deposits were put down in less than an hour. The renovated arena will only hold roughly 17,400 for hockey, though.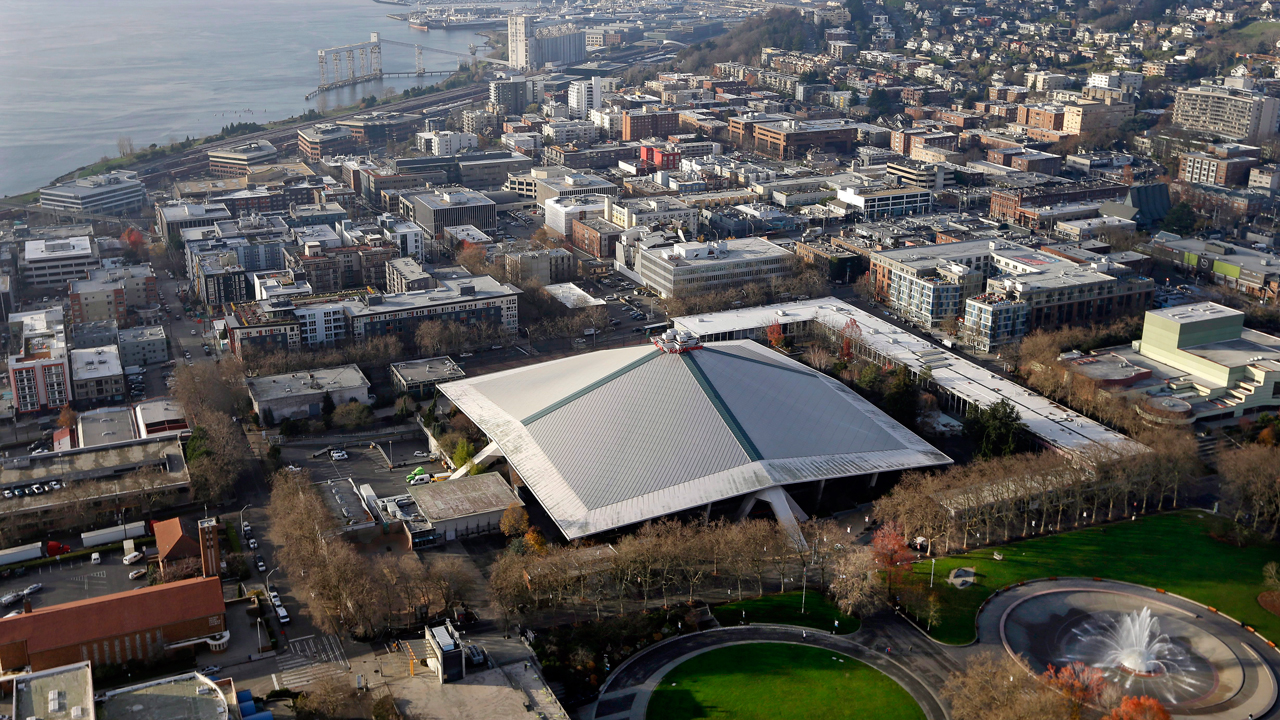 HOW WILL THEY PICK PLAYERS?
At the GM Meetings last March, Sportsnet's Chris Johnston reported the next expansion team would play under the same draft rules Vegas did in 2017 and that was confirmed on Tuesday. The only exception was that the Golden Knights would not participate, so Seattle will not have a crack at choosing any players off Vegas's roster.
Teams can either protect seven forwards, three defencemen and a goalie, or eight skaters (forwards/defencemen combined) and a goalie. First- and second-year professionals are automatically exempt from the expansion draft and do not count against their team's number. Likewise, unsigned draft picks are also exempt.
As a reminder, here are what the minimum requirements were for the kinds of players teams needed to leave exposed to Vegas:
i) One defenceman who is a) under contract in 2017-18 and b) played in 40 or more NHL games the prior season OR played in 70 or more NHL games in the prior two seasons.
ii) Two forwards who are a) under contract in 2017-18 and b) played in 40 or more NHL games the prior season OR played in 70 or more NHL games in the prior two seasons.
iii) One goaltender who is under contract in 2017-18 or will be a restricted free agent at the expiration of his current contract immediately prior to 2017-18. If the club elects to make a restricted free agent goaltender available in order to meet this requirement, that goaltender must have received his qualifying offer prior to the submission of the club's protected list.
Injured players who have missed more than the previous 60 consecutive games to injury, or who have a career-threatening injury, cannot be used for a team to hit these exposure requirements. As well, any players with no-movement clauses at this time will be automatically protected.
Seattle will have to pick one player from each of the 30 participating teams, with the requirement to end up with at least 14 forwards, nine defencemen and three goaltenders.
WHICH DIVISION WILL THEY BE IN?
Seattle will slide into the Pacific Division, which of course already has eight teams so there will be more realignment. The Arizona Coyotes, the only team off the coast that also doesn't have a long-held rivalry with anyone in the Pacific, will move to the Central Division to make an even 8-8-8-8 split across all four divisions.
"We thought that it made the absolute most sense on a whole host of levels, geographic rivalries among the other teams in the Pacific, the fact that for most of the season Arizona is on Mountain Time, not Pacific Time, so in terms of the way broadcasts and the like, when you look at the matrix of scheduling, the difference between being in the same conference in a division, it doesn't mean there will be a whole lot more travel," Bettman said. "And in fact, our scheduling will ensure, like we do with Tampa in the Atlantic, that it's a little more efficient."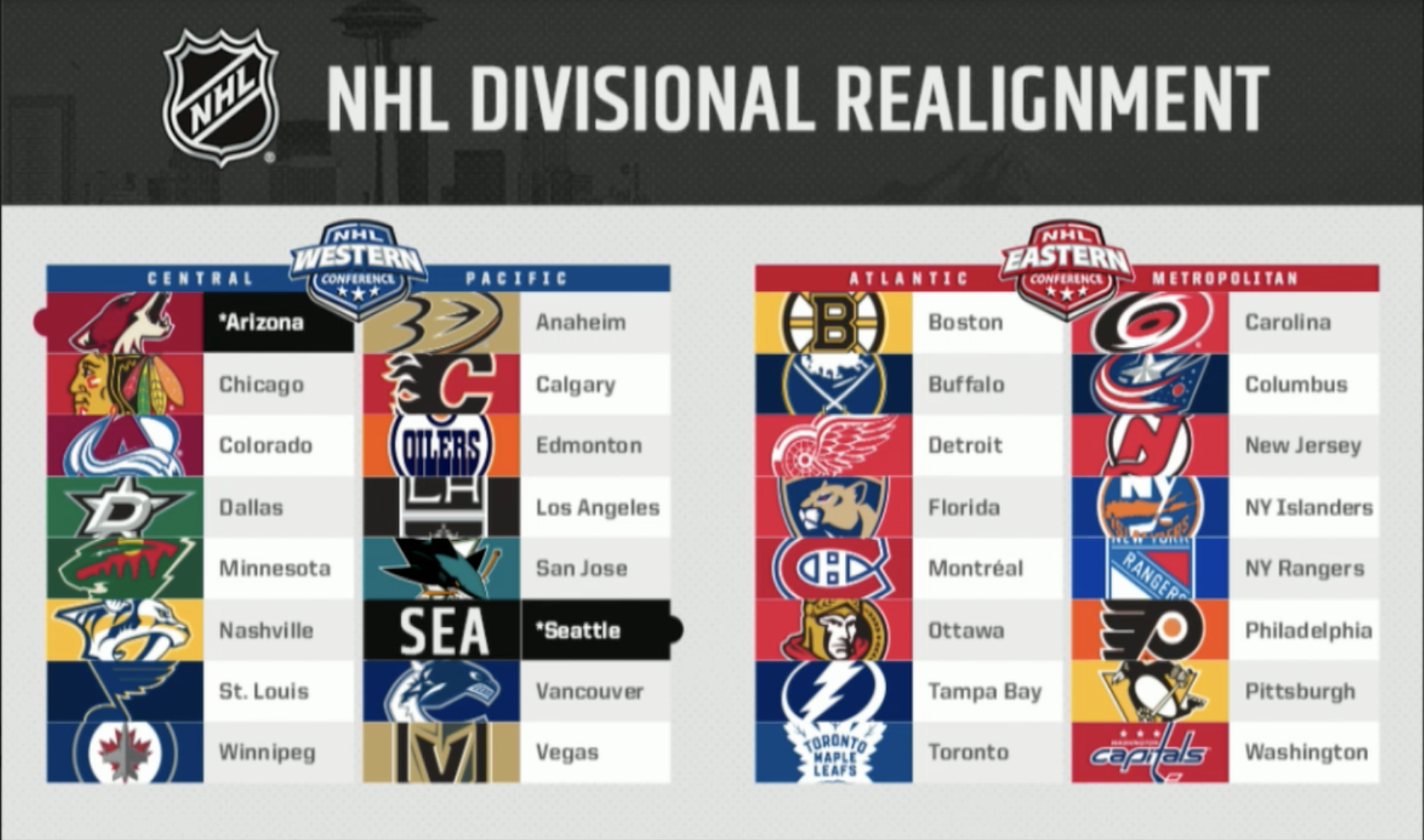 WHAT IS THE EXPANSION FEE?
When Vegas came into the league, it cost owner Bill Foley $500 million paid to the NHL, to say nothing of the cost to build the brand new T-Mobile Arena. With Seattle coming in a few years later, that expansion fee cost has risen to $650 million, plus the cost of renovating KeyArena to make it NHL ready.
WHO WILL BE THE GM?
Former Arizona head coach Dave Tippett is already in place as an advisor with Seattle's group, so he surely will play some significant role with the new team, but just what that is remains unclear. He has said, however, he neither wants to be coach or GM. Leiweke spoke to Sportsnet's David Amber about what comes next in their search for a GM.
"We now get to really think about that timeline. Do we wait and have a full field of candidates a year out, or do we go early and give our general manager a chance to lay eyes on these players for two full seasons? Ownership's committed, we have resources to do this right," he said. "No timeline yet."
[relatedlinks]