Though he has been a bit better lately, you'd probably be kind to say that Evgeny Kuznetsov's first half of the season was disappointing. On pace for just 54 points after putting up 77 last year is a huge drop off, not to mention he's on pace for just eight goals.
For most players in the NHL, 54 points would be an excellent season, but Kuznetsov gave us hints of stardom last season, so expectations were soaring coming into this 2016-17.
The major difference on the surface is that after scoring on 10.4 per cent of his shots on goal last season, Kuznetsov is scoring on just 5.4 per cent this season. But let's go deeper into his play and see if we can find a reason behind that drop in effectiveness.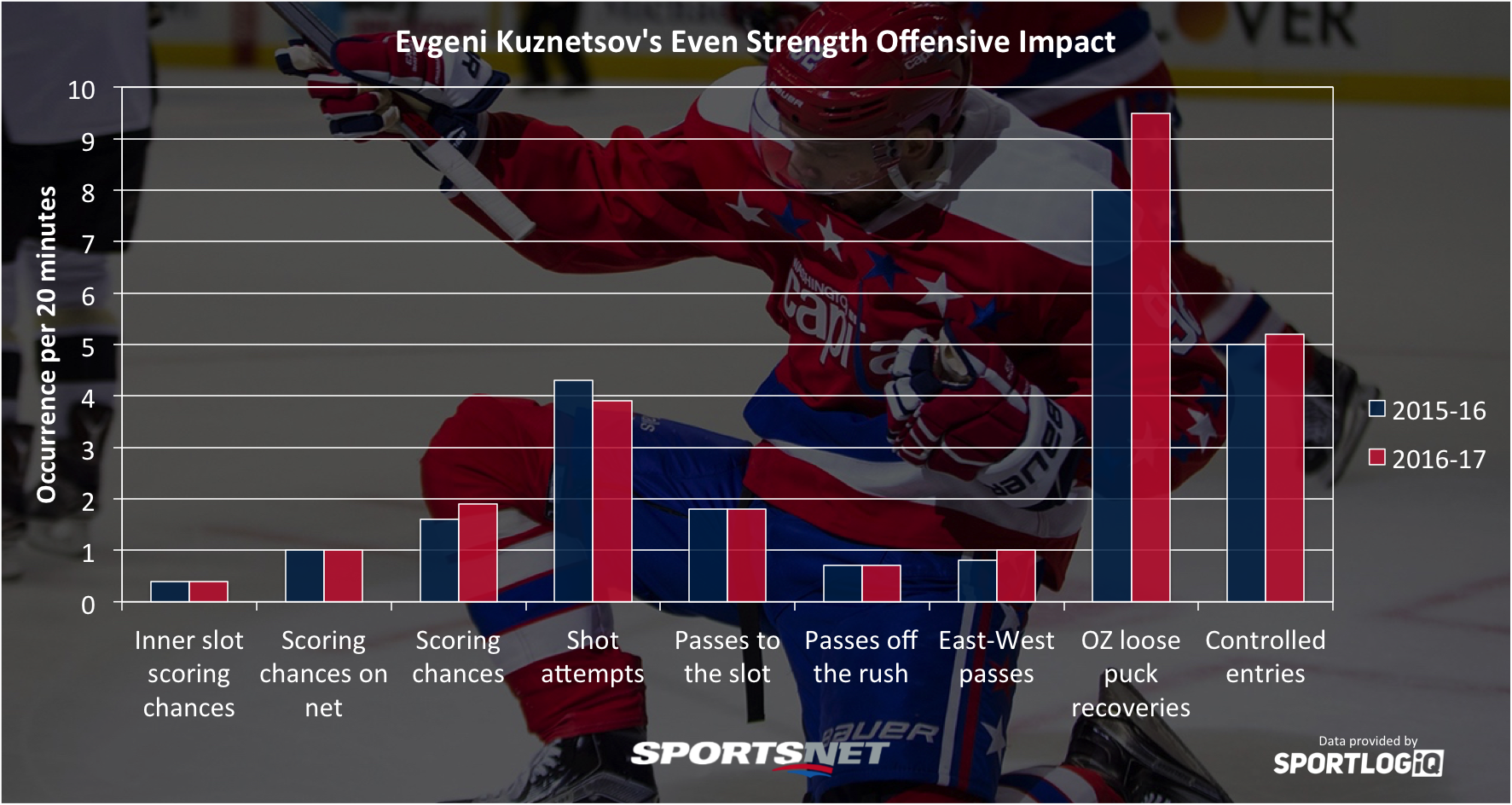 So… about that: it doesn't look like much has changed for Kuznetsov in terms of his even strength performance this season. In fact, he's producing slightly more scoring chances and East-West passes, recovering more loose pucks in the offensive zone, entering the zone with control a little more effectively, but taking just a few less shot attempts overall.
In fact, his production at 5-on-5 is still pretty excellent this season at 2.12 points per 60 minutes, even if it's a drop from last season's 2.54. What's interesting is the drop in production has been almost entirely in primary assists, where he has fallen from 1.45 per 60 minutes to 0.94 – in other words, from the league's best to a tie for 33rd.
The disparity between the two seasons is exacerbated by Kuznetsov being a little lucky last year in how often his teammates finished his passes, and a little unlucky this year. He isn't the best playmaker in the NHL, but he is among the top-12 or so, which means we should expect his assist numbers to rise.
The other factor in Kuznetsov's lower point production is his work on the power play, where he's gone from 6.42 points per hour to just 3.38, while his primary assists halved from 4.06 per 60 minutes to 2.03 and his goals drop from 1.35 per 60 to zero.
Kuznetsov is clearly being watched more closely by penalty killers, because his dangerous passes (to the slot, off the rush, and East-West) have dropped from 12.3 per 20 minutes to 10.9, but that mark still ranks fifth in the NHL. I think the work is being put in for his production to rise there, even if it never gets to the level it was at last season.
In terms of goals, first let's look at Kuznetsov's power play shots from last season.
Red markers indicate goals.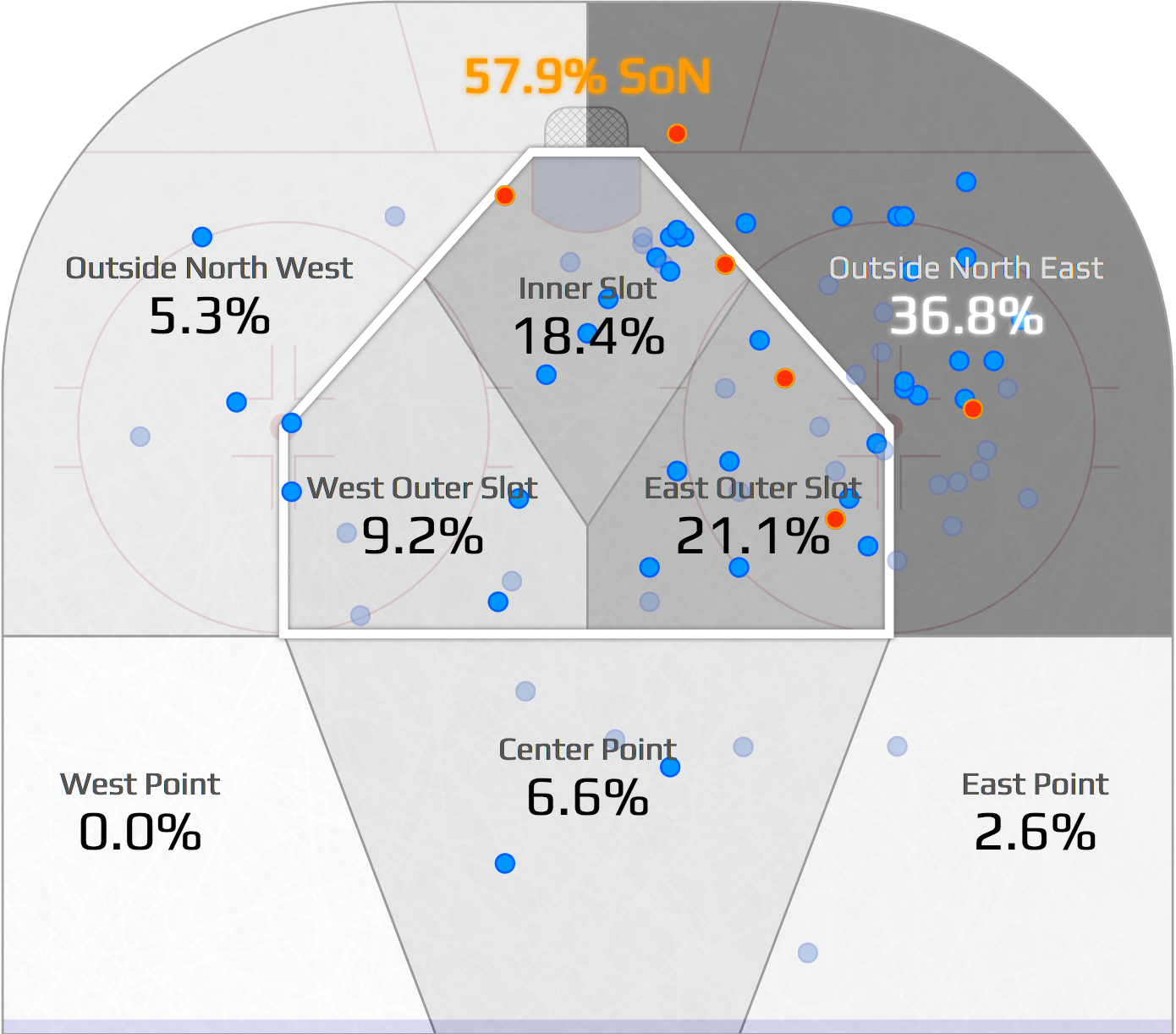 Kuznetsov's job was to play the right wing half wall opposite Ovechkin, mostly feeding either Ovechkin in the left circle or T.J. Oshie in the slot. Even so, Kuznetsov took 48.7 per cent of his shot attempts from the slot and scored four of his six goals there. And 18.4 per cent of his shot attempts came from the inner slot where goaltenders are most vulnerable.
Now how about this year?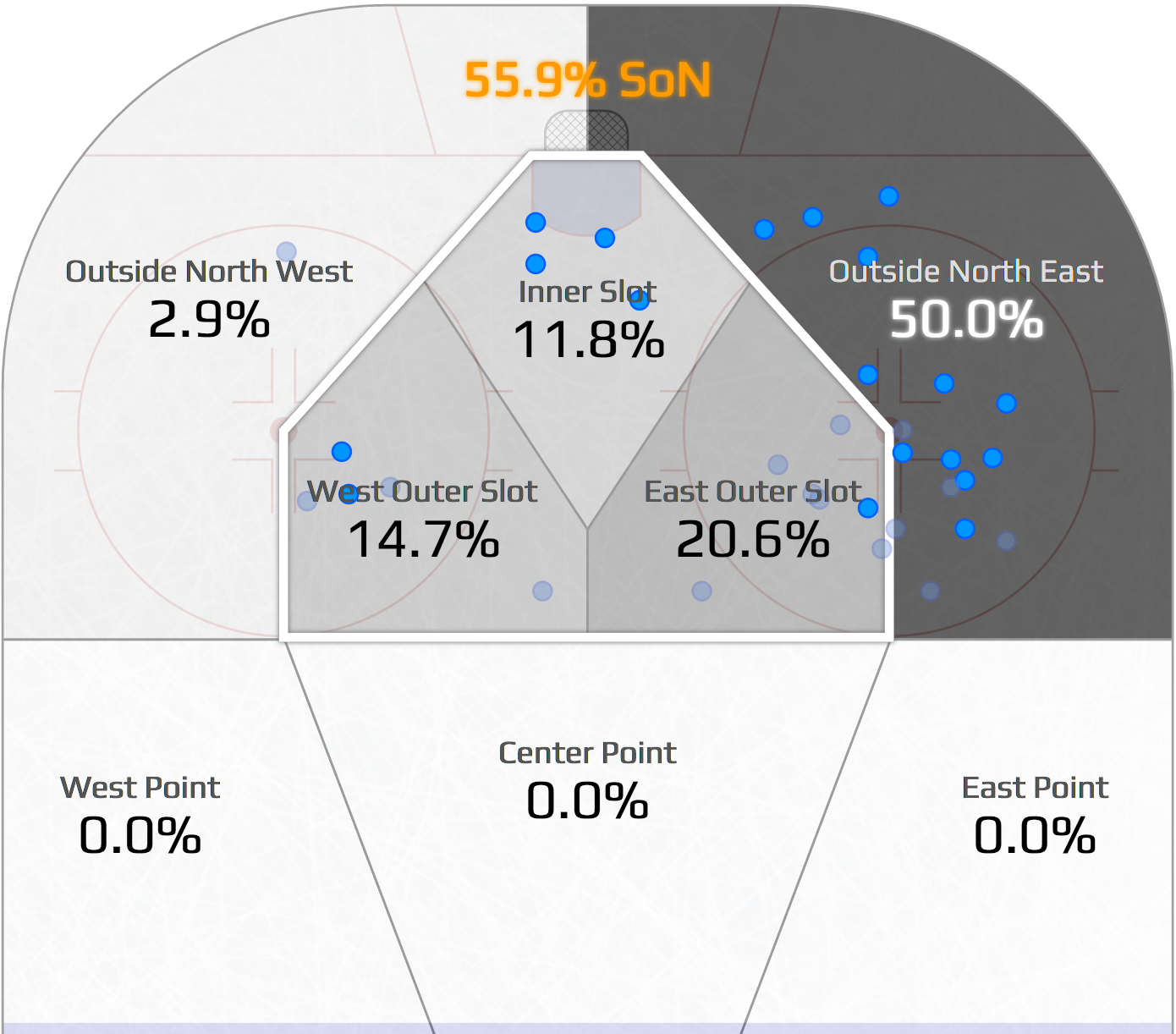 Kuznetsov has had four really excellent scoring chances from the inner slot, but overall his shot selection hasn't been as strong as last season. There has been a 6.6 per cent drop in inner slot shots as a proportion of his attempts, and a bit of a shift towards the West side of the outer slot, which as a left-handed shooter gives him a worse angle to shoot from and makes his shots less likely to be released quickly when he receives a pass.
He has also been failing to hit the net with as much frequency, dropping from 57.9 per cent of his attempts getting on net last season to 55.9 per cent this season, but I don't think that's significant enough to be a big factor.
The most likely problem for Kuznetsov on the power play this year is he's a little too static. The Capitals' power play is consistently strong, but at times players get a little too comfortable in their set roles and their creativity lapses a little bit. For a player who thrives on creativity like Kuznetsov, that can put him into a rut. This is probably something that will work itself out in the second half of the season, but a little confidence boost would go a long way for the young Russian.