When you're a rookie defenceman, it's tough to get the level of attention required to win the Calder Trophy, especially when you have players like Mathew Barzal and Brock Boeser putting up gaudy offensive numbers. However, playing 22:47 per night on the Boston Bruins' top pairing with Zdeno Chara, you can make a strong argument that Charlie McAvoy deserves serious consideration.
Finding a way to capture McAvoy's impact outside of team-based statistics is a little tricky; he's not particularly aggressive with or without the puck, making 80.3 plays with the puck per 20 minutes at even strength, right on team average for the Bruins defence.
He doesn't create offence at the level of Torey Krug, and he doesn't have the defensive impact of Chara without the puck, so he's not a huge outlier there either. However with McAvoy on the ice, the Bruins, and especially Chara, are much better.
At 40 years old, Chara isn't the same player he was when he was a perennial Norris Trophy contender, he's playing 23 minutes a night instead of 27, and after a couple seasons of what was pretty declining effectiveness, his on-ice numbers are stellar with McAvoy.
Celebrating heroes of the game, Sportsnet and Scotiabank unite to bring a 4-day hockey festival to Swift Current, Sask., and a 12-hour national NHL broadcast to Canadian fans coast-to-coast on Feb. 9.
Chara's on-ice expected goals-for percentage relative to teammates goes from minus-3.61 without McAvoy, to plus-4.19 with him, and the same thing happens with Corsi, actual goals, shots… etc.
If McAvoy isn't necessarily a big offensive producer or a big-time defender at even strength, what's driving this positive play? His puck management.
McAvoy plays a fairly simple game, especially for a rookie who turned 20 under a month ago, but where he handles the puck more than every other player on the Bruins is in transition.
He's not leading the attack, but he's their most effective player at turning defence into offence, transitioning the puck forward about 18.8 times per 20 minutes at even strength.
The young defenceman also has the rare distinction of leading his entire team in controlled exits out of the defensive zone, something forwards usually do much more often than defencemen, after receiving outlet passes near the blue line for an easy carry out.
But most impressively, McAvoy does this extra work without much risk in his game.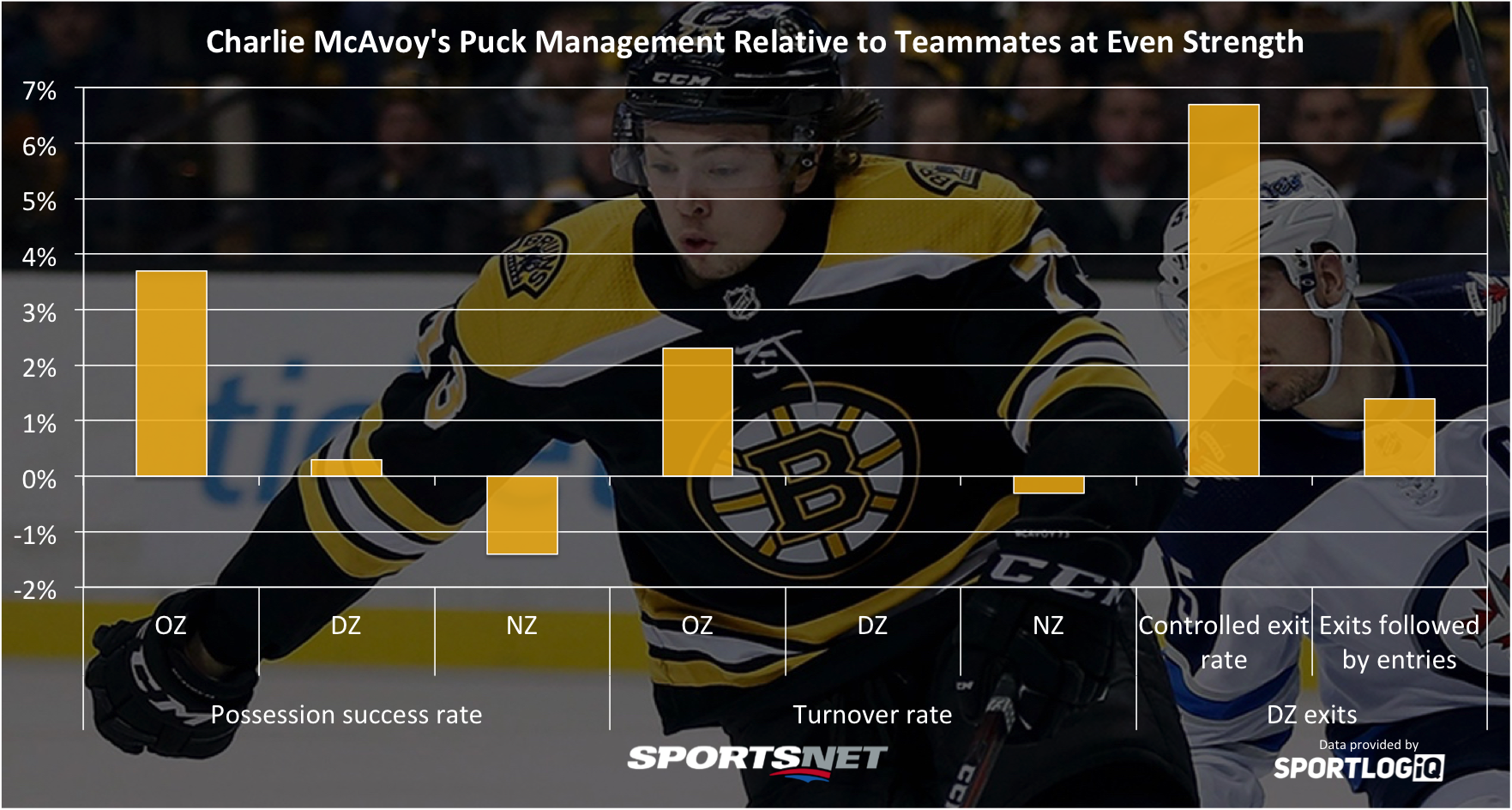 In the neutral zone, McAvoy has more failed plays than team average, but those plays aren't turning into turnovers at an egregious rate, especially considering the extra responsibility and his age. McAvoy is surprisingly safe in the defensive zone despite making some fairly risky plays to keep the puck controlled, and he's extremely safe in the offensive zone, keeping turnovers to a minimum while keeping the offence alive.
Where McAvoy stands out the most is in his decision making coming out of the defensive zone, where he dumps the puck out less often than almost any other defenceman in the league relative to his teammates, and a disproportionate number of his exits turn into controlled entries either from him or other Bruins, showing he's playing not just to make the exit, but to fully transition the puck into an attack.
Allowing Chara to focus more on the defensive aspect of his game and less about getting the puck where it needs to go once he's won it away from opponents has reinvigorated the big Slovak, while Chara's experience has no doubt allowed McAvoy a much easier transition to playing tough minutes in the NHL than most players could ask for.
You can make a compelling argument that McAvoy's presence on the Bruins has had as big of an impact on their fortunes this season as Barzal on the Islanders, or Boeser on the Canucks, but poise under pressure isn't as flashy as point totals.