After starting the season looking like a Stanley Cup contender with a 6-1-0 record, the Toronto Maple Leafs have faltered a bit and gone 3-6-0 since October 19. Their record still has them second in the weak Atlantic Division, but even there the margins are thin, and with Auston Matthews suffering an injury that will cause him to miss at least one game, the Leafs are looking for answers.
One of the questions I always have when teams go hot and cold is whether or not it's just a swing in percentages more than a change in play. Sometimes everything goes right for a team over a short period, only to be followed by everything going wrong.
In order to see if the Leafs are playing the same way during this cold streak as they were when they were red hot, we can split their scoring chance data in two, looking at the games before and after October 19.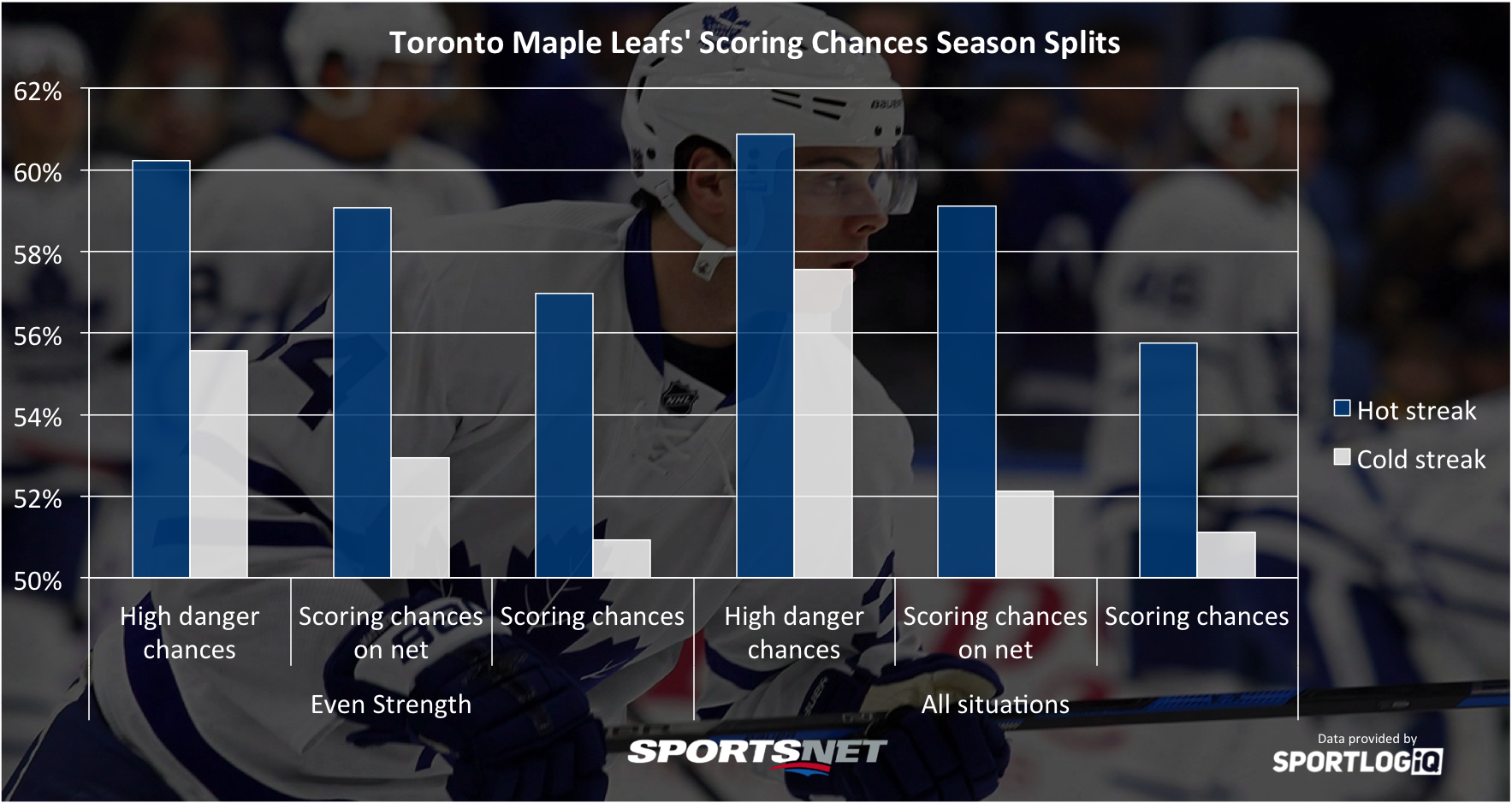 Based on the data, the Maple Leafs haven't controlled scoring chances recently at near the rate they had at the beginning of the season, though it's important to note that they're still in the positives across all categories during the time they've gone 3-6-0.
There's definitely some level of reversal of fortune happening here. Even though the Leafs were absurdly dominant during their hot streak, no team in the parity era of the NHL can consistently earn six victories for every loss. They may have been a bit lucky, while now they're getting unlucky.
The troubling thing for the Leafs, though, is that despite dominating high-danger scoring chances at even strength and all situations, including being relatively stingy at giving them up in their own end during their cold streak and hot streak, they haven't got much help from their goaltending.
Frederik Andersen has had a really tough start to the season, and it's not a situation where the Leafs have left him out to dry, as they often did last year. Toronto has made real improvements in their defensive zone coverage, and while Andersen was extremely consistent last season in giving them strong starts, this season he's been a weak link.
Breaking down his save percentage by area of the ice, both overall and during the cold streak, we can see if any issues pop out.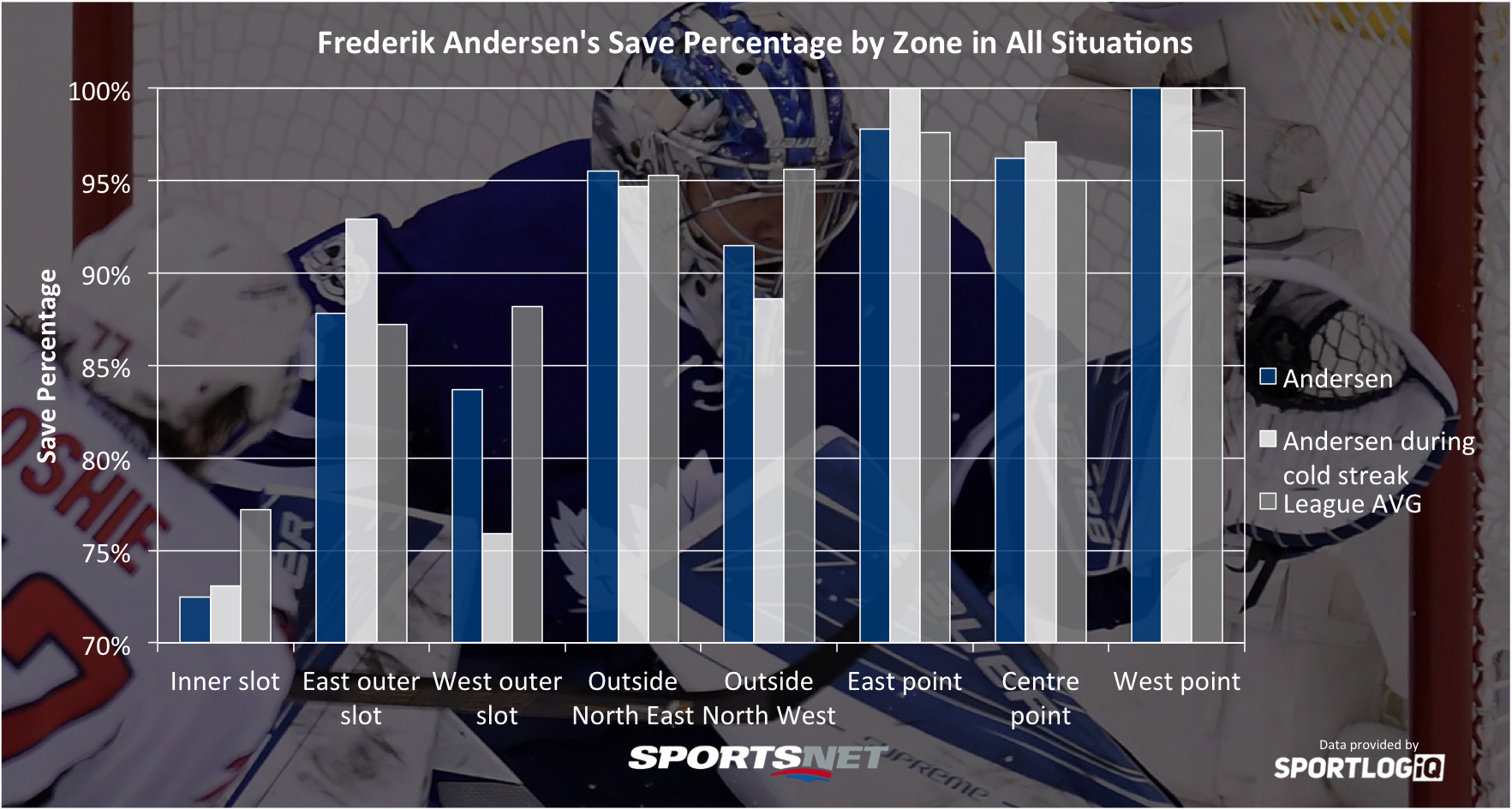 Andersen has struggled with shots from the high danger area this season, as he's about four percentage points lower than league average, but in most other areas of the ice he's still been solid. He hasn't let many goals in from the points — he's above average there — and he's been strong on his left side, but his right side has been a mess. Both in the slot and outside it from the perimeter, he's been far below league average on his right side, and during the cold streak that weakness has been exacerbated.
This could be a weakness of Andersen's or a weakness of the Maple Leafs' right side blue liners on the defensive side of the puck, but based on the low number of scoring chances and especially high-danger scoring chances, I don't think blaming the defence makes a lot of sense.
Either way, even with Andersen saving pucks at a below average rate in the inner slot, the Maple Leafs should be fine if they're able to focus a bit more on protecting their goaltender's right side of the ice, cutting down shots from that area.
The positive to take from this cold snap is that if this is the Maple Leafs at their worst, they're going to be pretty good this season.