Update: Vancouver Canucks owner Francesco Aquilini tweeted the following Tuesday after this column was published earlier in the day:
VANCOUVER — When the Detroit Red Wings introduced Steve Yzerman last week as their new general manager, the old GM instantly became a subject of speculation in Vancouver where the Canucks are without a president of hockey operations.
But instead of Ken Holland, the hot name that has surfaced in media reports is Mike Gillis.
Yes, the Mike Gillis that managing owner Francesco Aquilini fired as president and general manager in 2014, a few days after the waning days of a dismal season were enlivened inside Rogers Arena by chants of "Fire Gillis! Fire Gillis!"
Man of the people, Aquilini fired him, buying out what was believed to be the remaining four years and $8-million-US on Gillis' contract. He hasn't worked in the National Hockey League since then.
Livestream every game of the Stanley Cup Playoffs, blackout-free. Plus stream the Blue Jays & MLB, Raptors and NBA Playoffs matchups and more.
Given the way it ended for Gillis in Vancouver and with the Canucks trending back towards respectability, rebuilding around an impressive core of early-20-something players drafted by general manager Jim Benning, it is natural to be dismissive about the possibility of the old boss returning to oversee – or more likely, fire – the new one. Perhaps John Tortotella can come back to coach the Canucks, too, if that playoff run with Columbus doesn't work out.
But Vancouver Sun columnist Ed Willes and Sportsnet broadcaster Irfaan Gaffar reported that Aquilini has reached out to Gillis to plumb interest in a possible return to the Canucks.
The Aquilini family forced out Trevor Linden as president of hockey operations last July, and the team has been without a titled grand boss of hockey-ops since then.
In his now famous 12-part Twitter series on Linden's departure, Aquilini said a new president would be named "in due course." But the owner told Benning, who told the media, that he was not actively looking to replace Linden and that the GM would run the hockey department.
The truth was something in between. There has been no coordinated search to replace Linden, but neither have the Aquilinis shut their eyes to who might be available around the NHL.
Sportsnet's Elliotte Friedman reported last summer that former Los Angeles Kings' president and GM Dean Lombardi had been approached by the Canucks but his contract as an advisor to the Philadelphia Flyers precluded moving to another organization.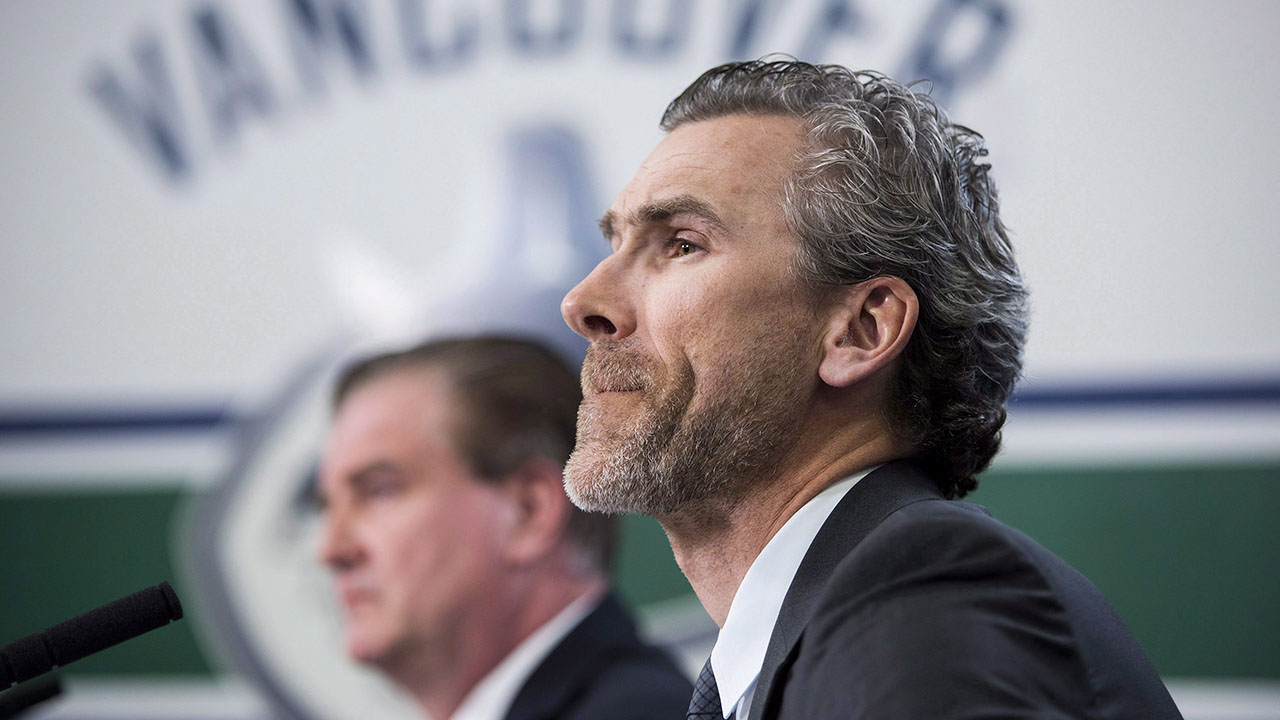 Into the Canucks' senior management vacuum, now comes Gillis.
A Gillis return to Vancouver seems outlandish. But so did his initial hiring by the Aquilinis in 2008 when, with no NHL management experience but a lot of big ideas, the former player agent landed the job to replace Dave Nonis as Canuck GM. It was reported that Gillis was the only candidate Francesco Aquilini interviewed.
A progressive thinker, Gillis lauded unconventional former Oakland Athletics' general manager Sandy Alderson, whose protégé, Billy Beane, revolutioned baseball with "moneyball" and his use of analytics.
Five years since his firing by the Canucks, Gillis retains devotees in hockey's robust analytics community. His name periodically gets pumped for jobs like the Edmonton Oilers' vacant GM position.
Gillis oversaw the most successful five-year period in Canuck history. Vancouver won five division titles, two Presidents' Trophies and made it to Game 7 of the 2011 Stanley Cup Final under his watch.
He established an analytics department within the Canucks, got the team a "sleep doctor" and poured millions into sports science, including a short-lived "mind room" where players lay on recliners watching positive images.
But Gillis' most impactful decision was retaining the talented core of players assembled for him by Nonis and earlier GM Brian Burke, keeping Alain Vigneault to coach them, then strategically adding key pieces like Dan Hamhuis, Christian Ehrhoff and Manny Molhotra.
Gillis' record on trades and free agency were mixed and his draft history is abysmal. But his greatest failing was clinging too long to veteran players who were rewarded with no-trade clauses in return for salaries below market value. By Gillis' sixth and final season, the Canucks were aging and stale, encumbered by nine NTCs and with next to nothing in the development pipeline.
Debate about asset management under Benning and Linden is fair. But as we've said before, the Canucks were headed over a cliff no matter who was in charge.
What's interesting about the timing of a potential return by Gillis now is the Canucks' landscape again looks promising. There is salary-cap flexibility and some outstanding prospects in place, although Brock Boeser, Elias Pettersson and Quinn Hughes aren't nearly as advanced in their careers as Daniel and Henrik Sedin, Ryan Kesler and Roberto Luongo were when Gillis first arrived in 2008.
The question now, as it was then, is what risk is there to changing regimes while the Canucks are already on an upward trajectory?
In an interview last month with The Athletic's Pierre LeBrun, Gillis didn't sound like someone who would be satisfied with an advisory or complementary role in NHL management.
"I have talked to some (NHL) people in the past little bit, but for me, there has to be alignment in the vision of what you are and where you're trying to go," Gillis told LeBrun. "I made up my mind when I left Vancouver that I would only go into a situation where I felt that there was going to be alignment from top to bottom, where you could do a lot of interesting things and people weren't going to criticize you because you weren't doing it the old way. They would, in fact, embrace the idea that you were finding new ways to be successful. If that kind of environment is there, then I'm absolutely interested."
Clearly, Gillis didn't feel he had that environment with the Canucks. With the same owners, why would either side think they could create it now?