Who says meetings aren't productive?
With one cushy gathering of NHL general managers in Florida this week, the Calgary Flames search for a starting goalie likely got much easier.
And nothing is more important to the Flames franchise this summer than finding a proven starter.
"Priority No. 1 – no ifs, ands or buts," said GM Brad Treliving.
While nothing was set in stone in terms of when Las Vegas and/or Quebec City will be joining the fray, the new guidelines outlined for the expansion draft will almost certainly start to take effect this June, as teams ready for the likelihood Sin City gets a team for the 2017-18 season.
That means franchises will immediately start positioning themselves accordingly.
Teams were informed they have two options for skaters: protect seven forwards and three defencemen or protect eight skaters.
In a concerted effort to give the new club(s) a bigger bang for their half-billion bucks, the most significant difference from past expansion drafts is that only one goalie can be protected by each team.
That's where Calgary can capitalize.
Of the more than a dozen goalies the Flames are eyeing up as possible starters ahead of Joni Ortio (a pending restricted free agent who will undoubtedly be re-signed inexpensively), a good portion are part of impressive tandems.
In Anaheim, the Ducks have John Gibson signed for three more years and need to ink RFA stud Frederik Andersen this summer.
Anaheim Ducks goalie John Gibson.. (Jae C. Hong/AP)
Ben Bishop has been a rock star in Tampa Bay while youngster Andrei Vasilevskiy also seems to have management's confidence at a considerably cheaper price.
First and second-year pros are exempt from the expansion draft, but by the summer of 2017, Pittsburgh Penguins AHL star Matt Murray will have three years under his belt. That sets up a choice between exposing Murray or Marc-Andre Fleury.
There's a healthy competition between veteran Jimmy Howard and Petr Mrazek in Detroit with Mrazek holding the edge of late.
Interesting quandaries for those clubs moving forward.
Here's where the Flames can benefit this summer.
Again, assuming the league announces in June it's moving ahead with the Vegas add, teams like the aforementioned will have to start looking more and more at the possibility of trading a goalie as opposed to losing them for nothing to the NHL's newest squad(s).
Forward-thinking GMs will do what they can to insulate themselves from a situation where the one player they lose also happens to be an asset at the game's most important position.
The increasing options Calgary may have to acquire its starter through trade increase exponentially if Quebec City is also given the nod at the NHL awards in Vegas in June as teams know they have twice as many chances of losing a goaltender.
"We will leave no stone unturned and see where we go," said Treliving last week when asked about the goaltending void that cost the Flames a playoff shot this season.
"It's obviously a critical position and we'll cast a wide net."
College hotshot Jon Gillies is tabbed to be the Flames goalie of the future but hip surgery wiped out his AHL season. He's still at least another year away from joining the big club.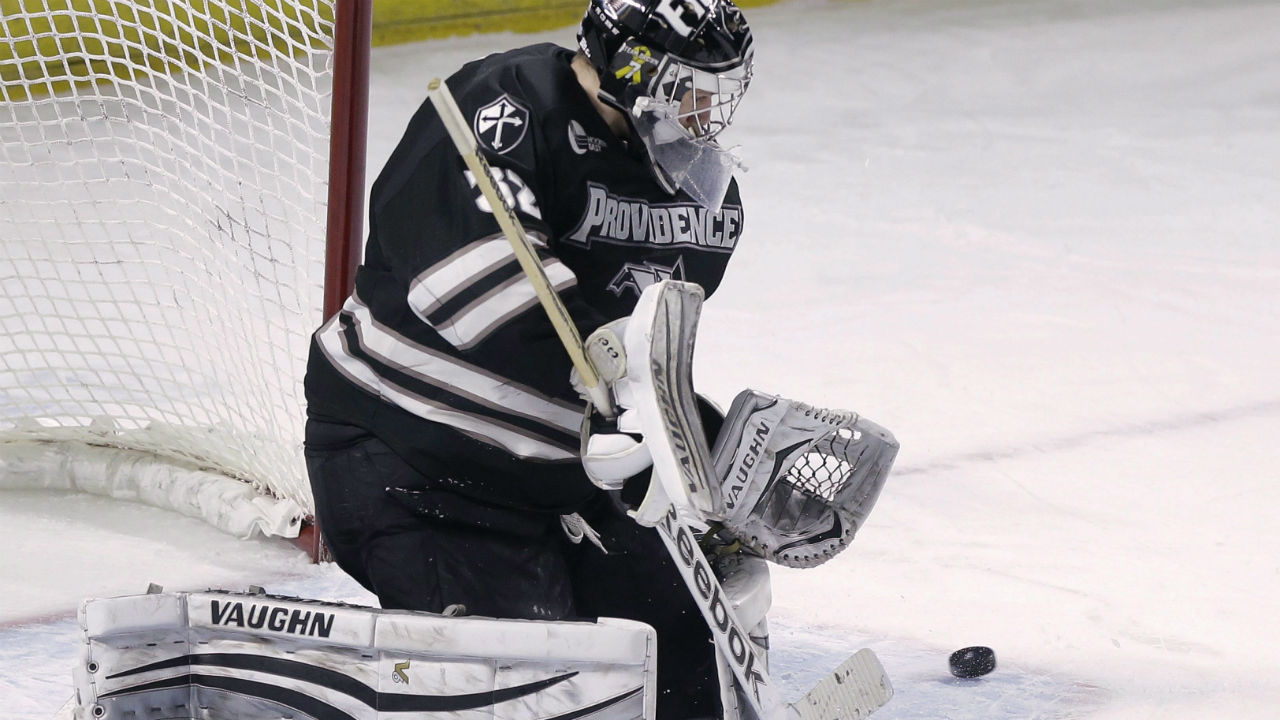 Goaltender Jon Gillies. (Steven Senne/AP)
After a poor start to his season, Ortio has acquitted himself well of late, and as an RFA could be re-upped by the club for somewhere near the $1 million mark as a backup.
Calgary has plenty to spend on a starter as they open up $8.3 million in cap space with the expiring contracts of Jonas Hiller and Karri Ramo.
The Tampa situation seems particularly intriguing as a pricey extension for Steven Stamkos would force GM Steve Yzerman to shed the $5.95 million Bishop is slated to make next season. Problem is, he's an unrestricted free agent after that who will command in excess of $8 million annually – likely too rich for Calgary's blood. Could be a great rental, though.
Are the Coyotes contemplating going with Louis Domingue again next year and dealing Mike Smith who has three years left at $5.33 million?
Or do they risk keeping both and losing one to expansion?
Do the Ducks risk a similar fate with Gibson and Andersen or do they cut bait on Andersen now that he's due for a large raise as an RFA this summer? Or does the looming expansion make that decision even easier?
The Flames also have options in terms of pursing UFAs like James Reimer, Cam Ward, Anders Lindback, Antti Raanta or even Ramo.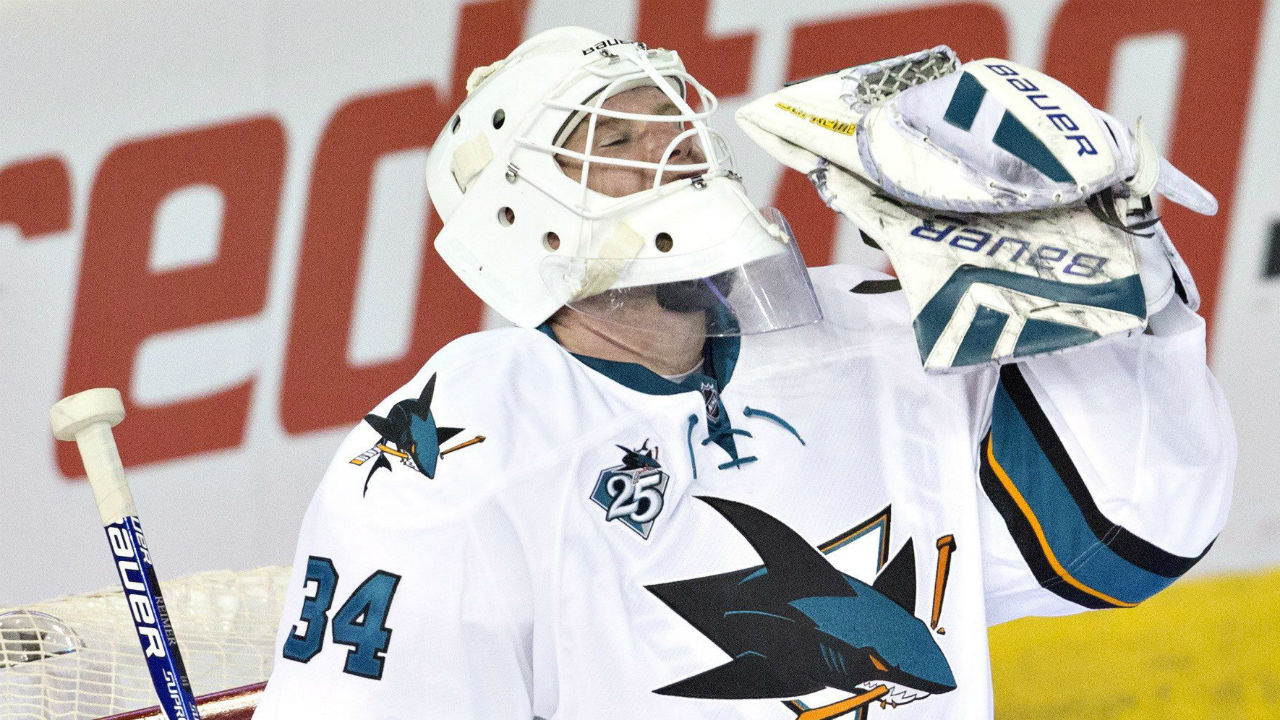 San Jose Sharks goalie James Reimer is an unrestricted free agent at the end of the season.(Jason Franson/CP)
Calgary has cap space for a goalie – yes, even after eventually signing Johnny Gaudreau and Sean Monahan this spring – and they are armed with plenty of extra draft picks because of Treliving's nice work at the trade deadline.
Truth is, they'll have plenty of goaltending options.
Even moreso thanks to the briefing in Boca Raton, Fla.
—
Eric Francis is a columnist who can also be read in the Calgary Sun