While every NHL team is building towards an opportunity to win the Stanley Cup, most of them never make it there. Unfortunately, some teams get close, but just can't make it over the hump. When this happens to a top-end team – especially late in a run, such as in the Stanley Cup Final – they tend to flail about in search of a key "missing ingredient" that proved to be their undoing.
Never mind if they were beaten in overtime on multiple occasions, or if they wildly out-chanced their opponent, but ran into a hot goaltender. These reasons don't much factor when a team is doing some soul searching.
The New York Rangers are a team that starts each season with Stanley Cup aspirations. Coming into this post-season they had played a total of 13 playoff series since 2010-11, reaching the Cup final once and Conference Final on two other occasions. Yet for all that success, they were seeking fixes in the wrong areas.
Many of these issues stem from the fact that Henrik Lundqvist regularly bails them out, thus superficially it appears the Rangers have been far more defensively sound than they actually are. From 2011-12 to 2013-14 the Rangers ranked 10th in the league in shot attempts allowed per 60 minutes (SATA60) at 5v5 when adjusting for score effects, seventh in Scoring Chances Against per 60 (SCA60) and sixth in High Danger Chances Against per 60 (HDSCA60). Couple this with the elite goaltending they received from Lundqvist and Martin Biron and you have a team that gave up amazingly few goals against (1.93 GA60) at even strength.
Across that three-season span, they were one of the stingier defensive outfits in the NHL.
Of course, being elite defensively means you may struggle to score and that is where the problems began. Across the same three-year stretch, the Rangers ranked 15th in the NHL with a mediocre 2.24 GF60 at 5v5, and 23rd in the league with an atrocious 6.0 GF60 on the power play. Their peers with the man advantage were Minnesota, Arizona and Carolina — not exactly the fearsome clubs New York was hoping to be among.
So what did the Rangers do? In the two years since, they attempted to upgrade offensively at the expense of their defence. They parted with Anton Stralman, Brad Richards, Ryan Callahan, Brian Boyle, Benoit Pouliot and Carl Hagelin. In exchange they brought in the aging and about to retire Dan Boyle and Martin St. Louis, pending UFAs Keith Yandle and Eric Staal, and young kids such as Kevin Hayes, Oscar Lindberg and Emerson Etem.
They allocated significant cap space towards what they thought was the key to their defensive structure, locking in Dan Girardi and Marc Staal to long-term contracts with no-movement clauses. As a result, the Rangers are in a much worse place than they were only three years ago. They were lulled into thinking they were better on defence than they actually were because of Lundqvist.
The Rangers aren't the only elite team that has started a decline because they think they are better than they really are, thanks to contributions from key players.
Boston has relied on the elite possession impacts of Zdeno Chara and Patrice Bergeron for years, but now that Chara's game is sliding it appears their window to contend is closing. Detroit has slowly slid from being a regular threat for 100 points behind the superlative play of Pavel Datsyuk, Henrik Zetterberg and Niklas Kronwall to being happy if they can sustain their playoff streak another season.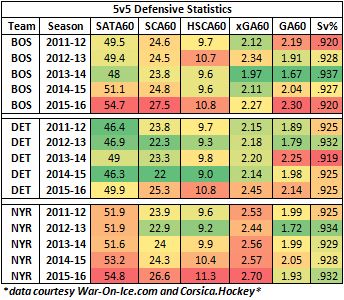 If we look at the past five years for each team we can see the defensive aspects of their games have been slipping consistently and their competitiveness is going right along with it. As things have gotten worse defensively, the offense has also slipped. All three clubs are a shadow of their peak years, largely due to the decline of key contributors. There is no obvious path back to competing, although stop-gap measures will likely be taken by management. A slow trickle of youth will likely start being added to replenish the talent base, but unless new stars are added it won't be enough to stem the tide.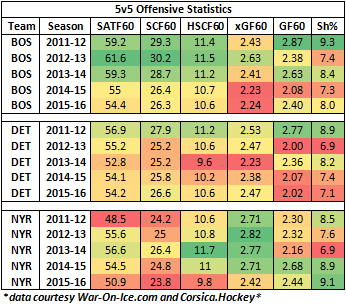 THE LESSON
As we can see, the New York Rangers, Detroit Red Wings and Boston Bruins were legitimate contenders for years (with the Rangers unable to get over that final hump), but their recent success was inflated by contributions from key star players. With those players ageing and in decline, the teams have followed, and roster weaknesses are being exposed.
Unless new stars are brought in to fill the void (or the weaknesses are remedied), the continuing decline of these three teams seems inevitable.