The single most important factor to the success of your fantasy hockey team is how you handle the draft. This is the most enjoyable part of the year and the most important, so it's critical to have a solid strategy going in if you want to hoist the trophy at the end of the season.
Here are some key fundamental tips to make sure you have a solid draft: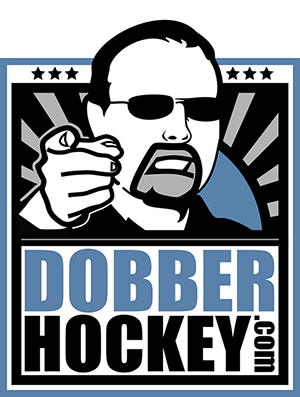 Understand your league
First and foremost, it is important to have a firm understanding of your league's set-up. There are hundreds of different leagues out there and you need to understand the basics: how many teams are there? What positions am I rostering? Which stat categories are being measured and what are they worth? This is very basic stuff, but you need to understand it all in order to form your strategy.
Position Considerations
Even though the point of fantasy hockey is to get the most points as possible, it isn't always the best strategy to blindly select the player who you think will get the most points. This may seem counterintuitive, but it's true because you need to fill every position and scoring is harder to come by at some positions. It is much harder to find a 55-point defenceman than it is a 65-point centre.
I'll give you an example: Let's assume you were going to use a second round pick and a 10th round pick on a centre and a defenceman. Looking at the Average Draft Positions on Yahoo!, you could get Jonathan Toews in the second round, who is generously a 70-point player. In the 10th round, drafting a defenceman would get you Sami Vatanen who is about a 40-point guy. In that scenario you have earned your team 110 points across the two picks. Sounds good, right? Not really…
Here's a better way to draft in those two rounds: get Erik Karlsson (a 65-point defenceman) in the second round and then in the 10th nab Eric Staal or Jason Spezza who could get you another 60 points. In this scenario you have netted yourself 125 points in the two rounds just by understanding that getting points from a defenceman are harder than getting points from a centre.
We bypassed a 70-point player in Toews for a 65-point player in Karlsson and in the end our team was better off for it. This is because the point drop from a second round centre to a 10th round centre isn't that big, but the drop-off from a second round defenceman to a 10th round defenceman is huge. Use that knowledge to your advantage.
Category Considerations
Fantasy GMs often over-emphasize traditional stats like goals and assists, but for those who are in rotisserie style head-to-head leagues you know that each category only counts as one point. You have to understand that if your league counts shots, hits, PIM or anything else – those stats matter just as much.
Currently, Jordan Eberle is being drafted ahead of Dustin Byfuglien in Yahoo! leagues and that's a travesty. We already know that Byfuglien has better value because he's scoring at the defence position, but he also shoots about 50 more times, hits about 200 more times and collects about 100 more PIM than Eberle.
Byfuglien contributes considerably more to your fantasy team than Eberle does, but Eberle might get five more points than Byfuglien so some people fixate on him. Take advantage of those people, consider the other categories and go with Byfuglien.
The Ideal Draft
So how do you put these strategies together into a draft plan? Here is a sample of how the first 12 rounds of a draft (in a 10-team league) could go based on these strategies and using the actual average draft positions from Yahoo!
Round 1: A proven stud forward (Ovechkin, Crosby, Malkin, Giroux, Benn, Seguin, Tavares)
Round 2: Elite defenceman (Karlsson, Subban)
Round 3: Elite goalie (Dubnyk, Holtby, Rask)
Round 4: Top defenceman (Byfuglien, Burns, Weber)
Round 5: Overlooked forward (Backstrom, Backes)
Round 6: Value winger (Wheeler, Ladd, Sedin)
Round 7: Secondary goalie (Andersen, Luongo, Varlamov, Miller, Mason)
Round 8: Steal defenceman (Ekman-Larsson, Green)
Rounds 9-11: Fill-out forwards (Simmonds, Hossa, E. Kane, Carter, Kunitz, Spezza, Kesler, Hornqvist, Ryan)
Round 12: Under-the-radar defenceman (Boychuk, Phaneuf, Muzzin)
Following the above draft strategy, your starting roster could look like this:
C Jamie Benn
C Nicklas Backstrom
LW Evander Kane
LW Chris Kunitz
RW Marian Hossa
RW Blake Wheeler
D Erik Karlsson
D Dustin Byfuglien
D Jake Muzzin
D Oliver Ekman-Larsson
G Braden Holtby
G Frederik Andersen
That's a pretty good-looking lineup and all it took was a little preparation, some understanding of your league and a great strategy going into the draft.
If you look at your league and do something similar, you should be able to come out ahead of your draft mates. You may have to keep the strategy a little bit fluid (particularly on the goalies) depending on how the rival GMs in your particular league act, but if you keep these basic ideas in mind you will be in great shape.
Wishing you all the best of luck at the draft table.
Terry Campkin is a writer at DobberHockey. Be sure to check out his Geek of the Week column focusing on statistical trends in fantasy hockey. And as the perfect supplement to your Sportsnet Fantasy Guide check out Dobber's 10th annual Fantasy Guide here.
---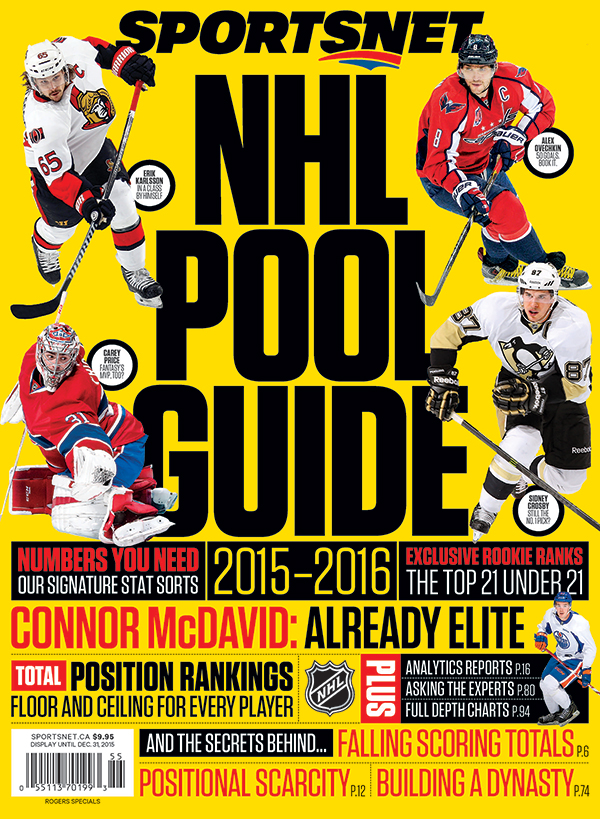 Sportsnet's NHL Pool Guide has everything you need to be prepared for your draft—from complete positional rankings to insider analysis from our experts and the most innovative analytics and stat sorts you'll find anywhere. On newsstands now.
---