Marc Habscheid pulled into his family's farm just as he had done countless times before. This time, however, it was different. As his tires crunched over the crust of the winter snow, Habscheid was arriving as the newly appointed head coach for Canada's 2005 World Ice Hockey Championship team.
As Habscheid stepped out of his truck, he was overwhelmed by childhood memories. Standing there in the brisk Saskatchewan air, he looked toward the spot near the barn where his father, Nicholas, used to build the family rink every winter. An immigrant from the tiny country of Luxembourg, Nicholas discovered hockey when he and his wife arrived in Canada in the late 1950s.
After settling on a farm just ten miles south of Swift Current, Nicholas laboured as a farmhand in Maple Creek and occasionally took in some hockey in nearby Medicine Hat, Alta., with his boss. Those games were some of the first that Nicholas had been exposed to and he was immediately drawn in. He didn't know it at the time, but hockey would eventually become a big part of his family's life.
Using what he learned on that outdoor rink, Habscheid went on to play 345 NHL games in Edmonton, Minnesota, Detroit, and Calgary, and represent his country internationally three times as a player.
Then, following his playing days, Habscheid stepped behind the bench and soon established a name for himself there as well. In 2002, he was tapped to coach Team Canada at the World Juniors, becoming the first to represent Canada at the tournament as both a player and coach. His team finished second to Russia, but Habscheid quickly put the loss behind him by guiding the Kelowna Rockets to the Memorial Cup in 2004.
On the heels of his CHL success, Team Canada came calling again, but this time it was for the World Championship team — and this time Habscheid got the gold medal that had eluded him in his first foray into international coaching. He got the job again in 2005.
It was prior to that tournament when he was back at the family farmhouse, staring at the spot where he first learned the fundamentals of the game, that Habscheid really understood how special it all was.
"I thought from where I was as a five-year-old little boy just playing for fun to now being able to have the job that I did was almost unbelievable," Habscheid, now head coach of the Prince Albert Raiders, recently reflected.
[relatedlinks]
While Habscheid's journey began on the farm, it traveled through Swift Current. He joined the town's minor hockey association at the age of six and continued to hone his skills until he began his junior career with the Saskatoon Blades. In his first full campaign with the Blades in 1980–81, Habscheid scored 97 points and was drafted by the Edmonton Oilers at the end of the season.
Habscheid then attended Oilers camp, where he learned to take his game to a new level.
"As a farm kid growing up, you really don't know where you stack up. As you grow up and find out you're a decent player, then you gain confidence," he said. "I think by me going to Edmonton, I gained confidence because I had a good training camp and then I brought that confidence back to junior."
He certainly did. Habscheid had a fantastic season with the Blades, tallying 64 goals and 151 points, and also earned the opportunity to represent Canada at the World Juniors in 1982. Canada ended up winning gold for the first time, a significant moment that was not lost on Habscheid or his teammates.
"We were celebrating after and waiting for the national anthem," he reminisced.
But when they were told that technical issues meant organizers couldn't play the anthem, Habscheid and his teammates wouldn't take no for an answer.
"We went arm in arm on the blue line and we sang it on our own," Habscheid recalled. "I think that's where the tradition started."
Although Habscheid doesn't remember much about his NHL debut for the Oilers, he still recalls how surreal that experience was when he first skated out onto the ice.
"You have one channel on the farm, and you watch Hockey Night in Canada," he said. "You just think there's no way you're ever going to be there."
But Habscheid made it, and he would remain in the NHL for parts of the next decade.
What sticks with him the most from those years isn't any one sequence or game in particular, but the company he shared in Edmonton — from Wayne Gretzky and Mark Messier to Paul Coffey and Grant Fuhr.
"You look around the room at that time and you knew they were good players… but where they stack up in history you never really understand until 40 years later. Now half that team is in the Hall of Fame," Habscheid said. "I was in the same dressing room as the greatest player of all time. How many guys get to do that?"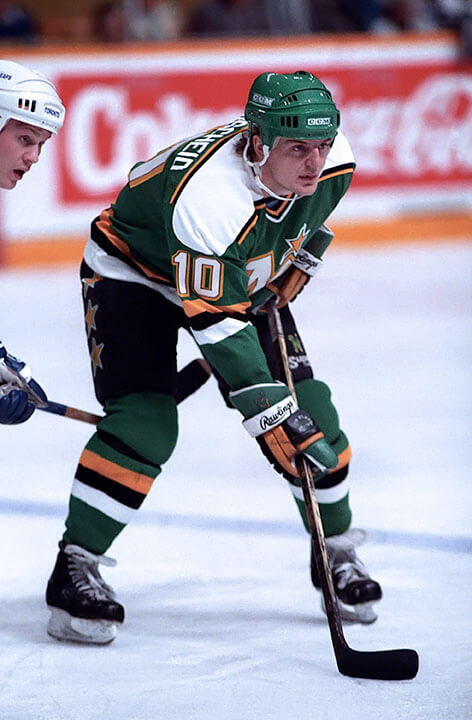 Hockey provided Habscheid with some special experiences, but none more so than one he was able to give his parents in 1988. That year, Habscheid represented Canada at the Winter Olympics in Calgary. While he was competing at the Games, word travelled that his parents were from Luxembourg. Nestled between Germany, France, and Belgium, the small country had just one representative at the Olympics that year — Marc Girardelli, an alpine skier. When the Grand Duke and Duchess of Luxembourg found out about Habscheid's heritage, they invited him and his parents to a social event, where they rubbed shoulders with royalty from across the globe — and, most importantly, with the Luxembourg throne.
"I think out of all the gifts that I could give my parents, that was probably the greatest. It was indescribable. Never would have happened otherwise," Habscheid explained. "I think that's what the game had helped me do for them and try to pay back to them."
Even before Habscheid decided to hang up his skates, he knew he wanted to get into coaching.
"I analyzed too much instead of just playing. I always thought and analyzed, and when you do that your feet stop moving," he said. "But I think that kind of helped me as a coach."
It was during his time in Edmonton that Habscheid became a collector of hockey knowledge.
"I started writing things down and keeping notes. All the handouts I kept. I ended up with about 1,200 pages. A lot of that stuff isn't relevant anymore, but a lot of it still is," Habscheid said.
All these years later, Habscheid still has those pages. And though some of the enclosed lessons may have hit their expiry date, his passion for coaching certainly hasn't. He's now in his 14th season as a Western Hockey League coach and his fourth behind the Prince Albert Raiders bench.
Today, when Habscheid thinks about what drives his love for coaching, he's reminded of his parents.
"My parents always helped other people, even though we didn't have a lot of money," he reflected. "As a coach, that's been ingrained in me. You want to help these kids in hockey, but more so in life. If you can help them have a better life, that's the most rewarding part."
The game he loves took Habscheid out of Swift Current at the age of 16, and provided him with opportunities and experiences that a farm kid from Saskatchewan can only dream of.
"But it will always be home," he stated. "It always feels good to drive into the farm and see the old farmhouse there."