It's a story Jaromir Jagr can tell friends and family forever – the night he set up Mark Jankowski for his first NHL goal.
Okay, so perhaps it's the kid who'll have the better tale.
Either way, there they were at the conclusion of a memorable night at the Saddledome, the 45-year-old legend and the rookie half his age holding up milestone pucks for the adoring media.
Jagr's puck was used to score his first goal as a Flame.
Jankowski's was the first one he has buried following a five-year journey from first round pick to big-league scorer.
It wasn't hard to determine whose grin was wider, but the debate is on over whose goal elicited the larger roar from an adoring crowd.
"It was pretty cool – when you hear your name called and everyone is cheering that loud you're trying hard not to smile and stay focused and stay serious," said Jankowski, 23, selected 21st overall in 2012 as a Canadian high school player who spent four years at Providence College and one in the minors before a recent call up.
"And then (Jagr's) was about three times louder – it was pretty crazy. It's special to share this with him.
"Scoring your first NHL goal is something you dream about your whole life since you've been a little kid and want to play in the NHL. And to have him get the assist on it just brings it up that much more. Just a really cool moment I'll never forget."
Want to livestream all 82 Flames games this season? See how you can stream this + over 300 regular season NHL games with Sportsnet NOW.
Few in the stands Thursday night will forget an evening that may very well be looked back on as a seminal moment for a team chasing the sort of top-10 status expected of it.
Johnny Gaudreau had two goals and an assist to move into third in league scoring, the Flames beat Detroit 6-3 for its fourth win in five games, and the team finally got its first taste of secondary scoring.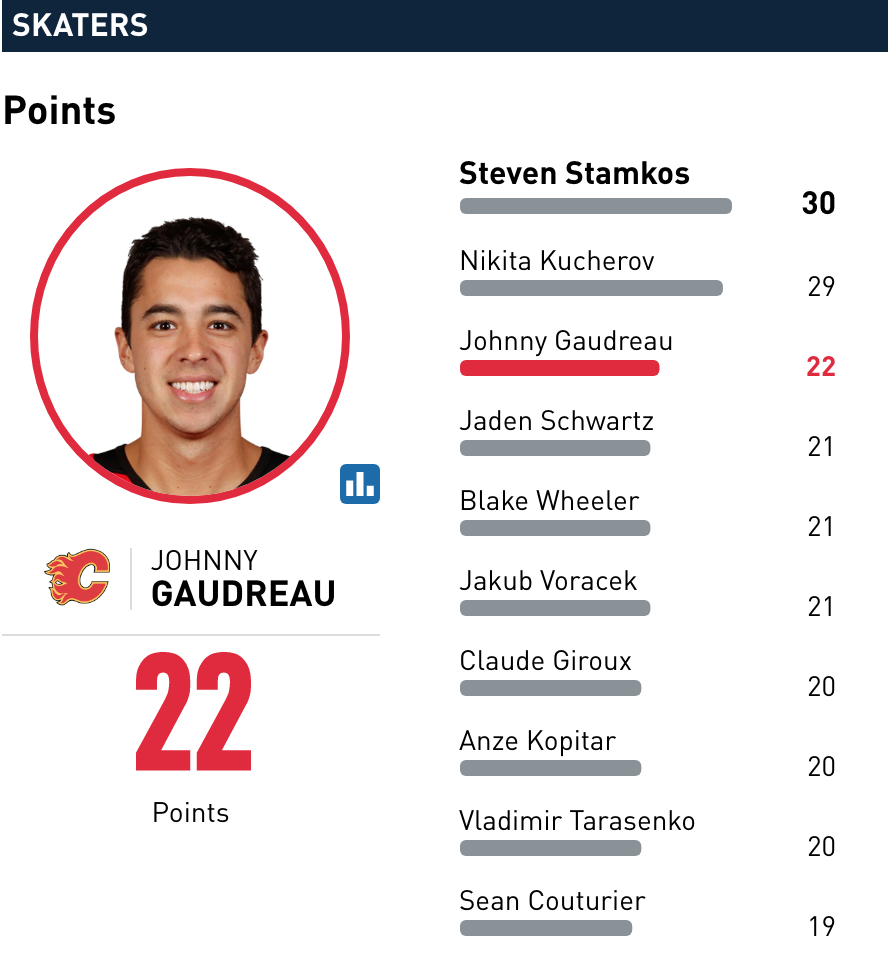 Moving to 9-7 on the season, they didn't have to rely on goalie Mike Smith to win the game for them, nor did the top two lines have to do all the heavy lifting again.
For the very first time this season the Flames got a goal from their third line.
Yes, you read that correctly.
The fourth line has yet to score a single goal, but that's for another day.
Asked last game if he was encouraged by the fact Jankowski's line with Sam Bennett and Jagr had some good scoring chances, coach Glen Gulutzan couldn't sugar-coat it any longer.
"They've got to score," he said.
On Thursday they did, albeit with a fluky goal that saw a Jagr shot bounce out off goalie Petr Mrazek and into the pants of a charging Jankowski, who watched it then flutter into the net.
Hard to tell if the noticeable buzz in the building afterwards revolved around the excitement for the kid, disbelief the Flames got secondary scoring, or that Bennett's name was announced for something other than a penalty.
Bennett's assist was his first point of the season.
"For our team to go somewhere and be an elite team in the league the third and fourth line have to start scoring," said Jagr, who seemed typically nonplussed about all the hype after the game.
"Of course any first goal for any team is special, especially in Canada. I can see how much the fans appreciate hockey and how much they love hockey. Since the first day I signed here they are so good to me so I'm trying my best."
Roundly applauded from the day it was revealed the Czech rock star had been signed to a one-year, $1 million contract, the importance of the deal cannot be overemphasized.
Although there is very little pressure on him to produce, he has a goal and three helpers in seven outings, which were interrupted by a two-week groin injury. Not bad for a guy essentially playing his way back into game shape.
What's more, he has injected tremendous energy and excitement into a team and a city that needed something to rally around.
On Thursday the payoff was significant.
"There was a really lively attitude on the bench," said Gulutzan.
"Guys were liking Jags' big-time shifts. There was some energy there. We need that moving forward. This league gets hard, it's close every night and you need your guys to feel confidence and have some fun. I think tonight really helped that.
"Jags gives us some energy and he puts it in the building too. He gives those young guys some jump.
"If I'm Janks I'm pretty happy my first goal is from Jaromir Jagr – I think that's pretty special. Life is about those moments so if I'm Janks I'm savouring that one."
Indeed he was, right alongside a man who scored his first NHL goal 27 years earlier.
"It was an exciting night," said Gaudreau, whose perfect pass on a 2-on-1 set Jagr up for his snipe, sending No. 13 darting for the keepsake puck.
"It's great for Janko getting his first goal. I remember mine. It's a pretty special feeling. Then we got Jags his first of many first goals for a team. I was pretty fortunate to be part of that goal. Then Gio (captain Mark Giordano) had his little baby (girl) – all around it was a special night for the whole team."
With one more game left in a seven-game homestand before a lengthy roadie, the Flames needed a boost of confidence, a chance to exhale and a chance to smile.
Perhaps most importantly they needed someone other than their top six forwards to score.
The fact that a living legend and the team's longest-developing prospect authored such a breakthrough in front of the fans meant that much more.