As the NHL's regular season inches to a close, it's time for award season speculation to begin.
Arguably the toughest category to vote for this season will be the Hart Memorial Trophy, awarded annually to the "player judged most valuable to his team." The trouble comes from that "most valuable" bit, which can be difficult to figure out.
Some people will argue that the award should simply be given to the league's best player, but the problem is that there's already an award for that; the Ted Lindsay Award is given to the NHL's "most outstanding player." The entire purpose of the Hart is to figure out which player has contributed the most to their team.
[relatedlinks]
Because of that, often times players who are on teams that miss the playoffs are at a disadvantage. Can you really be the most valuable if your contribution didn't lead to team success? It's a tough question because individual players don't have the team impact in hockey that they do in a sport like basketball. Luckily for this year, though, there isn't a big time Hart candidate on any non-playoff team, though I would argue Victor Hedman is close, and the Tampa Bay Lightning still have a shot at the playoffs.
Another wrinkle is that the Hart is open to all positions, with goaltending in particular making it tough to compare. With that said, let's say that Sergei Bobrovsky wins the Vezina Trophy in a walk, and let's talk skaters only. If you think he deserves a Hart nomination, I can't disagree with you, but for the sake of clarity I want to compare players directly and you can't do that well with goalies.
So taking into account a wide variety of statistics, here are the five biggest candidates for the Hart Trophy this year:
These are some of the most productive players in the NHL. Eye-catching, dynamic forces that have been game changers for their teams, but points alone aren't going to tell us what we need to know to vote for the Hart. What we need to figure out is how much those points have driven team success, and for that we need to compare them to their own teammates, starting with goal and shot attempt differentials.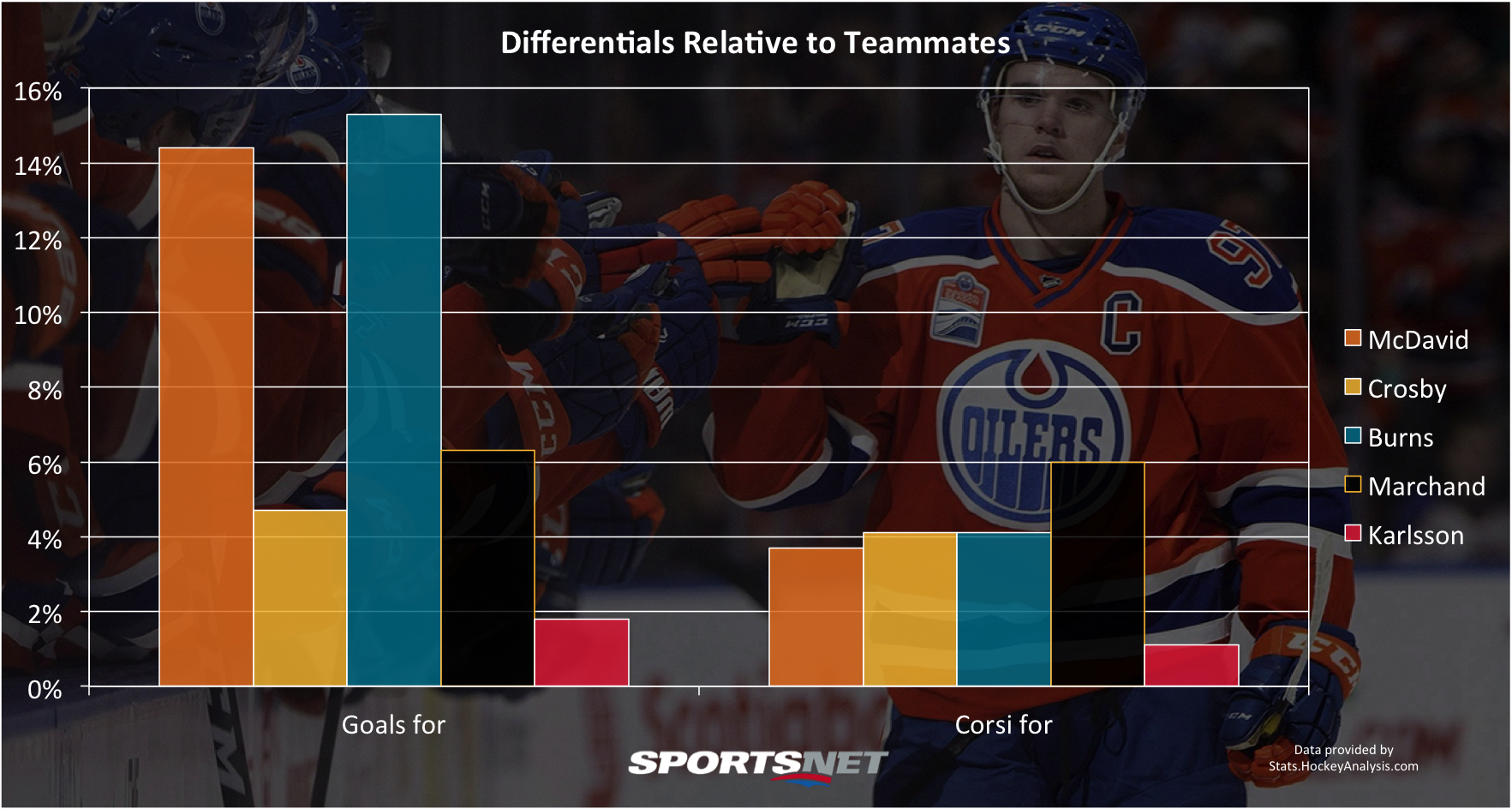 Corsi presents a fairly even field, with Marchand leading (though he plays with Patrice Bergeron which will always be a caveat) and Karlsson trailing, but it's important to note that Karlsson has been dragged down pretty heavily by Marc Methot, who has struggled this year.
In terms of goals, McDavid and Burns have been far and away the top players, but the two face very different levels of pressure. In San Jose, the pairing of Marc-Edouard Vlasic and Justin Braun takes the lion's share of the heavy defensive minutes, freeing up Burns to play a high-flying game. That doesn't mean Burns plays soft minutes, no one as talented as him is going to escape line matching to shut him down, but McDavid doesn't have that luxury.
Ryan Nugent-Hopkins is beginning to round into form, but for most of the season he has struggled, and with Leon Draisaitl playing with McDavid more often than not, it has turned the Oilers into a one-line team for long stretches. McDavid would always be keyed in on as one of the league's best players, but the combination of Nugent-Hopkins struggling and the down seasons from Milan Lucic and Jordan Eberle made his line easy to match up against… Theoretically.
Despite all of that heavy checking, McDavid leads the league in points and has had one of the biggest impacts on team goals in the NHL.
Cutting things finer though, let's look at individual offence driving plays relative to teammates to see who stands out most, noting that we're adjusting for position when comparing to teammates.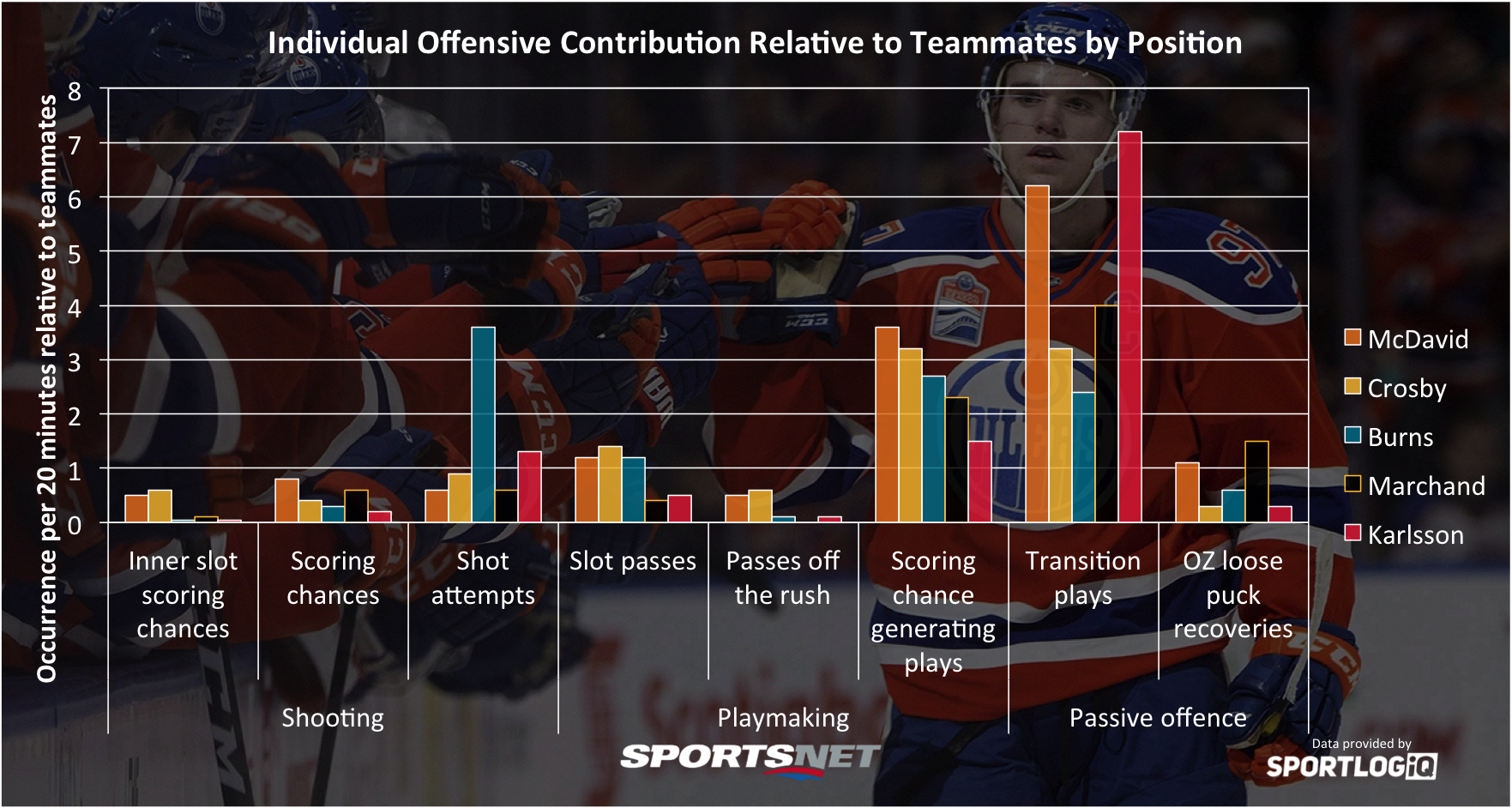 Here we start to see where each player stands out, with Crosby and McDavid being the biggest driver of scoring chances and the best playmakers, while Burns drives the most offence from the back end, both with his ridiculous shot-spamming and a crazy number of passes to the slot for a defenceman. Marchand is just good at everything, but stands out most in forechecking, whereas Karlsson is a play-driving machine, bringing the puck up the ice with control more than anyone.
What stands out more than anything to me though, is how often McDavid is either the best or second best in a category. He's lagging behind Crosby and Marchand in actual goal production, but as I wrote about recently, that's more due to bad luck than bad play. He consistently creates the most inner slot scoring chances in the league, and generates more for his teammates relative to team average than anyone.
All these players are phenomenal, and there are others that we haven't looked at that deserve some consideration as well, but if we're talking winners here, the most valuable player to their team in the NHL is Connor McDavid. How could it be anyone else?