You may have heard by now that a Canadiens goaltender left the game Friday night in a huff. But just how rare was his removal from the game?
Plus, a rookie scored an improbable goal, a Sabre stuck it to his former club, and we may have a new challenger for the fastest skater in NHL history.
Here are five things we learned in the NHL Friday.
Price pulled for 1st time in two years
It's been a while.
The Montreal Canadiens lay down for the San Jose Sharks Friday, allowing four goals before finally answering in the third period. And though they lost 4-2, the story was the rare instance of Carey Price being pulled from a game and just how rare that is.
The Sharks only threw 23 total shots on goal while Price stopped 14 before the pull but it truly wasn't the netminder's fault. He seemed to take the yank personally, however.
On his way off the ice, the Canadiens goalie shot a look at his bench. He sat on the bench for a time but did not come out for the third period.
The rarities didn't stop there, either. Turns out the Habs don't typically perform like this on home ice, this year or any other.
This is not Patrick Roy vs. Mario Tremblay. This is not something to overreact over. The narrative will blow over by Saturday…right?
Right.
Meier's 1st NHL goal quite a feat
Staying with the Sharks-Habs game, Swiss power forward Timo Meier scored his first NHL goal Friday, and we always have time for stuff like that.
But the nature of his goal is what makes it a Thing.
Sorry, Carey. But you'll be fine.
It happened to be Meier's first NHL game too. The 20-year-old winger was drafted ninth overall by the Sharks in 2015 and played three seasons in the QMJHL before joining the Sharks' AHL affiliate this year. He subbed in for a struggling Joel Ward who sat this one out.
The goal stood as the game-winner. Way to go, kid.
Okposo gives it to Islanders
Typically when a high-profile player approaches free agency, there are plenty of rumours and stories that surround that player's final year in his contract. With Kyle Okposo and the New York Islanders, there was eerie silence in 2015-16.
Okposo left New York after nine seasons this summer when he signed a massive seven-year, $42-million contract with the Buffalo Sabres. Friday, he got a chance to play against them for the first time.
And he had the final say.
While on a 3-on-2 rush in overtime, Okposo dished the puck to Rasmus Ristolainen who converted the game-winner. Former Islander Matt Moulson also scored against his old club, the sixth time he's done so.
It's been a rough year for the Islanders, to say the least. One of their many issues has been their three-goalie rotation, a topic tweeted about by Allan Walsh, agent to both Jaroslav Halak and Jean-Francois Berube. But it hasn't exactly been a rotation since Berube hasn't played all season. New York simply did not want to expose him to waivers and risk losing him for nothing.
Friday, he got his first start of the year.
Berube is 25 and yet has only played nine NHL games to this point. He was drafted in the fourth round in 2009 by the Los Angeles Kings but only joined the Islanders organization last year.
Kuznetsov heating up
What's the deal with Evgeny Kuznetsov?
The 10th best scorer in the NHL last season kind of fell off a cliff at the end of 2015-16 and that spilled over to the playoffs when he recorded just one goal and one assist in 12 games for the Washington Capitals.
He then kept falling to start 2016-17, scoring just three goals and nine points through 23 games.
But after picking up an assist Friday against the Carolina Hurricanes, Kuznetsov now finds himself on a six-game point streak, tallying eight assists. What's the explanation? Barry Trotz seems to have an answer and it may be his skating.
Excuse the coach-speak. Via the Washington Post:
"Kuzy's game has got more substance to it right now in the areas that he's really driving the puck. He's really forcing defenders to get on their heels because he's testing them wide, and he's testing them in the interior to force them to honor everything, and he's getting to those hard places… So, when he is driving and attacking the opposition with certainty, good things come of it."
I'd chalk that up to improved skating.
The Caps came away with a shootout win over the Hurricanes, on the strength of Kuznetsov's backhand goal in the skills competition.
What does Evgeny himself think of all this?
Hey Kuzy, cheer up, will ya?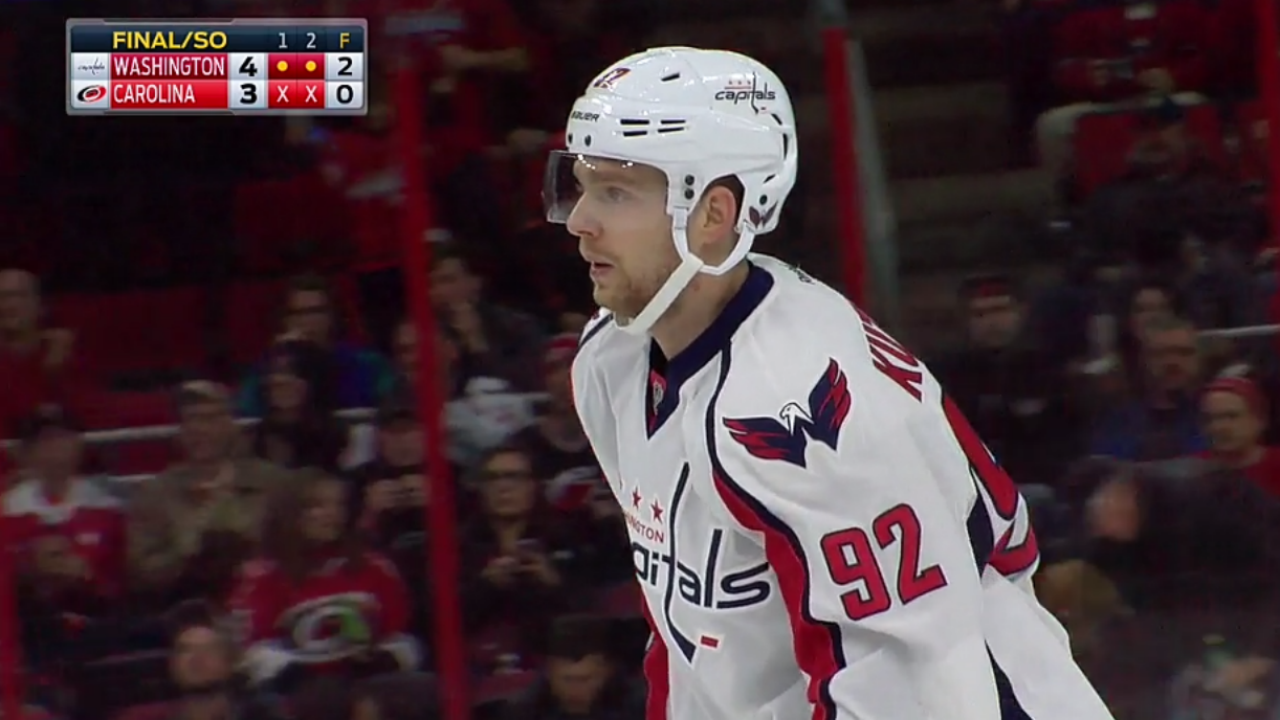 ---

Get ready for game time with over 100 menu items delivered right to your door. Click here to learn more.
---
Ehlers is faster than you think
The Winnipeg Jets were off Friday night but held their inter-squad skills competition for the fans. This is not typically news but one detail caught my eye.
That's faster than Mike Gartner, the fastest recorded skater at a skills competition in history until Dylan Larkin broke the record last year with a time of 13.172 (though there was some debate, since Larkin started his lap with some momentum unlike past competitors.)
No word on where on the ice Nikolaj Ehlers started from but his 13.29 seconds is reportedly a Jets record.
Wow.