LAS VEGAS — A goaltending duel in almost every sense of the word.
After swapping endless kick-saves and glove-grabs, Marc-Andre Fleury and David Rittich even contemplated mixing in a little tete-a-tete.
In the midst of a wildly entertaining defensive battle between two teams that most certainly seem destined for a playoff showdown, the Vegas netminder skated to the hashmarks, laid down his stick and enticed Calgary's crease-minder to skate over for a fight.
Standing at the far blue line with a keen eye on the series of facewashes, bear hugs and bruises being administered behind Fleury thanks to a Matthew Tkachuk accidental-on-purpose collision with the netminder, Rittich shrugged it off.
"Maybe he want but I don't want to cross the red line for taking a penalty," said Rittich, when asked about the invite.
"We don't want him fighting obviously," added Knights coach Gerard Gallant of Fleury, whose career-best 200-minute shutout streak ended when Travis Hamonic tied the game 1-1 midway through the second period.
"He's one of the top goalies in the league, if not the top goalie. His job is to stop the puck and that's what he does.
"You don't like to see your goalie get bumped, but it was about the game tonight. As much as the guys get pissed about it they went out and were smart and won a game against a real good team."
Cooler heads prevailed in the third period despite a playoff-type atmosphere and intensity the large number of Flames fans in attendance at T-Mobile Arena can only hope is recreated Sunday when they meet again in Calgary.
In the end it was a familiar face that broke a 1-1 deadlock when former Flame Deryk Engelland's top-shelf wrister from the blue line gave the Golden Knights the eventual game-winner in the third.
The tight battle could have ended much differently had a Johnny Gaudreau goal late in the first period been allowed to stand. Tkachuk, who was a menace all night playing on the top line with Gaudreau and Sean Monahan, was deemed to have interfered with Fleury's ability to make the save.
"It's a tough way to lose," said Flames captain Mark Giordano of a controversial call that saw Tkachuk make contact with Fleury outside the blue paint. "I never talk about calls but that's a huge call in the game to get that one disallowed. We'll look at it — we thought it should have counted.
"It was a tough call. That's the difference. A one-goal game. It was a pretty even match throughout."
Coach Bill Peters was vexed about the officiating in general.
"I didn't like the fact the officiating standard changed — I thought the calls early were poor, especially the call on (Garnet) Hathaway — a real poor call, real soft call this time of year," he said of a roughing call that led to Shea Theodore's game opening power-play goal.
"And then they put the whistles away in the third, right? So in the first, everything is a penalty. And in the third, nothing is a penalty. The (Cody) Eakin play on Gaudreau with about four-and-a-half minutes to go in the offensive zone, when there is no puck and he throws a hip into him, that's as obvious a penalty as anything that was called in the evening. So that's disappointing.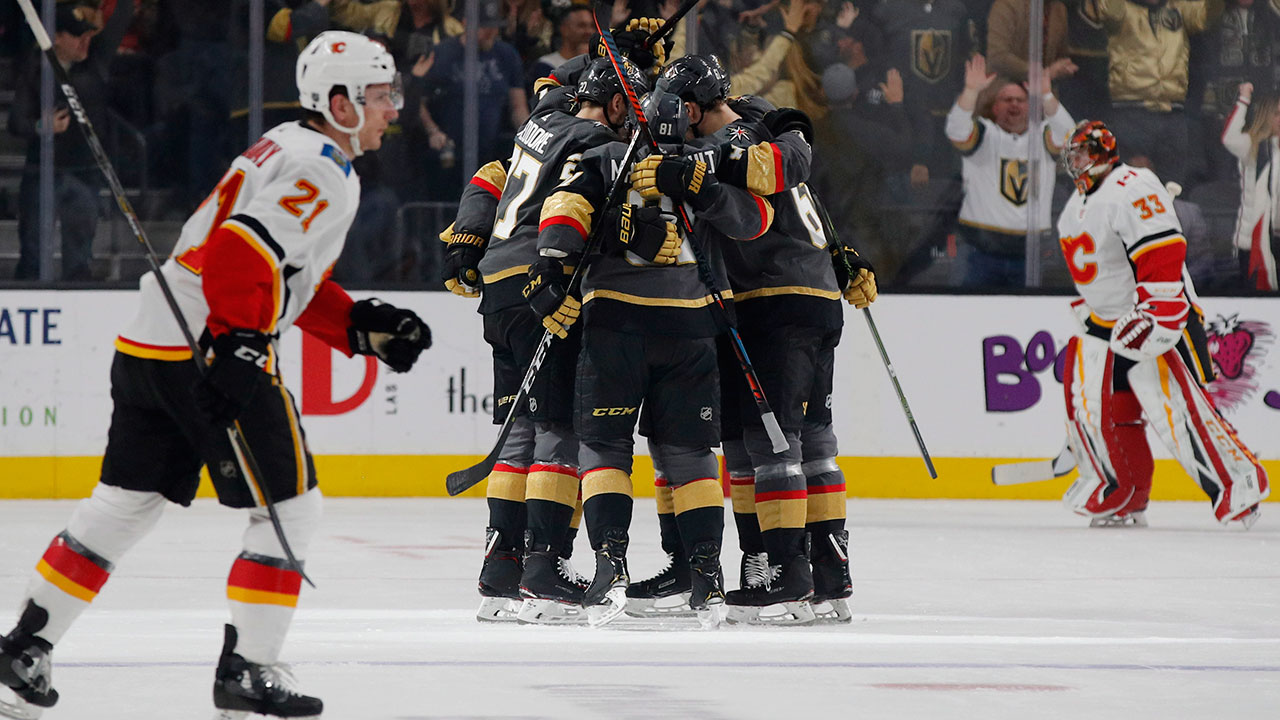 "I thought that standard definitely changed, and it doesn't help you when you're either chasing the game or trying to score to get it tied up. It is what it is. We'll move on. Our guys played hard and played well."
Two nights after Rittich was given the Bronx cheer at the 'Dome late in a 6-2 loss to Toronto, the 26-year-old Czech sophomore was the star in a game both teams wanted desperately to win as a post-season setup.
All told, he made 36 saves in a game that saw him make a stellar kick save 15 seconds in that set the evening's tone.
"I don't think it was a good day for me — we lost," said Rittich of his bounce-back performance, which included a game-winner he had a hard time flagging as he'd been hit inadvertently by a teammate seconds earlier.
"I felt good but we don't have points so it's not a good day for me. Last goal their guy hit me so I couldn't get there."
The Knights, who've now won five in a row with prized newbie Mark Stone on board, sit a distant third in the Pacific Division currently being led by Flames. Should the Flames lose their three-point cushion on San Jose atop the west, the two would meet early in April in a first-round matchup.
Fleury, who was the second star with 33 saves, was under siege in the third when an extremely game Flames club pressed hard for an equalizer that never came.
The Flames have now lost three in a row, following a seven-game win streak.
"I'm pretty firm and I've said it all season, whether it's a win or a loss, I think we do a good job of resetting — that's not even going to creep into our mindset at all," said Hamonic of the losing string they'll try snapping in Arizona Thursday night.
"We're parking it when we win seven in a row and we'll park that stat right now too. But we know that we have to get better. We've got a lot better as a group in here. We just have to turn it up a couple degrees. It's not far off but we can get better."
Simply put, you won't see many better hockey games than that one, as it was filled with plenty of great scoring chances and emotion.
"It's a tough one to swallow because it was a really, really good hockey game," said Giordano.
"They're a great team. It's not going in right now but we know its coming. It's an atmosphere we better get comfortable with because that's what it's going to be like in the playoffs and down the stretch here."