CALGARY — Matthew Tkachuk is on the verge of becoming the highest-paid Calgary Flame of all time.
That much we know.
But there are very few other certainties we can draw from the William Nylander saga in terms of how it will affect Tkachuk's next deal. Nylander's annual cap hit of $6.962 million was most certainly encouraging for the Flames right winger as it will be a mere starting point for Tkachuk's next deal.
Given the torrid start to his third season (29 points in 27 games) and the wide range of intangibles he brings, Tkachuk is destined to earn more than the six-year, $45-million deal Nylander just signed.
It means he'll skyrocket ahead of the $6.75 million AAV that team salary leaders Mark Giordano and Johnny Gaudreau make. He'll also surpass the franchise-record $7 million Jarome Iginla pocketed annually here back in the day.
The in-house argument that he shouldn't make more than the captain or the Flames perennial scoring leader is laughable now, as we are entering a new era of salary structure.
The extensive crop of young superstars in line for raises this summer has essentially taken the restricted out of restricted free agency.
If Jack Eichel can make $10 million annually and Leon Draisaitl can demand $8.5 million coming of their entry-level deals, all bets are off when it comes to signing a player with the skill-set and potential of Tkachuk.
Ditto for Patrik Laine, Auston Matthews, Mitch Marner, Mikko Rantanen, Brayden Point, Brock Boeser, Sebastian Aho, William Karlsson and Kyle Connor.
Variables such as each team's salary structure, Cup chances, ownership, point totals, playoff success and injuries are just a few of the issues dictating contract possibilities.
Argue all you want how you'd rank each player on the star-studded list in terms of skill or earning potential, but the fact is we won't know how any of them stack up against one another until months after the season ends.
That talented group will have as much to say about one another's next AAV as their stats will.
They'll all be pegging their potential salaries against every new deal signed, keeping in mind the salary cap will go up to $83 million (from $79 million) to open up even more money for them.
Last man to sign may win, which is a scary thought given they all have until Dec. 1, 2019 to wait out the money, just like Nylander did.
A bad precedent, indeed.
Several of Tkachuk's key stats are better than Eichel's and the list of things No. 19 brings to the Flames is lengthier than the Sabres star. But it's not as simple as anointing Tkachuk more than $10 million.
With more than four months left in the season, it's a fool's errand to try predicting what this year's crop will be able to earn any time soon.
It's safe to say Tkachuk's earning power is north of $7 million at this point in time, but a significant playoff run, lengthy stay amongst the top-20 point getters or a 40-goal season could up that even higher.
Time is on his side.
Time to continue piling up the ridiculous, point-per-game stats he's accumulated this year (1.07 points per game), surpassing the 61 points Nylander posted last year (0.74 points per game).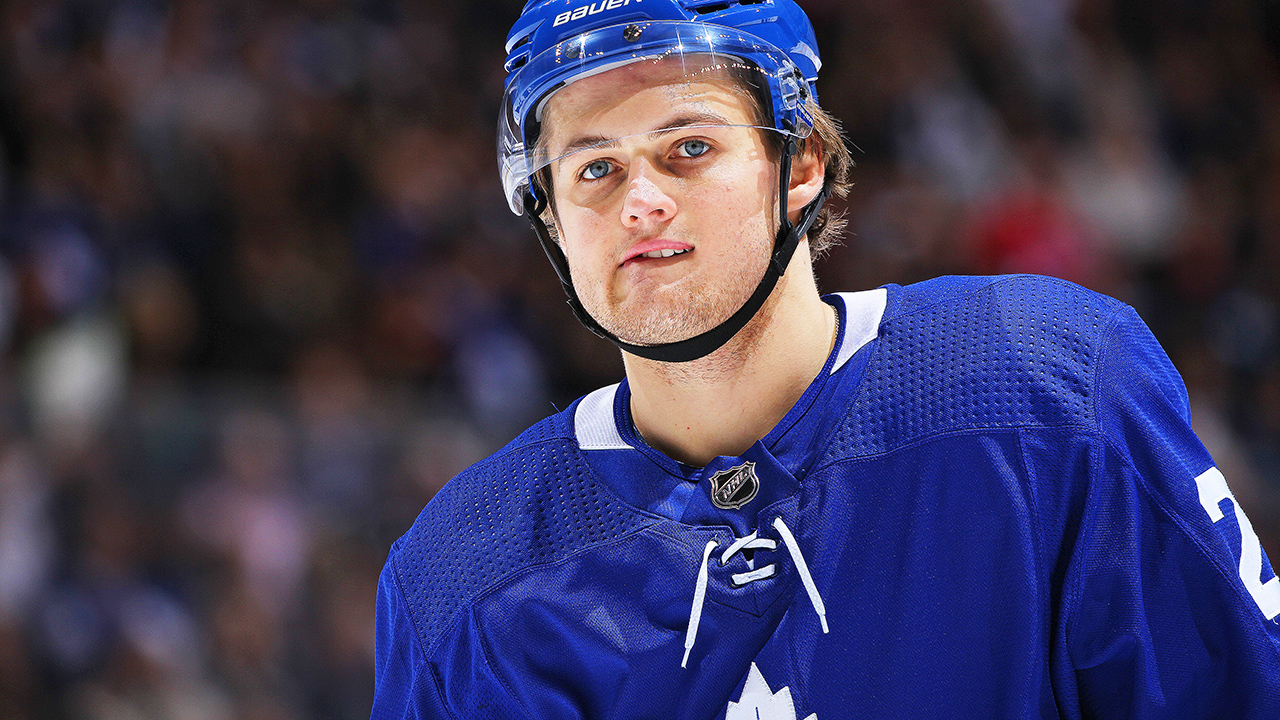 Time to continue establishing himself as one of the game's top young power forwards. Time to see the long list of impressive, franchise forwards around the league sign their deals, continually bumping up the bottom line for a player like him, who brings more intangibles than anyone else looking for big dollars this summer.
He won't be the highest-paid in that group, but he'll be amongst them.
Tkachuk, whose agent had preliminary contract talks with the Flames this summer, knew it made no sense to sign an extension early. It still doesn't. So he won't.
What Brian Burke, in particular, found disturbing about the Nylander signing was the fact he returns to the Leafs as their sixth-best player. It speaks to the Leafs' depth and the quandary that puts teams in.
Tkachuk was arguably the Flames MVP 20 games into the season, although several others were close. A future captain who was handed an A this fall, the 20-year-old is already the emotional leader of the Flames. He also sells tickets.
You never know exactly how, but on any given night you can bet Tkachuk will factor prominently in the game.
Only Connor McDavid has drawn more penalties than Tkachuk since the latter entered the league in 2016 as the sixth-overall pick. Always involved. What's different this year is he's been making opponents pay by being on the Flames' first power-play unit — a group that has gone from being 29th in the league last year to 13th this season.
Coincidence? We think not, as his four goals and 10 points with the man-advantage can attest.
Many of those points have come via net-front deflections, which Tkachuk may also be amongst league leaders in. And he's done it all as a second-liner, anchoring a line with Mikael Backlund as the club's top shut-down unit. All those impressive numbers while being tasked with facing off against (and irritating) the opposition's best players.
In terms of where he'll fit in financially, the other Flames stars are all locked up for at least the next three years at reasonable cap hits.
Sportsnet NOW gives you access to over 500 NHL games this season, blackout-free, including Hockey Night in Canada, Rogers Hometown Hockey, Scotiabank Wednesday Night Hockey, the entire 2019 Stanley Cup Playoffs and more.
Behind Gaudreau and Giordano at $6.75 million sits Sean Monahan at $6.375 million. James Neal is at $5.75 million, Backlund is at $5.35 million and Elias Lindholm was signed this summer to a six-year deal worth $4.85 million annually.
Sam Bennett and David Rittich need new deals as well, but the focus will be on Tkachuk and whoever the Flames ink to be their goaltender(s).
Goalies don't come cheap, nor will Tkachuk.
Dreamers will suggest Tkachuk would consider a bridge deal to help the Flames' cap situation the next few years, with an eye on cashing in even bigger after that. Truth is, he can and will cash in now. And later.
To date, Flames GM Brad Treliving has been very good at keeping cap hits reasonable, using the CBA and an internal cap structure to his advantage. Plenty has changed since then and plenty more changes are still in store, making this a fluid situation, to say the least.
What he'd sign for today is different from what he'd sign for this summer or, gulp, next December.
Expect the unexpected, which will include a cap hit for Tkachuk few could have envisioned even a year ago.