When Mark Jankowski was drafted, he was a bit of a surprise pick, and then-general manager of the Calgary Flames Jay Feaster was the object of internet ridicule with the extreme confidence he had in Jankowski, an admitted long-term project.
Four years in the NCAA's Hockey East with Providence and a year in the American Hockey League has made it a long wait to see the first-rounder from 2012 make his mark in the NHL, but after a short but dominant start with the AHL's Stockton Heat this season, it's looking like Jankowski is in the NHL to stay.
On the surface, Jankowski's seven points in 19 games isn't all that impressive, but at 5-on-5 his 1.56 points per 60 minutes ranks sixth on the Flames, behind the bonkers-good top line of Johnny Gaudreau, Sean Monahan, and Micheal Ferland, along with Mikael Backlund and Jaromir Jagr.
More impressive still, is that all of Jankowski's 5-on-5 points are either goals or primary assists, meaning when you cut out secondary assists Jankowski actually moves up to fourth on the Flames in even-strength production, and he's doing that with an on-ice shooting percentage of just 7.76 per cent.
Jankowski is currently only getting about five seconds of power-play time per game, so the focus on even-strength play makes even more sense, and we can break down the kinds of plays he makes that are leading to offence.
As you might guess from his stat line, so far Jankowski's passing game hasn't translated to the NHL nearly as well as his shooting has. Only Ferland on the Flames has produced more high-danger scoring chances per minute played than Jankowski, who in fact ranks just outside the top 10 in the NHL in producing those chances.
And unlike Ferland, Jankowski doesn't have Gaudreau to set him up regularly, so you've got to give him some extra credit. He does have Jagr though, who has a history of helping young players drastically improve their games; just look at Jonathan Huberdeau and Aleksander Barkov in Florida.
Jankowski ranks third on the Flames in scoring chances on net per minute, and is tied for first in overall scoring chances with Matthew Tkachuk, with Ferland right behind. That gives the Flames three players with three scoring chances or more per 20 minutes played at 5-on-5 hockey, and they're all on different lines. That's a balanced attack that not many teams can claim, with three Flames forwards in the top 20 even-strength scoring chance producers league-wide.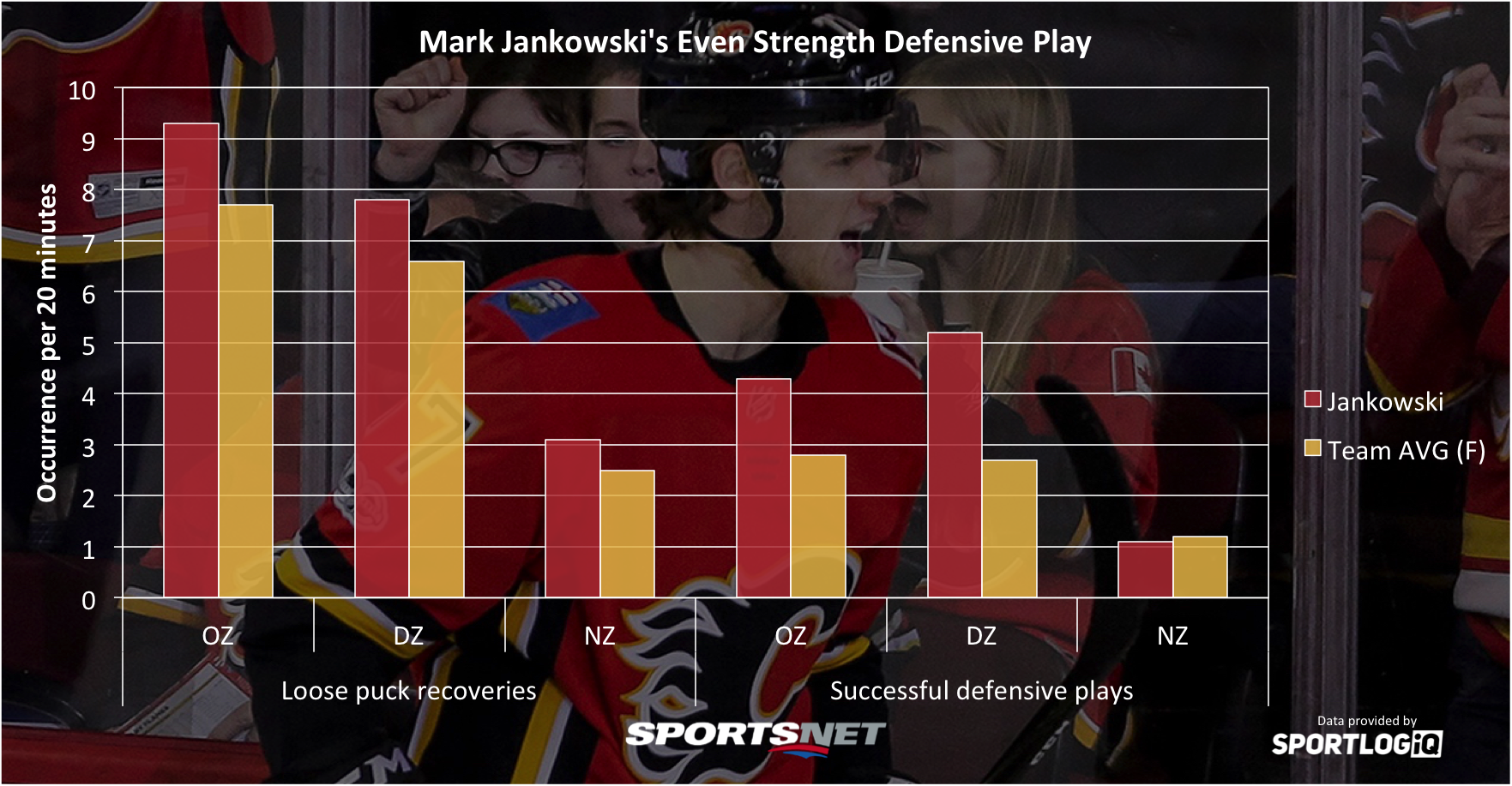 Jankowski has also been a high-event player without the puck, leading the Flames in both loose-puck recoveries and successful defensive plays, stripping possession from opponents constantly.
That defensive awareness and aggressiveness has given the Flames coaching staff the confidence to use Jankowski sparingly on the penalty kill, about 27 seconds per game, and should lead to increased responsibility as the season wears on.
Most rookies struggle a bit defensively, and Jankowski is no exception there as he has higher than average turnover rates in each zone, but his ability to get the puck back is a huge advantage for his team, and it's relatively rare for one player to be either leading or top two in loose-puck recoveries in every zone.
His puck-winning ability in the defensive zone truly stands out as well, and is a great sign if the Flames want to keep him at centre long term.
Jankowski isn't about to be Patrice Bergeron, but his two-way play is very strong for a player on a third line, and gives the normally top-heavy Flames a bit of balance that they've been without for awhile.