CALGARY — Really, how else would the Calgary Flames wrap up this series? What fun would it be if they scored first, or led after two periods?
The Flames overcame a 3-0 deficit less than 10 minutes into Game 6, and trailed 4-3 after 40 minutes, before beating the Vancouver Canucks 7-4. Of course they did.
It's what they've been doing all year long.
---
STANLEY CUP PLAYOFFS: | Broadcast Schedule
Rogers NHL GameCentre LIVE | Stanley Cup Playoffs Fantasy Hockey
New Sportsnet app: iTunes | Google Play
---
"I've never been a part of a team like this," said rookie Johnny Gaudreau, who had a goal and two assists on a 10-point night for the Flames' top line. "We've been in that situation before and we know we can come back in games like that. I mean, we were down 4-0 in Ottawa (on March 8) and came back, scored four goals in the third."
If this reporter would have been fined $20 every time he said the Flames "couldn't" do something this season, and they went ahead and did it anyhow? Goodness, I'd have worked for free.
The Canucks will look at this game as opportunity squandered, after storming out in front, coughing up the lead, yet finding themselves in the lead with 15 minutes of hockey left to play. Canucks Nation will see this as wasteful. The rest of the hockey world will look at it as Calgary being Calgary.
The Flames, a team that 99 percent of the hockey world picked to finish in the high 20's in the National Hockey League standings this season, were this year's comeback kings. Why wouldn't they continue to be that team into April, no matter how hopeless this game appeared when head coach Bob Hartley was pulling starter Jonas Hiller after he had surrendered two goals on the Canucks first three shots?
"I apologized to Jonas Hiller in front of the team," said Hartley of his first intermission speech. Alas, Karri Ramo came in and gave the Flames enough saves to forge yet another dramatic come-from-behind win, and now they'll open up Round 2 in Anaheim, where the mighty Ducks await.
"They played that series like they played all season, they never gave up," admitted Vancouver's Radim Vrbata, who was eerily quiet in his first series as a Canuck. "Tonight's a perfect example, they were down 3-0 and still found a way to get it."
If there is a turning point in a 7-4 game — the Flames added two empty-netters to distort the score a tad — it may have come on a interference call handed to Vancouver's Brandon McMillan at the 5:25 mark of the third period, with Vancouver clinging to a 4-3 lead. It was a highly disputable call that no one would be talking about in January, but one that is a perfect example of why referees mete out penalties so carefully in the third period of an elimination game.
---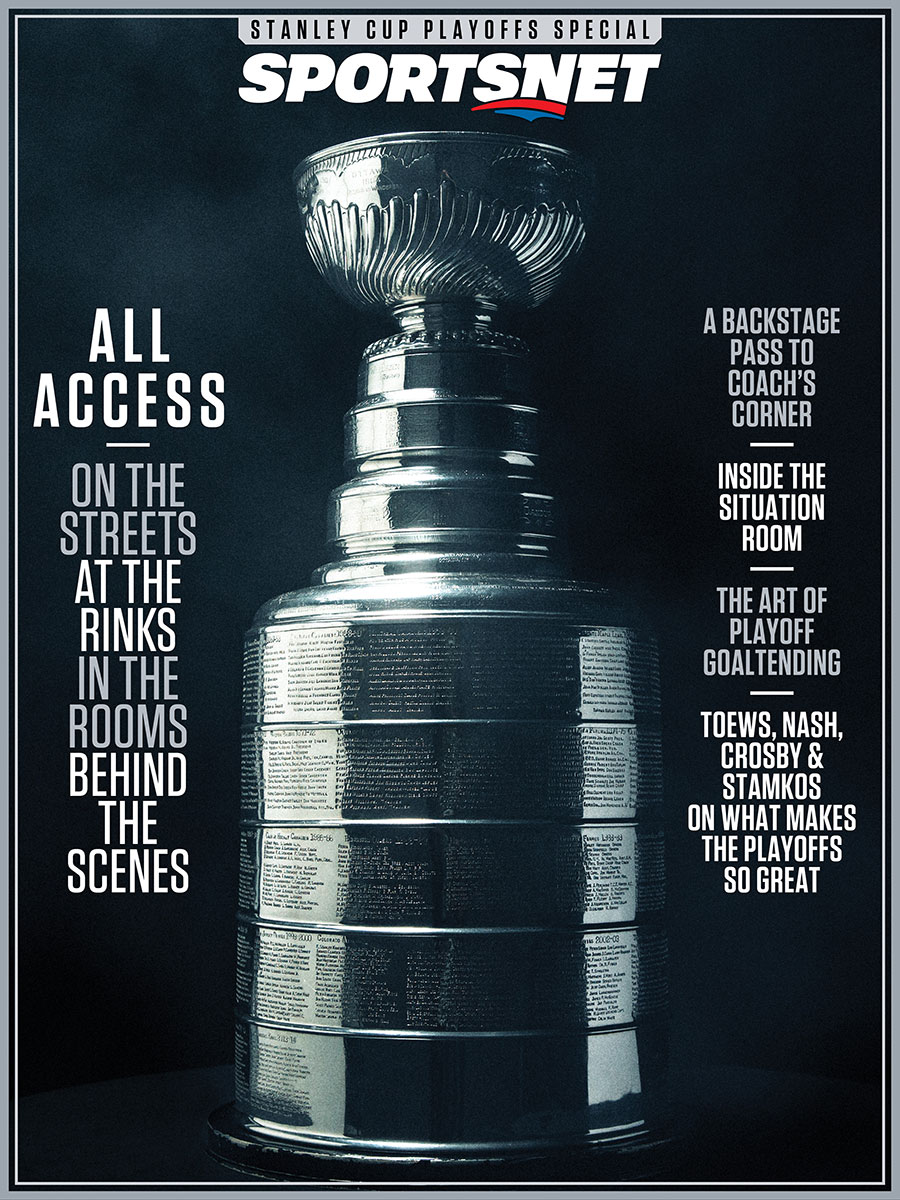 Sportsnet Magazine: An all-access pass to the Stanley Cup Playoffs, including a behind-the-scenes look at Coach's Corner and exclusive camera angles in Montreal. Download it right now on your iOS or Android device, free to Sportsnet ONE subscribers.
---
McMillan collided with Dennis Wideman while cutting through the slot, then rammed into Ramo. Jiri Hudler scored just his second goal of the series on the ensuing powerplay, and Calgary never looked back.
In any series there are numerous calls and 100 breaks that go back and forth. The Flames got the last one on their side, and left Vancouver in the dust.
"If we could've dialed in a few other things, I think it's a different series," said Vancouver goalie Ryan Miller, who started the game extremely strong, but like his teammates, eventually succumbed. "But that's a bunch of what-ifs. That isn't reality. The reality is we didn't do enough."
The reality might just be that this was a first round matchup of two teams from one of the NHL's weakest divisions, and neither of them should be considered a serious threat to compete for the Stanley Cup.
Then again, consider this: This marks the first Flames series win since 2004, when they went to the Stanley Cup final. It is only the second spring that Calgary has won a playoff series since 1989, when Calgary won its only Stanley Cup.
So history says, the Flames don't win many series. But when they do, they don't win just one.
It's a day off Sunday, then a new chapter opens this week on the best hockey read we've seen in a long time. Really, these Flames are a book you just can't put down, aren't they?