When the Calgary Flames dealt Dougie Hamilton over the offseason, they were breaking up one of the best defence pairings in the NHL between him and Mark Giordano. But there wasn't much to fear on that front since Giordano had formed a similarly dominant pair with T.J. Brodie just a couple seasons earlier, and that reunion was expected to bear fruit.
Since being removed from Giordano's side, Brodie has seen the perception of his talents take a fairly precipitous drop, which makes sense since Giordano is one of the top-five players at his position and has been for years now. But while Brodie is no longer soaring at the heights he was two seasons ago, he's no one to write off either.
Coming into the season, based on the last three seasons of play, I had Brodie ranked as the 32nd best defenceman in the NHL, which would essentially make him the best No. 2 defenceman in the league, or a fringe No. 1. Let's revisit his breakdown a little.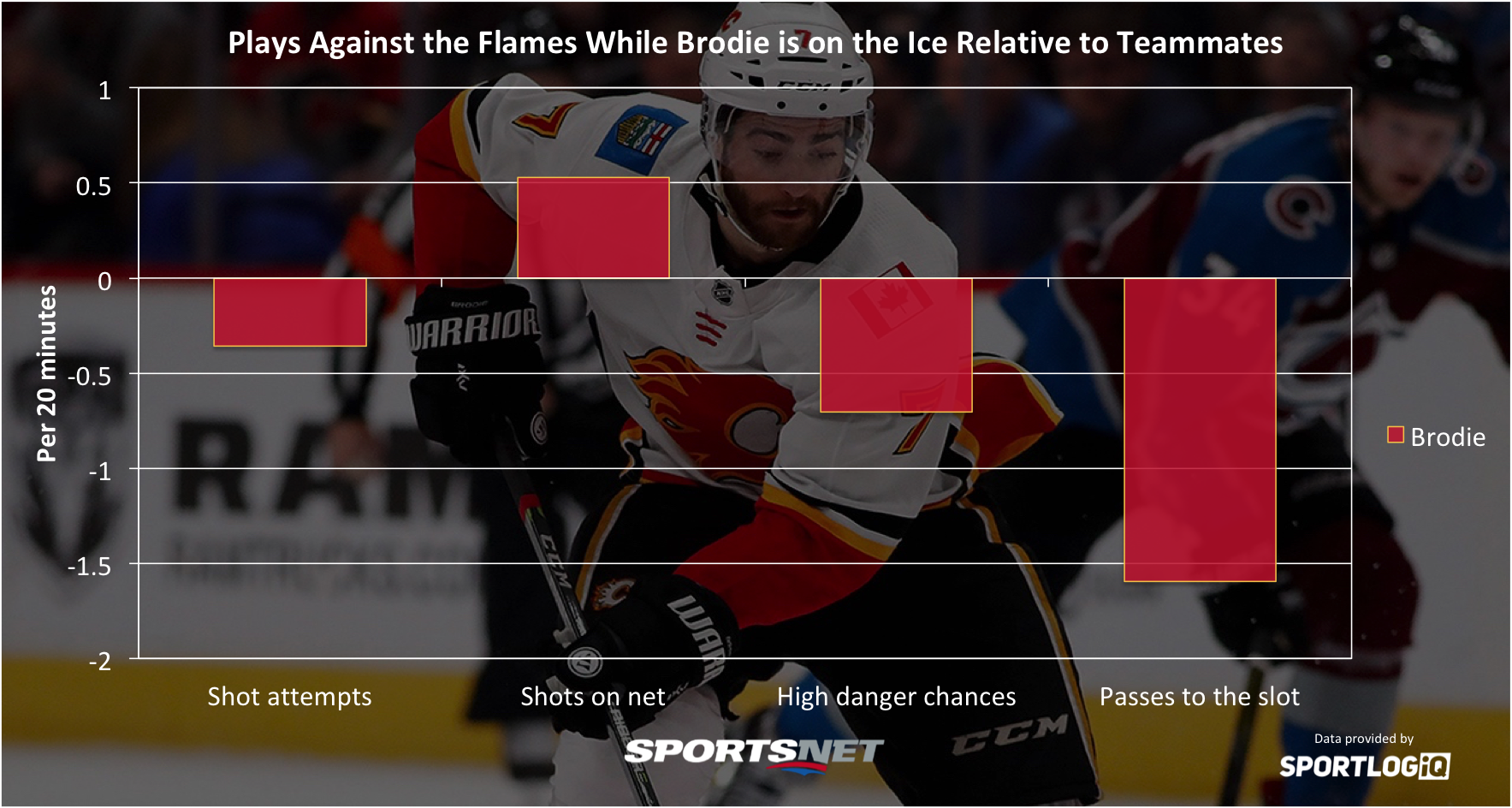 Brodie is a tough minutes defenceman whose standout skills are in his defensive impact and transition ability, without much offensive punch. He has put up solid numbers in the NHL as a point producing defenceman, but he doesn't personally create a lot of that offence so much as he's a cog in the machine.
With defencemen who don't create much offence, when things don't go their way, there isn't much on the NHL's stats page to point to in order to avert criticism, so they can become easy targets. While there's certainly some aspect of this affecting Brodie's reputation, the more important question is after two years of the Flames being outscored with him on the ice, how much weight is there to the idea that he's a problem?
Eric Francis wrote Friday that Brodie's problems appear to be turnovers, poor positioning, and bad decision-making. We can't measure the latter two directly, though we can look at areas that would be impacted by them, but let's start with turnovers.
We'll measure Brodie's plays with the puck in two ways: the percentage of his total plays with the puck that result in turnovers in each zone, and the percentage of his total plays that fail, for example a pass that misses its target that forces a puck battle instead. Failed plays often don't directly result in turnovers, but they still break possessions. In both measurements, we'll compare Brodie on a relative scale to the rest of the Flames' defence, to not only account for the structure the Flames play with, but also to identify if he's actually a problem on the team.
Turnover rates will be inverted so that positive numbers mean better than average.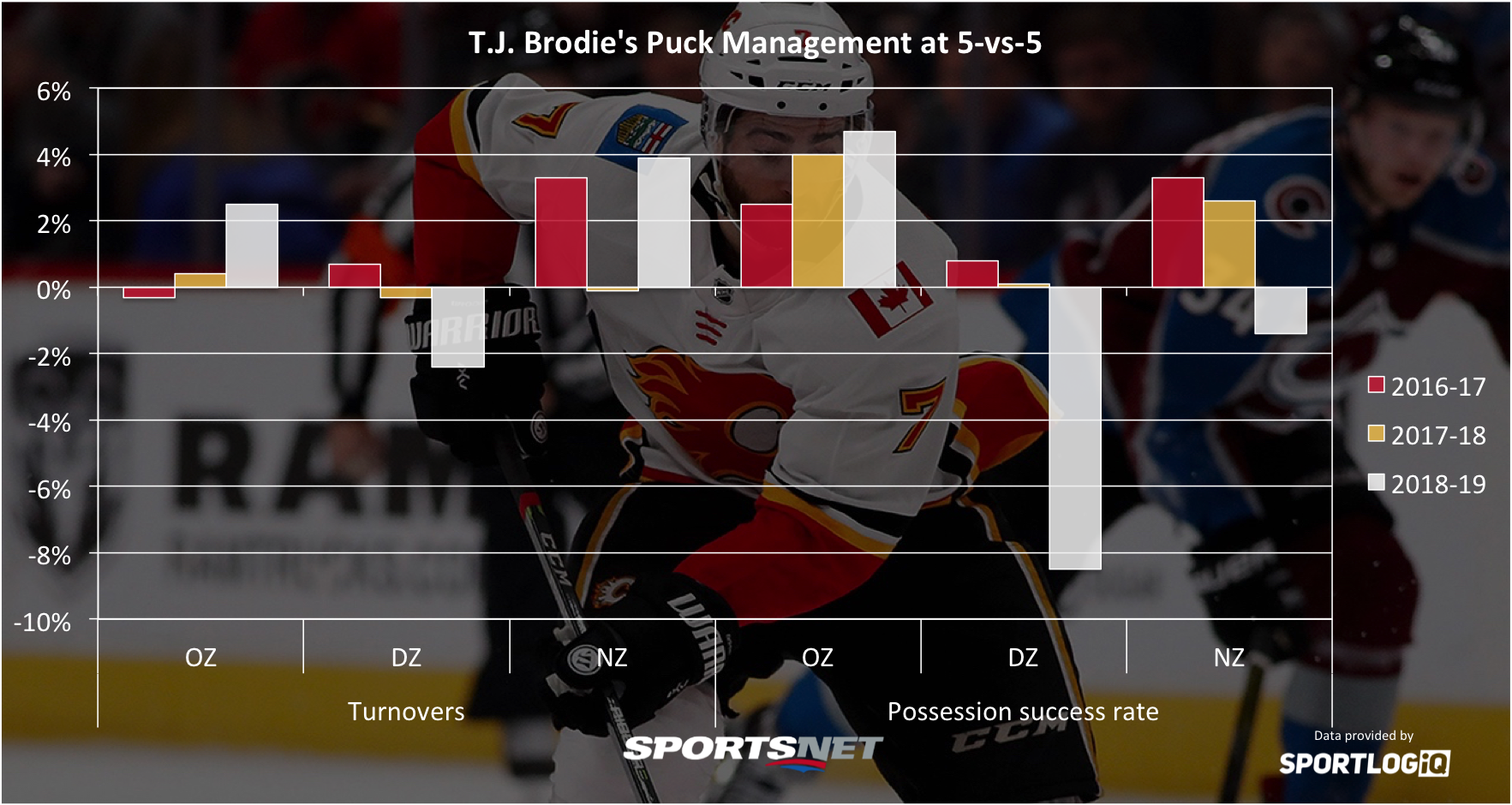 It's important to note here that negative numbers are good, because they mean fewer events are occurring per 20 minutes of ice time.
Brodie is on the ice for slightly more shots on net against than his peers, but he has had a strong positive impact on both cutting down high danger chances and passes into the slot.
There are always some teammate effects mixed into on-ice results, and playing with Mark Giordano has its benefits in these areas, but if Brodie was catastrophically bad positionally I think even after 10 games we would see teams key on that and exploit his side of the ice more often and create more high danger chances and more puck movement into the slot.
So what do the Flames have to do here? It's the boring answer, but I think the best course of action is to simply ride it out. You could shuffle Brodie further down the lineup until he figures out his defensive zone puck management a little bit, but overall, while flawed in some areas, Brodie is good enough in most that he remains a valuable asset.