Mark Jankowski scored four goals and Jon Gillies stopped 26 of 27 shots as the Calgary Flames posted a 7-1 win in Saturday's season finale versus the Golden Knights at the Scotiabank Saddledome in Calgary.
HOCKEY WITH HEAVY HEARTS
Less than 24 hours after finding out that 15 members of the SJHL's Humboldt Broncos family had tragically lost their lives in a horrible bus crash, I wasn't sure what to expect from the players, from the fans or even from myself when the Flames and Golden Knights took to the ice on Saturday. The mood was sombre, to say the least, when the two teams arrived at the arena and when the fans stepped through the turnstiles at the Saddledome for the final time in 2017-18.
For those who are passionate about sport, sometimes wins and losses can feel like life and death—until something happens that puts everything into perspective.
While Saturday's game between the Flames and the Golden Knights was meaningless in the standings and, more so, inconsequential in comparison to what is truly important, what sport can sometimes provide is an escape from the real world. An escape from actual life and death.
While there weren't many dry eyes in the building on Saturday, hopefully the game gave those in attendance, watching on TV or listening on the radio a chance to escape from what can be a cruel, unfair world—if only for a moment.
When he spoke to the media following Saturday's morning skate, head coach Glen Gulutzan said his team was going to "play for the love of the game, because that's what those kids did."
On Saturday night, the Flames played inspired hockey. I believe they did so for the Humboldt Broncos and for everybody who has been impacted by their tragedy.
A TOUCHING TRIBUTE
Prior to puck-drop, Flames and Golden Knights players gathered together around the faceoff circle at centre ice for a moment of silence to remember the 15 who lost their lives in Friday's awful accident.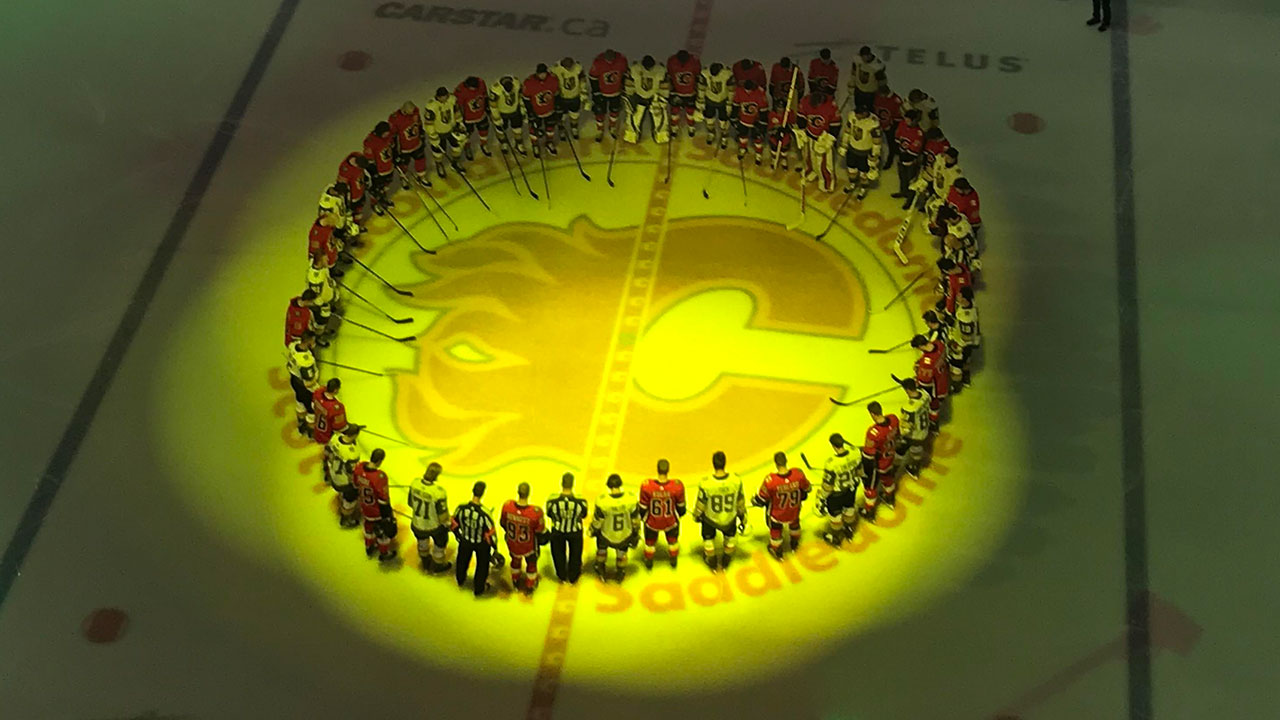 In addition, both teams wore Humboldt Broncos stickers on their helmets, and the Flames changed the colour of their logo on the scoreboard and on their social media channels to the team's green and gold.
LENDING A HELPING HAND
Always looking for ways to give back to the community, not only in Calgary and Southern Alberta but wherever help is needed, the Flames and the Flames Foundation donated proceeds from Saturday's 50/50 draw to those impacted by the tragedy. As usual, Flames fans stepped-up, purchasing more than $168,000 in tickets.
When he spoke to us prior to the game, Gulutzan indicated that he had chatted with Edmonton Oilers head coach Todd McLellan earlier that morning. On Sunday morning, we found out what they were planning.
Just hours after their seasons ended, Gulutzan (who played junior hockey in Saskatchewan for the WHL's Moose Jaw Warriors and Saskatoon Blades) and McLellan (who was born and raised in Saskatchewan, played for the Saskatoon Blades and coached the SJHL's Battlefords North Stars and WHL's Swift Current Broncos), flew to Saskatoon with gifts for those who survived Friday's bus crash and to support those who are grieving the loss of loved ones.
While on the ice, I believe the Battle of Alberta is about to become as heated as is has been since the early 1990's, off the ice the Flames and Oilers are both first-class organizations, and Gulutzan and McLellan should be commended for what they're doing to give back to the people and a community that clearly means a great deal to them.
GONE TOO SOON
One of the 15 who tragically lost their life in Friday's accident was the team's radio play-by-play announcer, Tyler Bieber.
When I first started in broadcasting, I spent most of my time covering Junior B hockey. Because I covered all seven teams in the Golden Horseshoe Junior B Hockey League, I didn't get to travel with the teams during the regular season or league playoffs. But for a couple of weeks every season, I would join the boys on the bus and travel with the league champion to and from Sutherland Cup round robin and finals games. Even though I wasn't really part of those teams, I so looked forward to those trips.
In 2001, I got my first big break in broadcasting when I was hired by the Hamilton Bulldogs. I spent the next 13 seasons travelling with the team, primarily by bus, from one AHL city to another. The team bus was a second home for me, the coaches, the support staff and the players. We watched movies. We played cards. I also learned a lot about hockey from people like Claude Julien, Geoff Ward, Doug Jarvis, Don Lever, Ron Wilson, Guy Boucher, Randy Cunneyworth, Clem Jodoin and Sylvain Lefebvre. I always sat in front of, beside or behind the coaches and I was constantly leaning over or sticking my head between the seats to ask questions. Most of what I know about the game I learned during my 13 seasons riding on the Hamilton Bulldogs team bus. Many of the friendships that were built on that bus will last a lifetime.
While most of my memories of those bus trips are fond ones, there were some pretty scary moments, too. On one trip, a wheel flew off of a semi and slammed into the side of our bus. On another trip, our bus caught on fire. During a pre-season trip in Northern Ontario, a herd of moose came running out of the trees right in front of our bus. It was the middle of the night and we were all sleeping until the bus driver slammed on the brakes and we started fish-tailing towards them. Thankfully, we stopped just in time. There were countless other close-calls on bad roads filled with bad drivers.
We got lucky. I got lucky.
Unfortunately, the Humboldt Broncos and Tyler Bieber did not.
I did not know Tyler, but based on what I've read about him, he was a talented young broadcaster who was passionate about the people around him and his community. Tyler volunteered teaching high school students basketball and football and was also involved in the Big Brothers Big Sisters program.
Tyler was 29.
It was an honour to dedicate Saturday's Flames radio broadcast to Tyler.
PROMISING PROSPECTS
While it's tough to really evaluate players in meaningless games late in the season, a pair of Flames prospects looked like they might be ready to take the next step and become full-time NHLers next season.
Rasmus Andersson: Because of their depth on defence at the NHL level, the Flames had the luxury of being able to let Rasmus Andersson over-ripen in the AHL.
When the second-year pro was recalled from the Stockton Heat on Mar. 19, he was fourth in the AHL in assists by defenceman with 30 and sixth in points with 38. While Andersson was pointless in 10 NHL games this season, he was playing in a much different role—primarily on the third pairing instead of the first—and was used sparingly on special teams in Calgary after playing on the first power play unit and the penalty kill in Stockton.
With the numbers that he had put up in the OHL and AHL, I wasn't really worried about that side of his game in the NHL—I wondered if he would be able to defend.
One thing is pretty apparent—the Swedish blueliner has a high hockey IQ, which you simply can't teach. Because I think there is a strong possibility that the Flames are going to trade one of their top six defencemen during the off-season, Andersson could graduate from the Heat to the Flames as soon as the start of next season.
At this point, it's probably up to the the player. The biggest knock on Andersson has always been his conditioning. If the talented 21-year-old puts in the necessary work this summer and performs well when the Flames do fitness testing next fall, his days in the AHL may be over.
Livestream every single game of the 2018 Stanley Cup Playoffs—blackout free—plus the Toronto Blue Jays, key Raptors & NBA Playoffs matchups and the 100th Mastercard Memorial Cup, all in one subscription.
Spencer Foo: After finishing one point out of the NCAA scoring lead last season, when he posted 26 goals and 62 points in 38 games for the Union College Dutchmen, Spencer Foo was a pretty hot commodity. When the undrafted college free agent chose to sign with the Flames instead of one of the number of other NHL teams that were trying to get him under contract, including his hometown Oilers, fans were excited.
Foo's professional career started pretty slowly when he scored only once in his first 19 AHL games. But after scoring a hat trick on Dec. 6, the 23-year-old started to soar. He scored 19 goals in the next 40 games before being recalled from the Heat on Mar. 29.
After getting his first career NHL goal in Thursday's 2-1 loss to the Jets, Foo scored for the second straight game on Saturday, tallying in the Flames' 7-1 season-ending victory over the Golden Knights. In his first four NHL games, Foo scored two goals on 16 shots. More impressive than any stats that I can throw at you is the way he played the game—with speed, skill, grit and a willingness to go to tough areas, including his opponent's net.
While I have to remind myself to take what I see from players in meaningless games at the end of the season with a grain of salt, it's hard not to be excited about Foo, especially for a Flames team that desperately needs a right winger who can put the puck in the net and provide some secondary scoring.
THE BIG JANKOWSKI
Mark Jankowski certainly had some ups and some downs during his first (almost) full season in the NHL. With that said, his full body of work was pretty impressive. After scoring his first career hat trick before tacking on a fourth in Saturday's win, the 23-year-old finished the season with 17 goals in 72 games.
At 6-foot-4, 202 pounds, Jankowski is a big guy. But in order to take the next step and go head-to-head with the top centremen in the league, he's going to have to get even bigger and stronger. If Jankowski can bulk up a bit during the off-season and play more assertively and consistently next season, he should, at the very least, be an above-average third-line pivot for the Flames—who, quite frankly, need more from that line and whoever is on it next season.
Looking into my crystal ball, I can envision a third line of Jankowski between Spencer Foo and Sam Bennett or Micheal Ferland, providing the Flames with some much-needed secondary scoring and being tough to play against and difficult to match up against next season.