The 2014-15 season offers a special opportunity for the Pittsburgh Penguins. For the first time since 2003, the Pens have a chance to rid themselves of a millstone that has kept them from reaching their full potential: Marc-Andre Fleury. His seven-year contract ends next summer, and with a capable backup and a new regime running the hockey operations his grip on the team's starting job could end even sooner.
Some readers will find that ridiculously overstated. After all, despite his playoff woes, Fleury has routinely rung up massive regular-season win totals and generally posted pretty decent save percentages. It wasn't all that long ago that he was a legitimate candidate for the starting job on Canada's Olympic team. He also won a Stanley Cup. How can it be that Fleury is dragging the team down?
---
For a limited time get Sportsnet Magazine's digital edition free for 60 days. Visit Appstore/RogersMagazines to see what you're missing out on.
---
The quickest and most convincing way to make a case is to look at what is generally perceived to be Fleury's primary strength: his regular-season play. To ensure that we're as fair as possible, let's consider the period from 2007-08 (his breakthrough season and still his finest performance) to the present. We'll use even-strength save percentage to eliminate special teams effects and compare Fleury to the one group that we can be absolutely certain had the same quality of defence in front of it: his backups.
And what a group they are. From 2007 to 2014, Fleury's primary partners in the crease were:
• Ty Conklin, who originally signed to a two-way deal that paid him a meagre $85,000 in the minors as Pittsburgh's third-stringer after he played his way out of the NHL. Post-Penguins he had one middling year, one good year and then promptly played his way into retirement.
• Minor-league journeyman Dany Sabourin was passed by Conklin in 2007-08 but was handed the backup job the next season anyway. It was his last NHL campaign; he was in Austria last season after playing himself out of the AHL.
• Brent Johnson was a long-time NHL backup with an uninspired record, but he lasted three seasons in Pittsburgh before his save percentage fell well below the level necessary for continued major-league employment.
• Tomas Vokoun was an excellent goalie with a long track record as a starter when he arrived in 2012-13, but he only lasted one season thanks to serious health issues.
• Jeff Zatkoff had spent the entirety of his career in the minors before Vokoun's health opened up a slot for him; he's currently on a cheap one-way deal and may be ticketed for a return to the AHL.
In summary, for seven best years of his career, Fleury has been backed-up by a goalie of some note for just one season, otherwise it's been a career backup who played his way out of the league and a trio of AHL-calibre goalies. With the exception of Vokoun, it's a group that any bona fide NHL No. 1 goaltender should trash in a head-to-head comparison. Except Fleury doesn't. In fact, he actually comes in a little south of the group of five we've mentioned when we look at even-strength save percentage.

It's a damning revelation. And it actually looks worse when broken down into its constituent parts. Essentially, any time one of the mediocre goalies had a decent year, Fleury was maxed to capacity just trying to stay even. And if it weren't for Johnson's meltdown and the Penguins use of Sabourin, it'd be even more lopsided.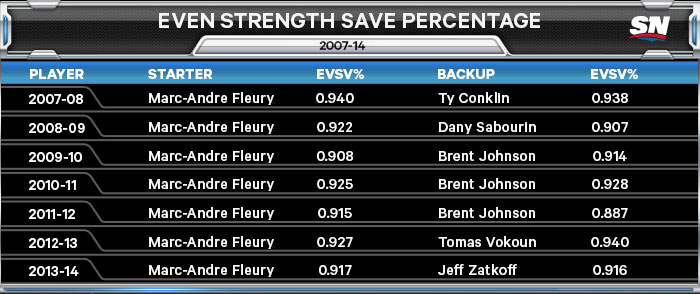 Fleury here only clearly outperforms Sabourin and Johnson's career-ending 2011-12 campaign. Zatkoff and Conklin played him pretty much even, Johnson topped him in two out of three years and Fleury was soundly thrashed by Vokoun, the only bona fide NHL goalie. It was a gap that widened in the playoffs, where Vokoun stepped in and posted a .933 save percentage after Fleury's .885 nearly led the Penguins to a first-round exit against the No. 8-seed Islanders.
The implications are incredible. In 2009 when the Penguins won the Cup, they were so good that it didn't matter, despite having the inferior goalie in three of the four series they played. In four of the five seasons since, Fleury hasn't even been able to crack the .900 save percentage mark in the post-season and the results have been predictable. Goalie apologists complain about Pittsburgh's slipshod defence when the playoffs are brought up, but by looking at the backup performances, it's obvious Fleury is the real culprit behind the Pens' problems.
While the past cannot be changed, the future can be. The team has a new GM and a new coach, men who have seen the Pittsburgh's troubles from the outside; they never won the Cup with Fleury and may be more willing to make changes. New backup Thomas Greiss has never been a starting goalie, but over his past four seasons he's posted a .928 even-strength save percentage; it's been seven seasons since Fleury has managed the same and it's fair to think that he has a battle on his hands to hold on to the No. 1 job. Even if Greiss isn't up to the task of supplanting Fleury, the latter could still be gone when his contract is up in July.