There are few people who know Humboldt's Elgar Petersen Arena inside and out like Dean Brockman.
Brockman and his wife, Cheryl, dropped everything last Friday evening and made a beeline to the rink from Saskatoon after understanding how devastating the collision was involving the Humboldt Broncos bus.
They tried to comfort people at the entrance and waited for news – any news – inside.
But it wasn't until they left after 2:30 on Saturday morning when the gravity of the situation truly hit them.
"We happened to drive by where all the boys park their vehicles. They were still all there," Brockman said. "I was like, 'Oh, man. This is for real. They should be gone by now.'"
Brockman coached and managed the Broncos for 17 years until leaving for the WHL's Saskatoon Blades in 2014. So, he didn't think twice about spending his weekend driving to and from Humboldt and attending Sunday's vigil.
The community is reeling after the team bus collided with a semi-truck and killed 15 people and injured the other 14 on board.
Brockman wanted to do whatever he could to support the grieving community he holds dear to his heart.
"You're trying to console people and trying to figure out what good can come out of this," he said. "There were people looking for that answer – and they still are."
Brockman was one of the first people to hear about the crash when he received a call around 5:30 p.m. from his friend, Nipawin Hawks coach-GM Doug Johnson. The Broncos were due to play Game 5 of their league semifinal series in Nipawin that night when their bus crashed near Tisdale.
Naturally, Brockman was worried. But he assumed the best when he couldn't find any news on social media or online.
He went to go chat with his son, Parker, when his phone exploded with text messages. That's when he knew it was serious.
"Anyone who's ever been on a bus knows it could have been them," Brockman, 51, said.
"I've never been a part of anything so tragic," he added. "There are some long, long days ahead for some people."
What Brockman isn't surprised about is how this city of roughly 6,000 people has come together to mourn their hockey team.
Growing up about 50 kilometres north in the village of St. Benedict, Brockman became the assistant coach and general manager of what he considered his hometown team in 1997. He was promoted to head coach in 2004.
The Broncos became the talk of the town during his run there as they claimed five league titles and the 2003 and 2008 RBC Cups as Canadian Junior A champions.
"People would know when it was a game day. You could have probably robbed the bank there because no one would have known," he said, laughing.
"People had the storefronts glittered with green colouring with 'Go Broncos Go.' When we were playing in the RBC Cup, literally the schools shut down to listen to the game on the radio.
"When you won it once, you wanted to do it again for this community that was so proud of the team. It was really magical. Every time we won, we'd get back at ridiculous hours. And you came back to an arena full of people cheering, 'Go Broncos Go.' The wave of support, it was really incredible."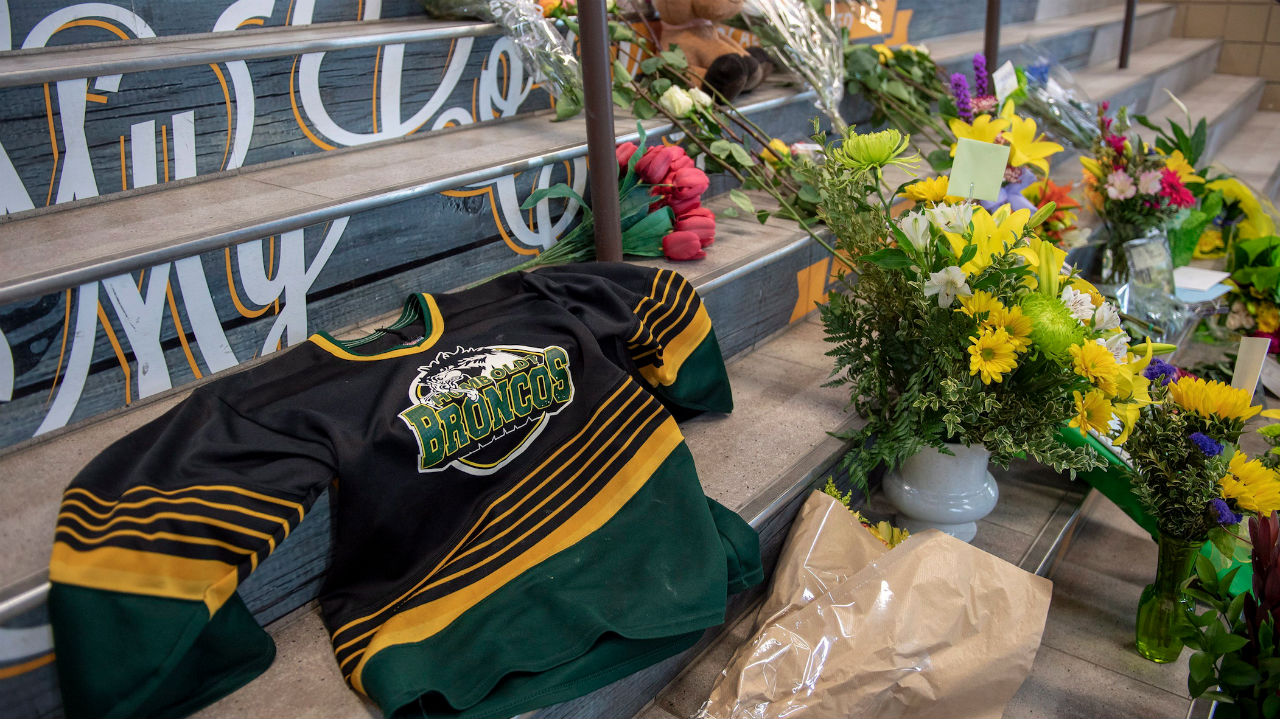 Being four years removed from working for the team, Brockman didn't know many of the players on the bus.
Defenceman Xavier Labelle – the misidentified player who has been confirmed alive but seriously injured after previously been announced as deceased – and centre Evan Thomas were on the team's protected list when Brockman was in charge.
But he did know 20-year-old captain Logan Schatz, a player who made the playoff roster when he was 16. Schatz died in the crash.
Brockman would occasionally bump into Schatz in Saskatoon and will remember his upbeat temperament and determination.
"Him being captain of this team didn't surprise me at all," Brockman said. "He's just such a valuable kid to life. When I say that I mean he never really had anything to complain about; loved to play hockey. That's all he really lived for. He was proud that he was doing so well in the league.
"If you wanted a player on your team, he was the guy you wanted. You knew, whatever the situation was, he was going to succeed."
Brockman knows what happened Friday will forever live in the memories of people in Humboldt.
Although he was fired from the Blades last month, he spent two seasons as their assistant coach and two more with the head job.
The Blades happened to be in Swift Current for a game on Dec. 30, 2016, which marked the 30th anniversary of the bus crash that killed four players from the WHL's Broncos.
Brockman felt there wasn't a dry eye that night. And he sees a parallel with Broncos to the north once the healing resumes with hockey at the Elgar Petersen Arena.
"As if (Humboldt) wasn't a close enough community, it'll be even closer. People won't hesitate to lend a hand to the organization," he said. "In some tragic way, this tragedy may have inspired the Broncos to be bigger and better, to be more resilient, to have more helping hands.
"The pain and the suffering doesn't go away. It subsides a little, but the scars will always be there. But people will honour that team forever."