TORONTO — It's been eight months since Matt Stajan last took to the ice in front of the Saddledome faithful, the flaming 'C' draped across his chest. But even now that the 15-year NHL veteran is suiting up in Germany, his name is still very much alive in the Calgary Flames' dressing room.
Quite literally, in fact.
Just last week Stajan was the subject of a chorus of cheers echoing throughout the Flames' inner sanctum. Exclamations of "Staj is on! Staj is on!" punctuated the day as Johnny Gaudreau and Co. caught sight of their teammate — now plying his trade for EHC Red Bull München in Germany's Deutsche Eishockey League — on a locker-room TV, taking on the Malmo Redhawks in an afternoon tilt.
Their response says all you need to know about the admiration Stajan's former mates still have for him, according to assistant GM Craig Conroy.
"Even though he's over in Europe now, I think to hear those guys — once they saw him, they just light up. That's when you know," Conroy says. "Even as he's playing an early-afternoon game, the guys were all watching. It was on every TV in the locker room, training room, everywhere."
Anyone who's hung around the Flames over the past eight and a half years won't be surprised to hear Stajan still has plenty of fans on the team. The 35-year-old became a stalwart, steadying presence among the club's forward corps, and served as one of the few links between the Jarome Iginla era and the young-guns era the team finds itself in now.
[snippet id=3653171]
And just as Stajan's honest, blue-collar approach to the game endeared him to the Calgary masses, the longtime NHLer found himself wishing for a longer stay in the city by the time his final day had come.
"It's always tough to leave. If I could play there forever, we would all want that as athletes," Stajan says of his time in Alberta. "I had eight great years there … but you know, when it's your time to move on, you move on."
That said, this particular brand of moving on wasn't exactly a simple one. It included a 7,829-km trek from Calgary to Munich, where Stajan is 28 games into his post-NHL career.
"We came here knowing it was going to be an experience for our family, an adjustment," he says. "But we've enjoyed it. We welcome this experience and we're trying to embrace it and make the most of it."
It's been about as thrilling and tumultuous as you'd think, says the centreman. But while the new situation affords Stajan the chance to keep the dream alive, the move overseas was as much about offering his family a once-in-a-lifetime adventure as keeping his playing days going.
"Me and my wife have talked about it right through, that at the end we'd look to maybe experience what living in Europe would be like, playing hockey there. It's just always something I wanted to do once the NHL time came to an end," Stajan says. "We found ourselves in the situation where it was time to make that decision, and we didn't hold back. We said, 'Let's go do this. Let's make an adventure.'
"It's not to prove anything or anything like that — it's to keep enjoying the game and playing the game that I've always played, and experience something different than we have the last 15 years."
That said, there's certainly plenty of pressure to deliver on the ice, too, given the particular European sojourn the Stajans settled on. Munich has gone back-to-back-to-back as champions over the past three years, and expect to add a fourth 'back' to that sterling line in 2019.
Matt Stajan leads the celebration with the fans of the #redbulls.
Great job @MattStajan18
Two goals toninght including the game winner in OT pic.twitter.com/TpDA3DJXQn

— EHC Red Bull München (@RedBullMuenchen) October 14, 2018
Stajan is game for the challenge, though he acknowledged there's an adjustment period needed when you jump into an environment as new as this one.
"It's different," he says of Germany's approach to the game. "I think, especially with the role I was playing the last four or five years in the NHL — more of a checking role — you come here and you don't know what to expect. You play a lot more minutes out here, it's bigger ice, the systems are different. It's just a whole new look at the game.
"When you're in the NHL you've got your job and your role and you're so focused on it, so it's been refreshing to come out here and have a new outlook on things and just learn the way the game's played over here."
[sidebar]
And the way the game's watched over there, too.
"A big part of the experience of playing here is the fans," Stajan adds. "The way the fans are during games here and the supporters throughout the season, there's chants going — it's like a soccer game, really, in the rink."
Regardless of how it all wraps up, there's no denying Stajan is going to have some exceptional stories for the grandkids down the line. Munich will likely be the last stop. And the first? That was back in Mississauga, Ont., where Rogers Hometown Hockey touches down this weekend.
It was there that Stajan cut his teeth in the sport before being swept up by the OHL's Belleville Bulls. And it was from there that the hefty pack of Stajan family members and friends made their journey to downtown Toronto to watch the hometown boy earn the 57th-overall selection in the 2002 NHL Draft, that pick belonging to a local outfit called the Maple Leafs.
"It was pretty crazy. Toronto wasn't even on my radar from my agent, so it was a big, nice surprise, to say the least," Stajan recalls. "I had pretty much everybody I knew and all my family and friends there, so it was a big party that night. It couldn't have worked out better.
"When I'm done, I'll definitely look at that moment because it's all a blur now. It all goes by so fast when you're playing, but if you can take a second to sit back, it's really neat how everything worked out."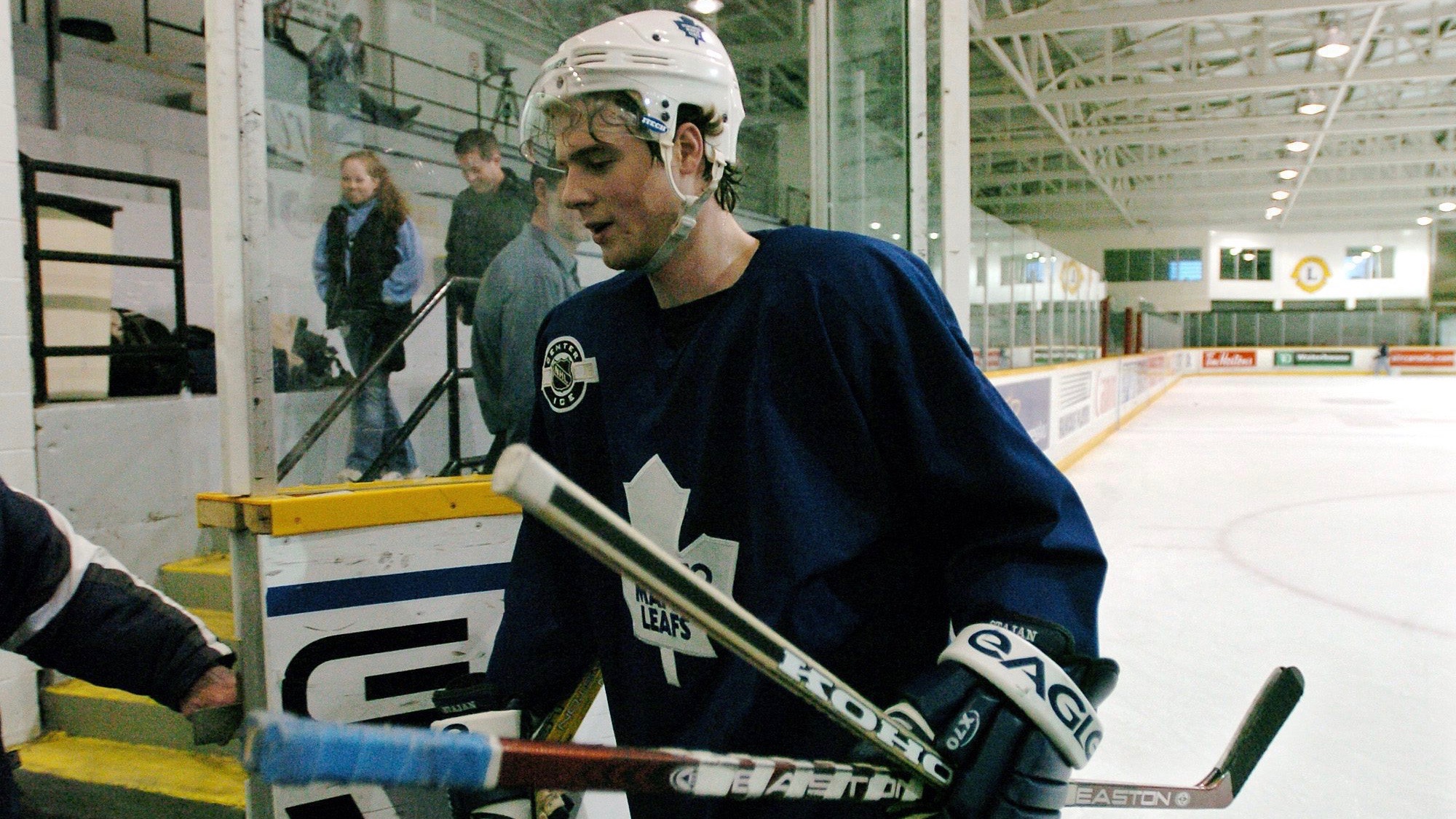 Stajan got his fair share of big-league memories through his 15 years in the league. Drafted to the hometown club, traded as part of a seven-player blockbuster — with Stajan the key piece going the other way in the deal that landed Dion Phaneuf in Toronto — hardships on and off the ice, a series-clincher, and that inevitable transition from core piece to veteran mentor.
That last point is a particularly poignant one, says Conroy, given the success of the young stars currently guiding the Pacific Division-leading Flames — many of whom played their first starry-eyed games during Stajan's time on the roster.
"You like to think that you had some influence on the way they've grown and are playing the game," Stajan says of his time alongside the Gaudreaus and Monahans and Tkachuks. Count Conroy among those who believe he has nothing to worry about.
"All the things that he brings off the ice, on the ice, trying to help us get better over time, it meant a lot to those guys. He'll have long relationships with these guys forever," Conroy says. "You know, eventually, we all become the old guy at some point, but these young guys will remember Matt Stajan and say, 'You know what, I'm going to do it the right way, just like Matt did.'"
[relatedlinks]
When all was said and done, the 2002 draft's No. 57 finished his NHL ride with 1,003 tilts and 413 points to his name — fourth-most and ninth-most among his draft class, respectively. There's no denying he got his money's worth.
"I enjoyed everything, every single part of being in the NHL … I cherished it all," Stajan says. "I got to play for the Leafs, who I grew up watching, for six and a half years and I loved every minute of it. And then I went to a great city in Calgary, where we live now as a family and we call home.
"Even through tough times, you know, on the ice, off the ice, you've just gotta take it all in, enjoy it all. Because that's your life experience. And I'm very fortunate to have had that time playing in the NHL."