The Montreal Canadiens have had a resurgent season, one that almost no one expected, especially after Carey Price struggled for a large part of the first half of the season. Depth, speed, and a never-say-die attitude seems to be the secret sauce so far. The Canadiens have subsisted on about league average levels of goal scoring, winning tight games and regularly coming from behind.
As the Toronto Maple Leafs have cooled and the Boston Bruins haven't returned to last season's heights, the upstart Habs are within reach of pushing out of a wild card spot and into a seeded position in their division. Now you have to wonder if they'll add at the deadline.
General manager Marc Bergevin has been abundantly clear that the direction now is to be patient, and he has repeatedly claimed he will not mortgage the future for a rental, and that the Canadiens' first round pick specifically would not be on the table.
The operative word in his quotes is rental. The Canadiens have more than $9 million in cap space this season, but according to CapFriendly Montreal can add more than $23 million in contract value by the deadline, given the percentage of the season that has passed.
Next season they have just $63 million in committed salary, with only Joel Armia, Artturi Lehkonen, Brett Kulak, Mike Reilly, and Charles Hudon up for contract as restricted free agents, and Antti Niemi, Jordie Benn, and Kenny Agostino up for unrestricted free agency.
Who saw the Canadiens entering this trade deadline as buyers?
January 24 2019
The only looming big contracts they have in the next two years are Max Domi and Victor Mete who will both be up after next season, so you have to think the Canadiens have the cap flexibility to add any contract in the short term. Bergevin isn't looking for a rental, but he might be willing to deal for the right player with term.
Bergevin has been attempting to address the left side of his defence for almost two years now, adding players with at least some term on a consistent basis. But so far they've all been third-pair guys — Karl Alzner, Jordie Benn, David Schlemko, and Mike Reilly. Each acquisition has failed to address the problem the Canadiens face in their top-four.
It seems like Mete is either ready or almost ready to take one of those spots next to either Jeff Petry or Shea Weber, but the Canadiens still need another left-handed shot who can play tough minutes.
Their cap flexibility and the glut of solid prospects they've accrued in recent drafts gives Montreal a real chance to fix that problem. Let's look at some players who could be available from teams that should be sellers, and who fit the bill as top-four defencemen on the left side with term remaining.
Unfortunately, of the teams that are currently out of a playoff spot, there just aren't many great left side options. Most of the defensive talent available are right shots, which Montreal already has, but I did find four names who would fit the Habs.
The caveat is that all of these guys would require serious packages to acquire.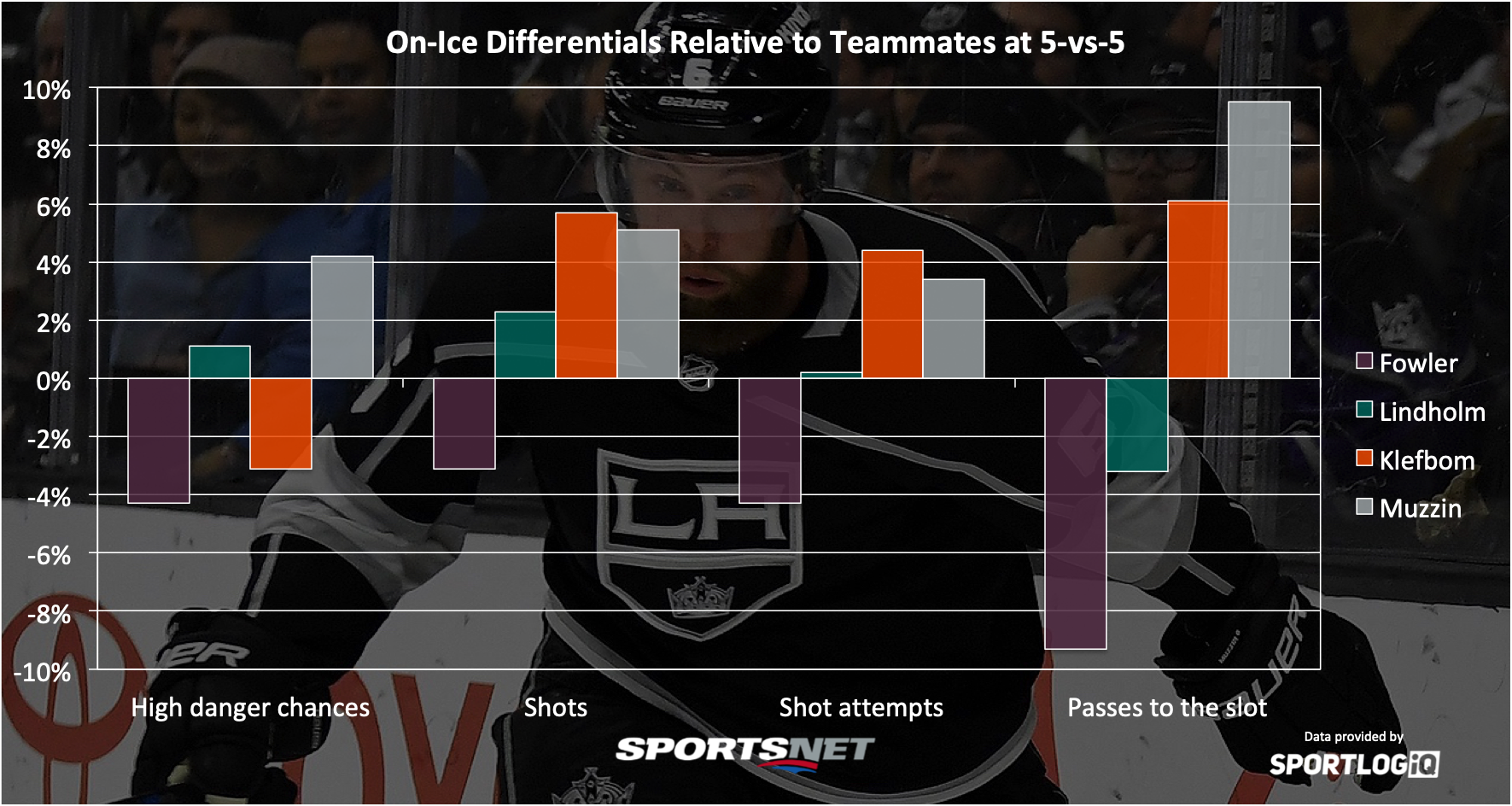 Obviously, Cam Fowler is having an extremely difficult season – he and Josh Manson form one of the worst defensive pairings in the league so far, not to mention he missed a bunch of time due to injury. Fowler is a controversial player in the analytics community because he's historically played with horrible partners and had poor on-ice numbers, but the individual metrics make him look like an all-star.
I hold him in higher esteem than most, but considering he's having such a bad go at things with a much better partner this season I'd be a little gun shy if I were trading for him. And despite a history of great transition play and a personal skill set that looks like it would mesh extraordinarily well with Shea Weber, Fowler's contract that runs through 2025-26 is a real risk.
Hampus Lindholm hasn't been immune to the terrible play of the Anaheim Ducks, and while his on-ice numbers are generally positive, his slot pass differential is still bad. Like Fowler, Lindholm has a long history of strong play and he's been one of the best neutral zone defenders in the NHL for the past three seasons. He's probably the blueliner the Ducks want to hang on to most, but if they're truly going to revamp their team there are probably a couple scenarios where Lindholm could be had.
Oscar Klefbom may be more of a long shot to target, but considering the Oilers are in chaos right now after firing Peter Chiarelli, you have to think all options are on the table. Klefbom's name has regularly appeared in trade rumours since signing what can only be seen as a bargain $4.167 million (AAV) contract and it's not as though Edmonton is overflowing with tradeable assets to change its look.
Klefbom is currently injured, but in terms of differentials he looks to be having a very strong season. With the Oilers still seeing themselves as a playoff team this would be a very expensive trade to make right now, but maybe that's why they should at least explore it. If it's a possibility at all, Klefbom would be a great fit for the Habs. Edmonton has already contributed one of Montreal's best defencemen over the past decade in Jeff Petry, so why not another?
What are the Oilers looking for in Chiarelli's replacement?
January 23 2019
The player having the strongest season of this group is Los Angeles' Jake Muzzin, who is at or near the top of every trade list right now. The Kings want a huge haul for him, and you can see why. Los Angeles is a different team when Muzzin is on the ice, breaking even or better everywhere while they get absolutely pounded when he's on the bench.
Differentials can tell us how things are going while each player is on the ice, but the Canadiens' needs on the left side are relatively specific. They need puck movers and players who can stop passes in the defensive zone, especially passes into and through the slot. Allowing dangerous passes has been Montreal's biggest weakness the past two seasons and is a large reason why Price has struggled over that time.
With that in mind, let's look at these players and see who stands out in pass suppression and defensive zone control.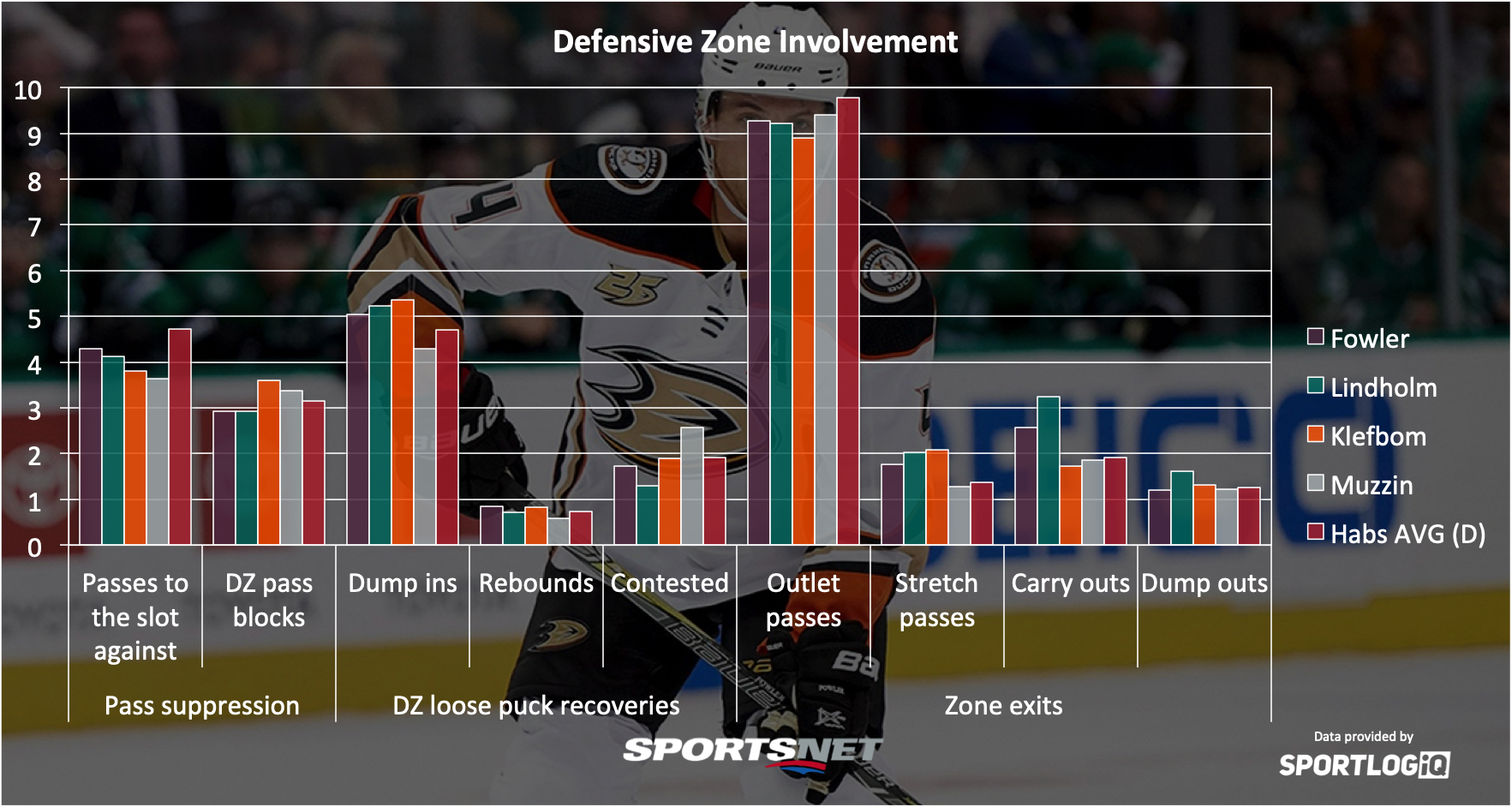 All four players are on the ice for fewer passes to the slot than the average Canadiens blueliner, which is impressive because all four play tough minutes and passes to the slot is an area where quality of competition matters a lot.
Klefbom and Muzzin are the more aggressive pass blockers, getting in lanes and changing possession at higher rates than any defenceman on the Canadiens.
In recovering loose pucks, Muzzin stands out as a premier battle winner. He aggressively takes pucks away from opponents and relatively few of his loose puck recoveries come on dump-ins, meaning he's more likely to be defending the blue line and forcing those dump-ins.
In recovering rebounds, Fowler and Klefbom stand out, but we're talking small samples with that statistic and there isn't a ton of variability.
In moving the puck out of the defensive zone once possession is gained, Muzzin seems to struggle a bit more, while both Ducks defencemen look stronger, especially Lindholm.
Lindholm's biggest standout in this area is his ability to skate the puck out of danger, but he also leads the group in dump-outs, which shows that he's not going to hesitate to clear the zone and play simple when under pressure.
Ultimately any of these four players would be a drastic upgrade for the Canadiens on the left side of the ice, but Muzzin is probably the biggest impact player for the immediate need the Canadiens have – and perhaps the most attainable. He's an aggressive player in his own zone and, at the same time, capable of staying in good position, which is relatively rare combination.
Muzzin wouldn't necessarily personally make the Canadiens a better team at exiting the defensive zone, but his ability to shut down opposing cycle plays creates more opportunity for his teammates to control breakouts and launch counter attacks, which shortens opposing possessions drastically.
There's a reason the Kings want a huge package in return.