The 2017 NHL trade deadline is now less than a week away, and in many ways the circumstances this season are unique.
With an expansion draft this summer and the expectation of a flat salary cap next year, the long-term ramifications of acquiring even rental players need careful consideration. Additionally, with so few teams out of the playoff race, the options are sharply limited and the price likely to be high.
What options are there for clubs looking to upgrade without mortgaging the future? Here are four cheap options who might outperform their acquisition cost.
RW, Ales Hemsky
In a normal year Hemsky would be getting a fair amount of attention as a pending free agent on a team with virtually no hope of making the playoffs. Instead, an injury suffered during this fall's World Cup of Hockey forced Hemsky to have hip surgery after playing just one regular season game.
The original timeline on that surgery had him missing five-to-six months. Instead, he's now practicing with the team and head coach Lindy Ruff told the media on Thursday that Hemsky was "getting closer."
With less than a week remaining before the deadline, a trade involving Hemsky would be a gamble. He'd have to get up to speed quickly after barely playing this year. For a player whose game has always been predicated on speed, there's a risk that he doesn't rebound so quickly from surgery.
All of that risk should make him a cheap acquisition for a bold general manager and the reason he's so interesting is that such a risk could potentially pay off in a major way. Just a year ago Hemsky was a top-50 NHL player by even-strength points per hour, while playing on a primarily defensive line.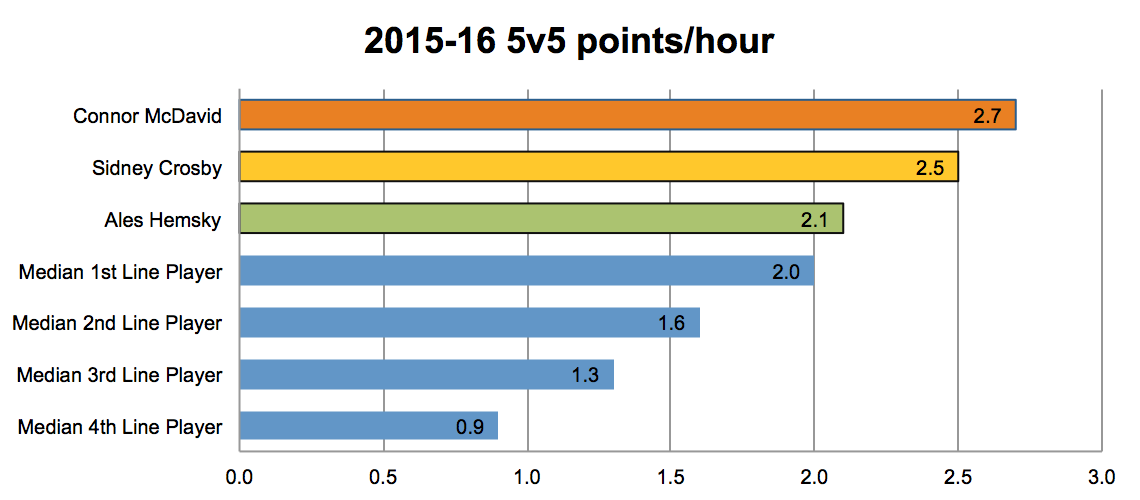 RW, Teddy Purcell
One year ago, almost to the day, Purcell was traded from Edmonton to Florida in exchange for a third-round draft pick. He had 32 points in 61 games at the time of the deal. This year he has just two points in the NHL and was exiled to the AHL after just a dozen games with Los Angeles, so the price is likely to be a lot lower for him this season.
The Kings are in the playoff race, but have shown a willingness to trade this kind of player. Just over a week ago they shipped another banished NHLer, Tom Gilbert, to Washington in exchange for a conditional fifth-round pick. Purcell's value should be in the same range.
The cost is low, but the potential upside is a player who can play top-nine NHL minutes in a complementary role and contribute on either special team. The Panthers had little reason to complain last spring, getting five goals and 13 points out of Purcell over 21 regular season and playoff games.
Purcell's AHL coach describes him as "too good" for the minors and has praised his character and energy since the demotion. He's also the only player on his team scoring at a point-per-game clip. Given that he's only 31 and was useful in a complementary role last year, he's certainly worth a look.
D, Cody Franson
Franson has two critical failings as an NHL defenceman, with one more important than the other. The more important of the two is that by the high standards demanded in the NHL, he isn't much of a skater. The less important is that he's 6-foot-5, 224 pounds and doesn't physically punish the opposition.
Stylistically, Franson obviously leaves a lot to be desired. On the other hand, it's incredibly difficult to argue with his results.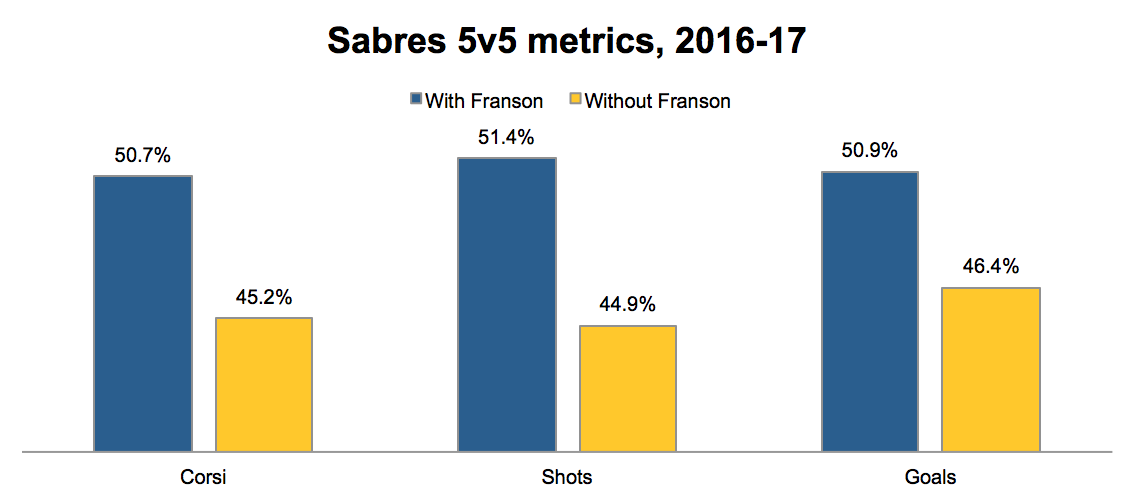 The most imposing name on the rental market this year is Kevin Shattenkirk, a right-shot defenceman who if traded will certainly command a hefty return. Franson is more likely to fall in the range of Ron Hainsey, who was traded to Pittsburgh on Tuesday in exchange for a second-round pick.
Yet Franson's capable of playing a lot of roles, including against tough opponents or on either special team.
His on-ice numbers in Buffalo are particularly brilliant given the circumstances. He starts a lot in the defensive zone. His most common partner is Jake McCabe, who has been a 45.6 per cent Corsi player with other defencemen this year. His other regular collaborator is Zach Bogosian (46.4 per cent Corsi with other players), on an awkward righty/righty pairing.
It's not easy to find a big, cheap, versatile right-shot defenceman at the best of times. It's especially hard to find one who so clearly makes his team better and it's hardest of all to do it at the trade deadline.
G, Jaroslav Halak
Halak is the only player on this list who isn't bound for unrestricted free agency on July 1. He is under contract for both this season and next at a hefty $4.5 million cap hit.
That cap hit is why he cleared waivers when the New York Islanders finally decided they could no longer carry three goaltenders on their active roster. It's also why his trade value won't be that high, even if the Isles take salary back in a deal.
The bizarre thing is that Halak is still arguably a starting-caliber goaltender. He had a .919 save percentage for the Isles last season, and a .914 total the year before that. New York picked him up after a 2013-14 campaign in which he managed a .921 save percentage over 52 games played.
After a bad 20-game run with the Islanders this year, Halak was banished to the farm. He's responded like a true pro, going 13-1-1 with a .931 save percentage, and this on an AHL team with two regular goalies who can't crack .900.
Also worth remembering: He's one of the five best active NHL goalies (min. 20 games played) by career post-season save percentage.