The top of the NHL points list is always a little odd at the start of the season, with certain players you don't expect to have long-term success getting off to hot starts.
By the mid-way point of the year most of those starts cool and get lost behind more consistent scorers, but sometimes a couple of the fast starters keep it going for breakout seasons. It can be difficult to see which players are riding waves of luck, and which have had a big boost in their performance.
It's a bit early to be making any grand predictions, but we can see some hints on which of these hot starts are really earned.
Four players stood out as surprisingly strong so far: Chris Kreider, David Pastrnak, Thomas Vanek, and Richard Panik.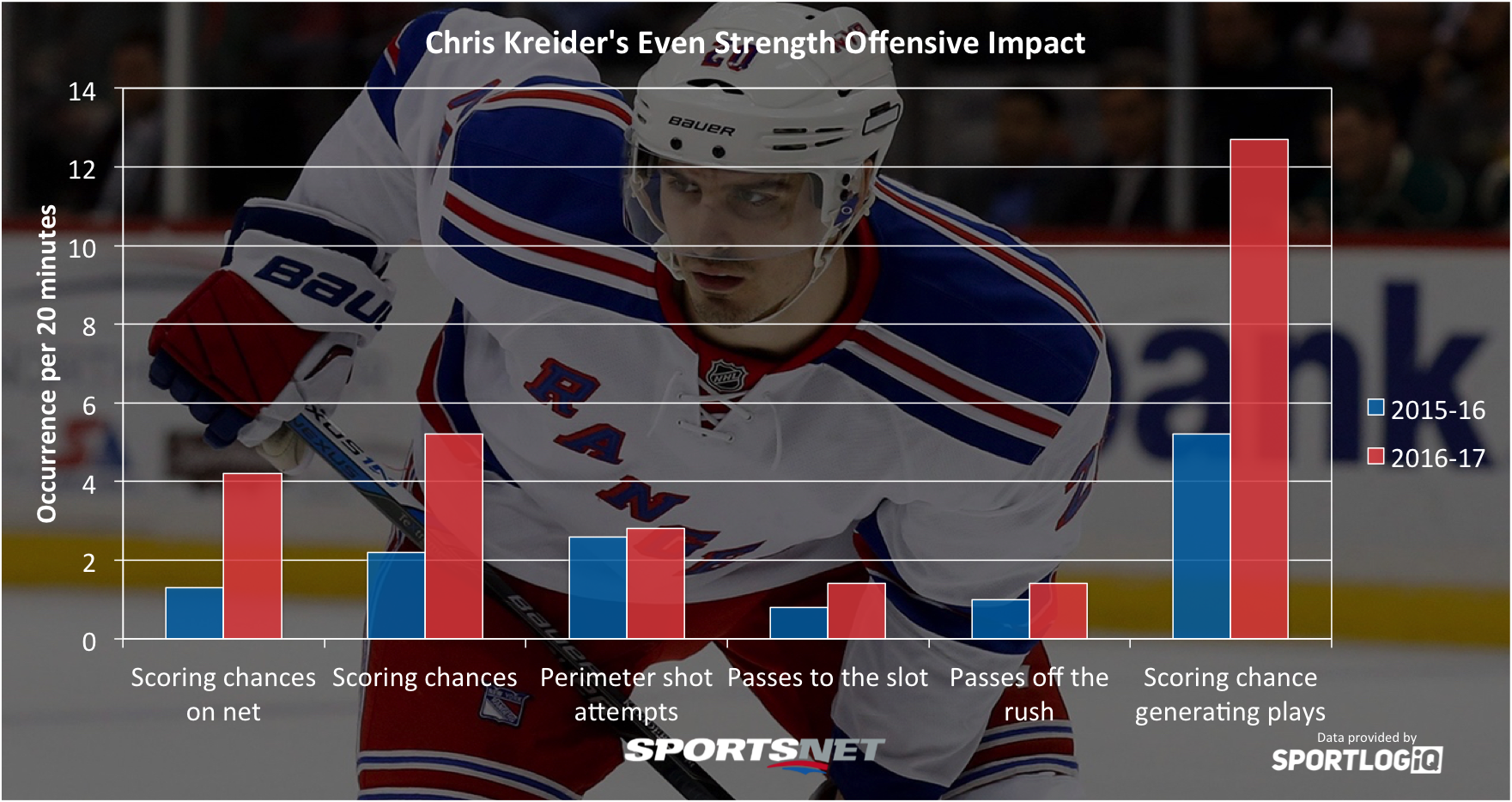 Chris Kreider was criticized fairly heavily last season for not taking a step forward offensively, but this season he's off to a great start with seven points in just four games. His personal shooting percentage (15%) is a bit higher than his career average (12.5%), but when you look at where he's shooting from, that shouldn't be surprising.
It's unlikely Kreider can sustain this level of performance, since it would put Vladimir Tarasenko to shame, but his scoring chance numbers so far are more than twice as strong as last season, so as a result he is creating a ridiculous number of scoring chances for his teammates as well. Kreider's numbers from last year (43 points in 79 games) were very solid for a second-line winger, but this season's start is incredible. Don't expect him to keep it up forever, but his production to this point is earned. He hasn't been lucky.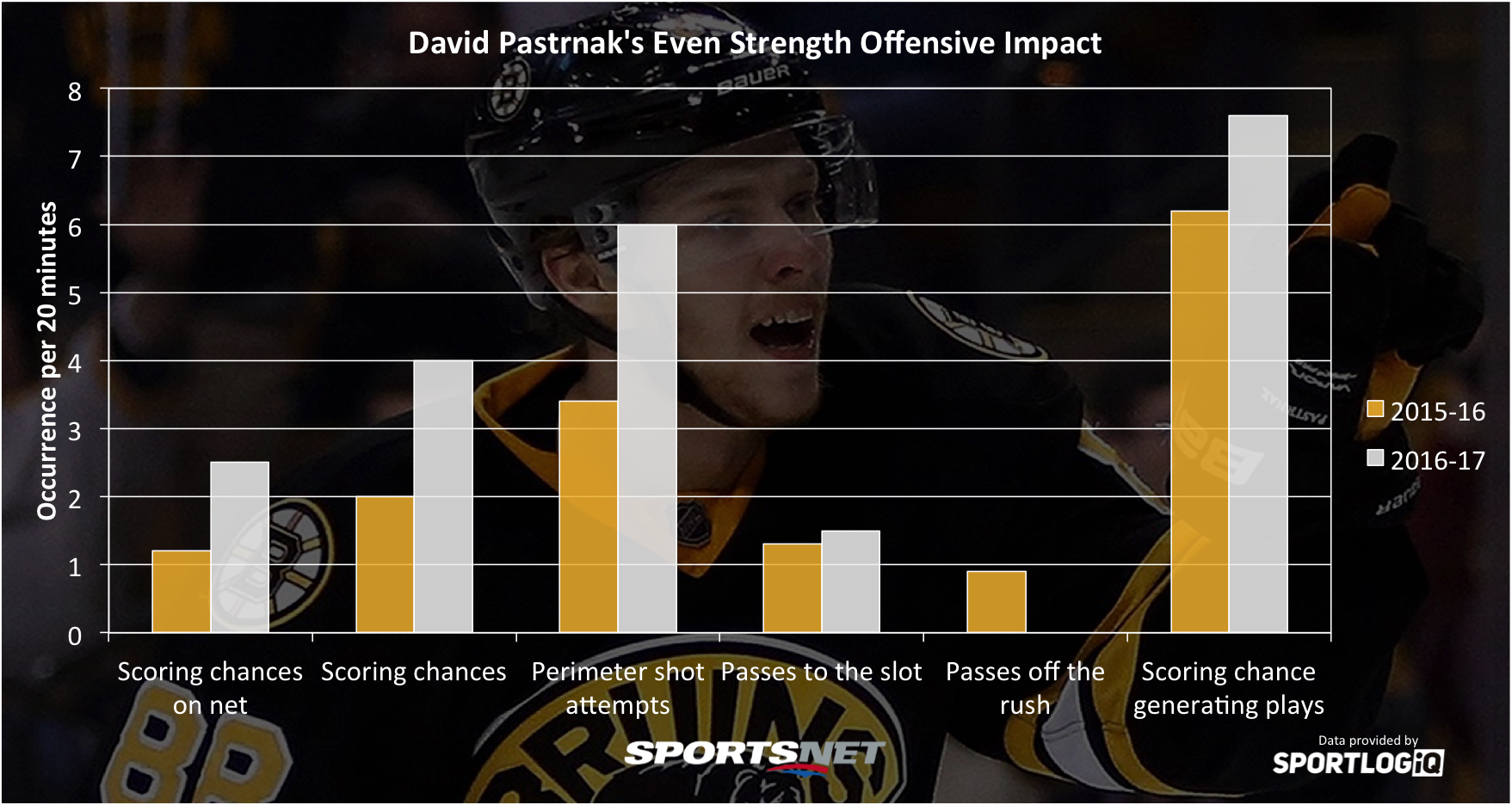 Like Kreider, Pastrnak has seen big improvements almost across the board early on. There's no doubt part of that has been getting the opportunity to play with a talented offensive player like Brad Marchand, but Pastrnak has been trending to be a strong scorer every year we've seen him play pro hockey. However, he clearly won't continue to score at over a goal per game pace. His shooting percentage is currently double his career average of 13.4%, but a chunk of that offence is certainly due to improved play.
The most encouraging thing for Pastrnak is that while he scored at a 21 goals per 82 games pace his first two seasons, his increased shot rate so far could turn him into a 30-goal scorer.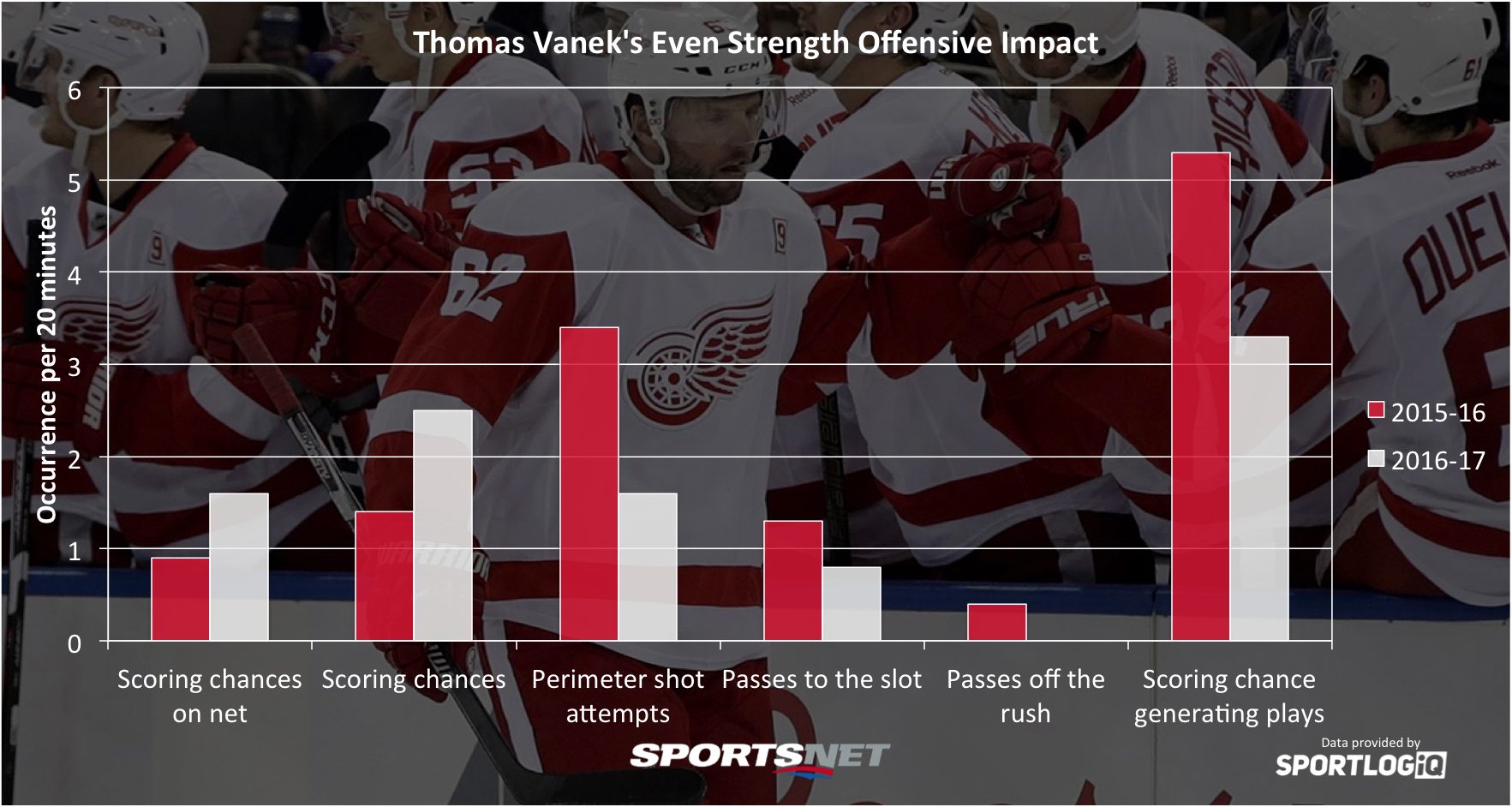 After a brutal stretch in Minnesota where Vanek was consistently in the doghouse, it looks like the early returns in Detroit are good with six points in four games, however the improvements for Vanek are less impressive than those of Kreider and Pastrnak.
For starters, his overall shot rate is actually down, even if his scoring chances are up, but more importantly his scoring chance numbers are on par with an average second line guy, not someone shooting the lights out.
Considering Vanek's involvement in creating scoring chances and his passing numbers are also down, it's unlikely he's done much to earn his six points. He's just found himself in the right places at the right times at a high rate early on and scored on half his shots.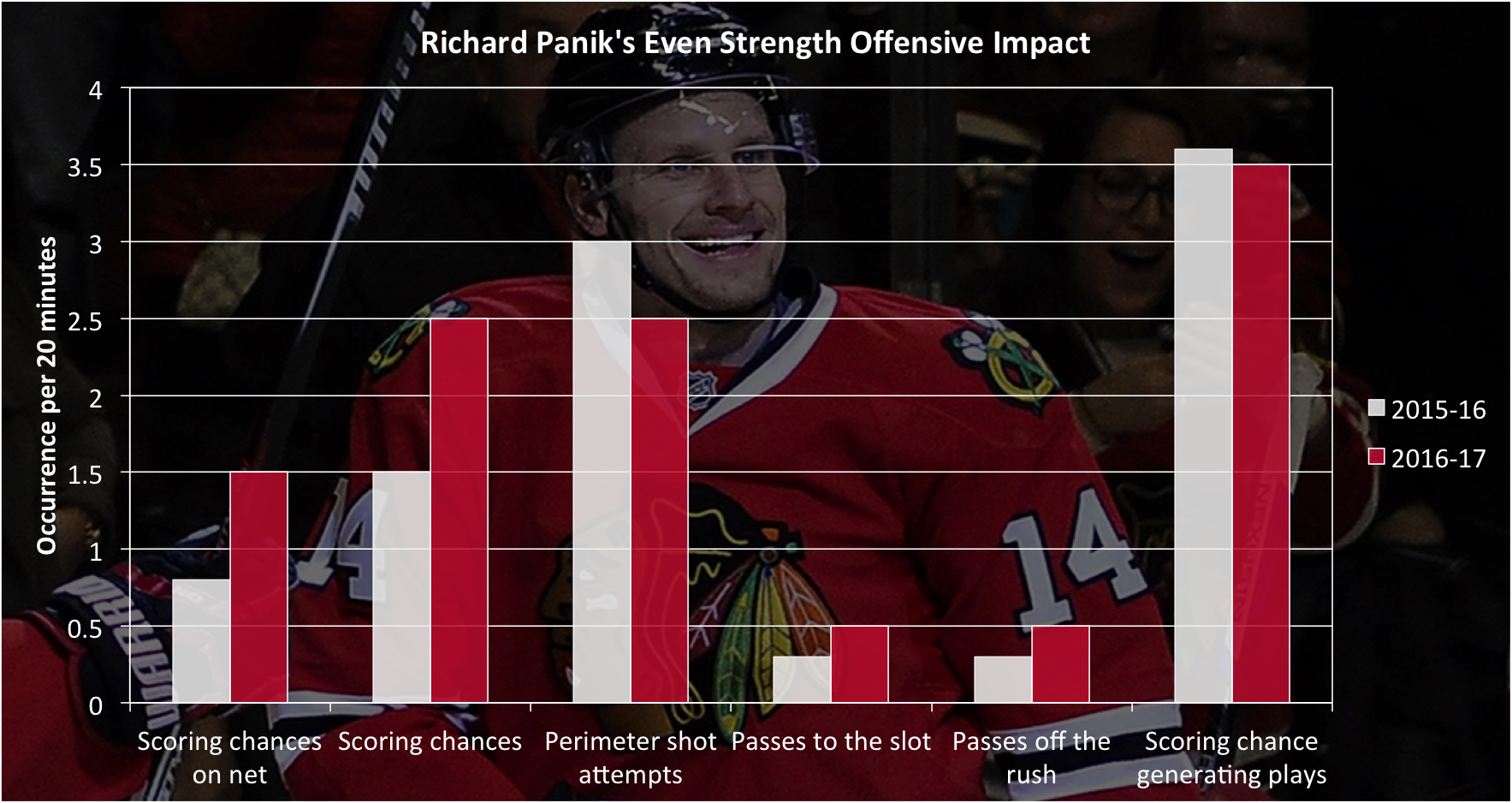 Richard Panik only had eight points in 30 games last season, but he's got five already this year with four goals in just four games. Obviously playing with Jonathan Toews will lead to some improvement, and you can see that in Panik's overall numbers. He's getting more scoring chances and making better passes.
However, his results this year are still not that great overall, especially his involvement in creating scoring chances, which are way down in the 3.5 per 20 minutes range and lower than league average. While Panik is certainly getting more scoring chances than last season, he still looks like a third liner who happens to have a 66.7% shooting percentage in a small sample. Even if he plays with Toews the whole year, you should be expecting an Andrew Shaw-like 30 points at most.