The March 1 NHL trade deadline is fast approaching and the list of players who could be available is one of the best in years. Kevin Shattenkirk is apparently more likely to move than not, and other big-time players such as Matt Duchene, Gabriel Landeskog, and Evander Kane could move as well. But while there are great players available, there are some ill-advised moves that could be made as well.
Every year certain players are acquired who seem like good pickups from a certain perspective, but they have an extremely small chance of working out. Identifying those players early can save a team from wasting assets and instead push them towards targeting a player more suited to their needs.
Here are four players who, if they do get traded, seem likely an acquiring team will overpay for: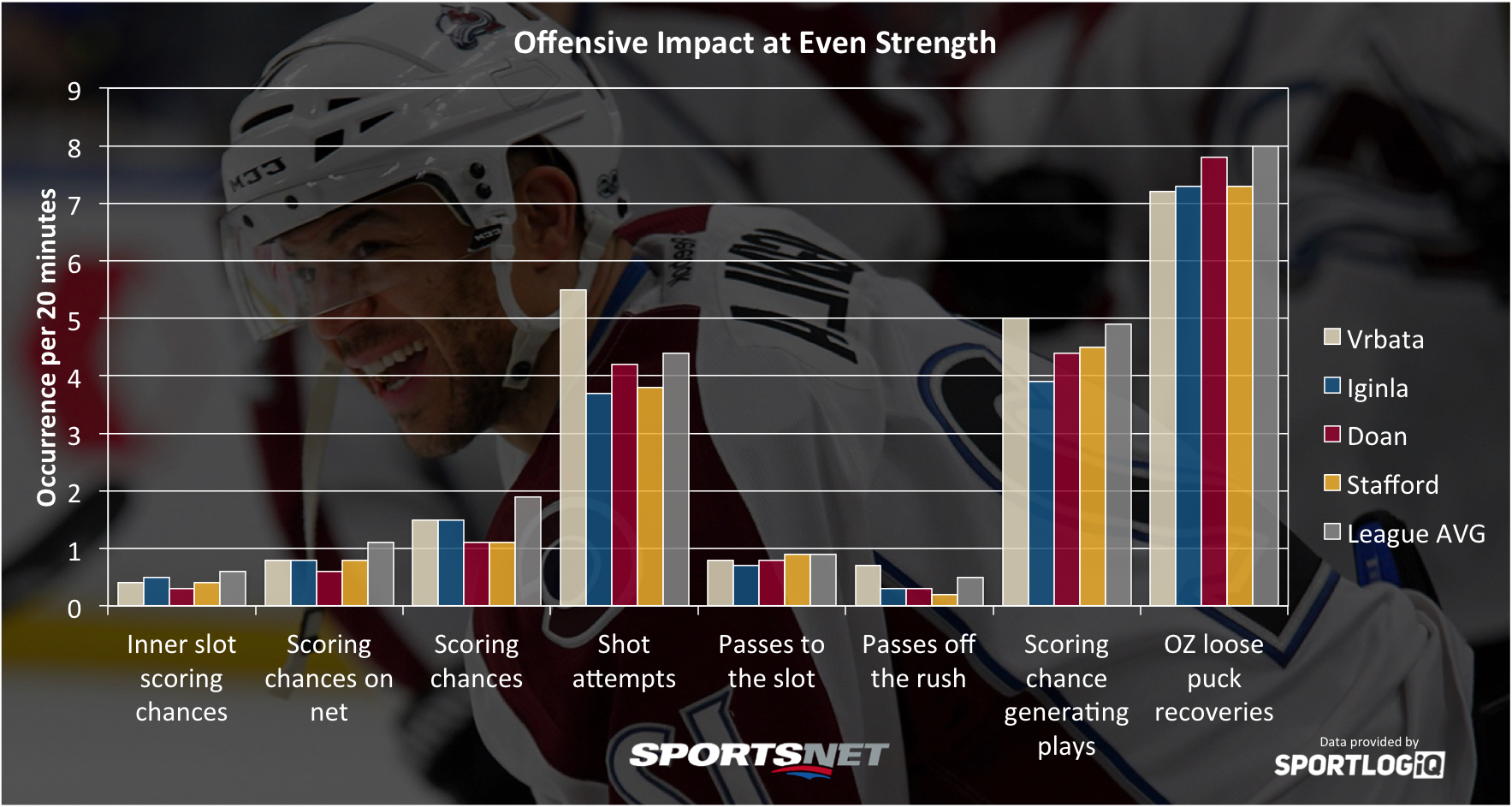 The first thing you'll notice about this group is that, outside of Drew Stafford, they're all at least 35 years old. It's very rare for players to avoid the inevitable decline brought on by Father Time — not everyone can be Jaromir Jagr.
Jarome Iginla stayed effective well into his late-30s, but at 39 now he simply isn't close to the player he used to be. Below league average in every measure of offensive creation at even strength, Iginla is solely a power play weapon at this point in his career, with just four even strength points in 58 games this season.
When he has time and space, Iginla still has a good shot to use, but with the deterioration of his skating ability, it's becoming increasingly rare for him to find that space at 5-on-5.
There will be a few teams tempted to grab Iginla in hopes he can recapture some of his former greatness, which you can't blame them for since he is arguably a top-100 player of all-time. However, there's no evidence that it's even moderately likely to happen. If a team wants to acquire Iginla, they should be thinking of him as a fourth liner who can help on the power play, where he is still legitimately good. Anything more than that and you're setting yourself up for disappointment.
A similar story to Iginla is Shane Doan, who at 40 years old still plays with energy, but doesn't bring much in the way of offence. A career-high in shooting percentage last year led to a 28-goal season, and a muddying of the waters around his decline in play. But this season his shooting percentage is in the tank and it looks to be more than just bad luck.
Doan's shot locations are among the lowest quality in the NHL and he doesn't do much in the offensive zone to create chances for others either. In fact, if anything Doan's numbers this season look better than he's actually been, considering he has benefitted from a 102.3 PDO, the second-highest on the Coyotes.
Even in an area like forechecking and recovering loose pucks, where Doan has excelled in the past, he's now below league average. Unlike Iginla, Doan doesn't have the high-end offensive ability that would make him useful on a contender's power play, and he doesn't play shorthanded either, so what you see is what you get.
Less risky than the previous two, Radim Vrbata still looks like a top-six player in some respects, specifically shot volume and scoring chance creation for his teammates, but as a noted sniper, Vrbata's declining shot quality is a concern.
With that said, he has found ways to diversify his game, leading the Coyotes in primary assists at 5-vs-5 with 10 and on the power play with eight. Vrbata is still very effective on the power play, and he hasn't lost his legs yet, exemplified by his ability to attack off the rush.
However, if a team is looking for the 25-to-30-goal scorer Vrbata used to be, they need to look elsewhere. Similar to Alex Semin late in his NHL career, Vrbata has shifted himself into a playmaker first and a scorer second.
Lastly there's Stafford, the youngest of the four at 31. He manages to have a great season once every three years or so, but he is the picture of inconsistent scoring — and he brings little else.
While he's a capable even strength playmaker, Stafford doesn't bring quality shots or shot volume, and isn't particularly effective on the power play either. For a player of his type, especially one who lacks any consistency on offence, you would expect him to have an element to his game beyond scoring, but he's pretty one-dimensional.
Stafford has been a huge drag on possession through most of his career and doesn't help out defensively very much. There's always the chance he'll get hot right after being traded, which happened when the Jets traded for him three years ago, but that's a big risk to bank on.