As the clock inches closer to the 3 p.m. EST NHL trade deadline, talk of the Toronto Maple Leafs wanting to ship Dion Phaneuf out of town continues to heat up.
Sportsnet's Nick Kypreos reported Sunday that the Leafs are "trying real hard" to move Phaneuf and Sportsnet's Damien Cox says there's a 40 percent chance the Leafs trade their captain Monday.
"It's abundantly clear that he won't be the captain next year," Kypreos said Sunday on Sportsnet 590 The Fan. "So the sooner they can get him out, the better…It's a gut feel, but I think [by end of day Monday] Phaneuf is a member of another hockey club."
For all the criticism Phaneuf has received during his time in Toronto, he has been one of the most productive blueliners since breaking into the NHL 10 years ago with 394 points in 731 games.
Phaneuf doesn't have an easy contract to move because he's being paid like a franchise defenceman despite the fact he isn't playing like one. His salary cap hit is $7 million annually until 2021, which means if the Leafs are to move the 29-year-old, they might have to retain some salary.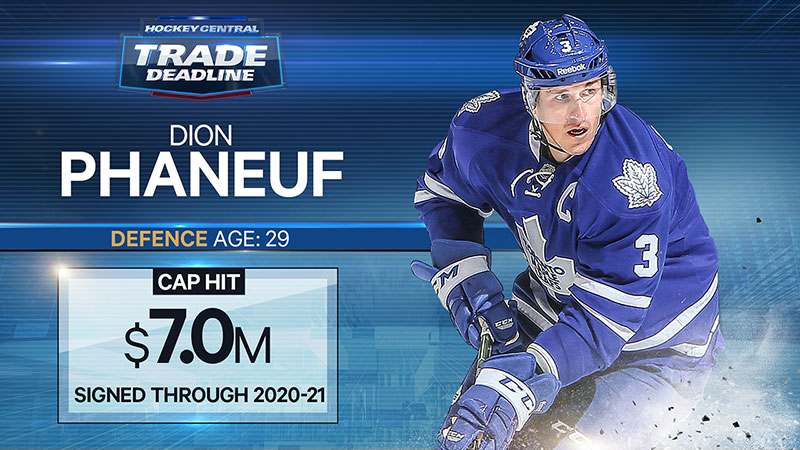 With that in mind, here are four teams that could benefit from adding the Maple Leafs captain.
Detroit Red Wings: Phaneuf could thrive on a team like Detroit – a team with a solid foundation and system that wouldn't rely on Phaneuf being the top dog. Adding Phaneuf to a blue-line that already features Niklas Kronwall, Jonathan Ericsson, Brendan Smith and Dan DeKeyser would ensure the Red Wings could send out three strong defence pairings every night for years to come. The Red Wings already have the best power play in the NHL, but Phaneuf has always been a threat with the man advantage. If Phaneuf ends up in Detroit, it's a situation that could resemble what happened with Larry Murphy back in the 90s.
Potential trade chips: Stephen Weiss, Jakub Kindl, Xavier Ouellet, Ryan Sproul, Nick Jensen, Joe Hicketts
(UPDATE: The Red Wings acquired Marek Zidlicky from the New Jersey Devils, which all but kills the chances Phaneuf goes to Detroit.)
Anaheim Ducks: Toronto and Anaheim are no strangers when it comes to making deals. Ducks GM Bob Murray has made 13 separate trades with the Maple Leafs since 2009. The Ducks will have plenty of available cap space heading into next season and Phaneuf could have a major impact on the Ducks' 21st-ranked power play. With teams like the Kings adding Andrej Sekera and the Blackhawks acquiring Kimmo Timonen, there is pressure on the Ducks to improve its defence heading into the playoffs. Phaneuf could do great things playing beside Hampus Lindholm, Sami Vatanen or Cam Fowler – three of Anaheim's outstanding young defencemen. Phaneuf would also add some muscle to complement a smooth-skating defensive corps.
Potential trade chips: Matt Beleskey, Andrew Cogliano, Nick Ritchie, Shea Theodore, Nick Sorensen
Dallas Stars: Stars general manager Jim Nill has desperately wanted to add a top-pair defenceman but hasn't been able to. Even though making the playoffs isn't a realistic expectation for the Stars this season, they could use a player of Phaneuf's calibre going forward. The Stars need help with their power play, operating at just 17.9 percent success rate, and a player like Phaneuf could quarterback the man-advantage. Tyler Seguin and Jamie Benn — obviously — plus Jason Spezza, Alex Goligoski and Trevor Daley likely wouldn't be part of a deal, so the Leafs would have to rely on getting a solid prospect coupled with a high draft pick rather than a top-six forward or top-four defenceman.
Potential trade chips: Cody Eakin, Brett Ritchie, Radek Faksa, Jason Dickinson, John Klingberg, Jamie Oleksiak
Colorado Avalanche: Last year when Phaneuf's name was brought up in trade rumours, Elliotte Friedman told Sportsnet 960 The Fan the Avalanche were a potential fit. Although the Avs want to keep Ryan O'Reilly around, some variation of Phaneuf for O'Reilly is within the realm of possibility. The Avalanche, a team that relies too heavily on its goaltending, has been looking to bolster its blue line for some time. Jan Hejda, a pending UFA, could be on his way out and Phaneuf would be an upgrade on the top pair beside Erik Johnson going forward. A deal with the Avs would also reunite Phaneuf with his old buddy Jarome Iginla.
Potential trade chips: Ryan O'Reilly, Daniel Briere, Jan Hejda, Joey Hishon, Nick Holden, Jamie McGinn